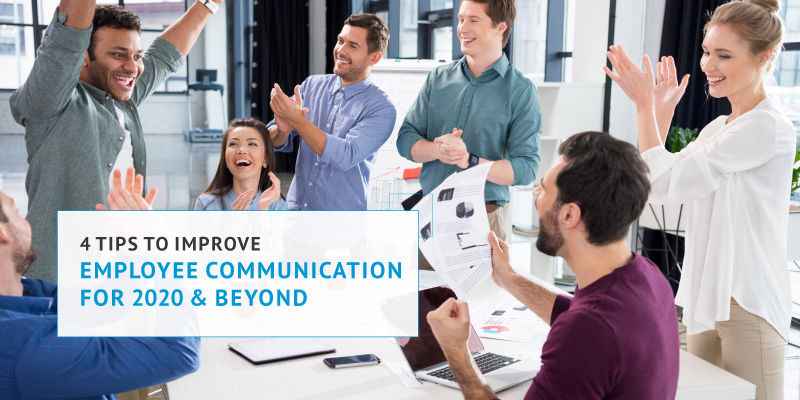 Like any other type of organization, nonprofits need to have a solid human resources strategy in place if they want to achieve long-term success and better reach donors. And a critical aspect of human resources is an organization's internal culture. 
One of the most important elements of internal culture is communications. How an organization handles internal communications sets the tone for everything else that happens in the organization. With a global pandemic forcing many organizations to work from home, how you communicate with employees, as well as how they communicate with each other, is more important than ever.
With the changes and unprecedented events of this year, you've probably already thought about your own internal culture and things you can do to improve it. You might even be thinking about implementing sweeping policy changes to encourage a shift in the way employees communicate with each other. Before you do, remember, less is often more. There's no need to box yourself into a corner by introducing disruptive or confusing new policies all at once.
As a nonprofit, you're already familiar with making the most of limited resources, so don't be afraid to start small. Here are four things you can do to improve your internal culture around communication for 2020 and beyond. Think of them as springboards to other changes you can make down the road:
Adopt a more open approach to discussions of compensation.
Prioritize transparency and engagement in general.
Share internal knowledge and documentation freely.
Connect internal goals to your mission and communicate them.
At Astron Solutions, we provide HR strategy support for nonprofits and small businesses, so we've seen firsthand how implementing even a few new best practices into your internal communication strategies can spark a lot of beneficial change over the long run.
Ready to get started? Let's dive in with a brief discussion of nonprofit employee compensation.
1. Take an open approach to discussions of compensation.
Compensation, how your organization pays and rewards employees for their work, plays a huge role in determining the overall tone of your internal culture. However, this doesn't simply mean employees are only happier and more engaged when they're paid higher salaries. 
As you're well aware, the topic of nonprofit salaries is particularly complex and sometimes controversial. Generally speaking, nonprofits experience much tighter or more inflexible budgets than for-profit businesses of similar sizes, which is why we advocate for the concept of Total Rewards. Essentially, this takes into account both indirect and direct forms of compensation.
Understanding Indirect Compensation
While direct compensation refers to salaries, indirect compensation includes elements like:
Benefits, like healthcare, PTO, and retirement savings
Your performance management styles
How you recognize achievement
The work-life balance you promote
The quality of your internal culture 
By including culture (which is greatly determined by an organization's approach to communication) as an element of indirect compensation, nonprofits are able to more accurately examine their compensation strategies and then take a more flexible approach to adjust them. 
This is particularly important when you consider that it's elements of indirect compensation that tend to be the most important factors in your employee retention rate. Indirect compensation is an integral part of why employees stay engaged with their work. Understanding that will help you better develop strategies for improving it (like by improving internal communication) and help you recognize when you're falling short. 
Discussing Direct Compensation
However, organizations of all types tend to avoid talking very openly about direct compensation. Employees are rarely aware of exactly why they or their coworkers are paid what they're paid. This can lead to a lot of easily avoidable confusion, secrecy, and feelings of dissatisfaction. 
As a general best practice, your nonprofit should take an open approach to communicating about compensation with employees. On a one-on-one basis, each employee should clearly understand why they're paid their particular salary. 
Especially for nonprofits that can't afford to offer extremely competitive salaries for all staff members, you can foster a more engaged, satisfying work culture by taking an open, realistic approach to direct compensation and paying close attention to the quality of your indirect compensation.
There's a common misconception that nonprofits have a higher-than-average rate of employee turnover because they don't or can't pay their employees well. On average, this isn't true (learn more here), so it's important for nonprofits to develop robust compensation strategies like any other type of organization.
2. Prioritize transparency and engagement in general.
Most managers of teams in any type of organization already understand the value of transparency, but it can be very easy to let this priority fall by the wayside under the stresses of day-to-day operations. 
Just as you develop stewardship plans to grow your donors' investment in your cause, you can easily take steps to do the same for employees! More transparent communication and big-picture views of your operations are great ways to start.
As a nonprofit grows and new processes and policies are built out, not every member of your team will have as much insight into their coworker's tasks or the priorities of other departments as they once did. In your internal communications and announcements, think carefully about whether you have a good reason not to share particular updates or information. 
Many managers worry that sharing too much information about ongoing activities across the organization will be distracting for team members and risk derailing focus. However, increasing transparency around new strategies and updates can significantly increase engagement.
Staff members will be more understanding of changes and feel more invested in new developments when they can contextualize why your organization is pursuing certain projects over others. 
Another strategy you might consider is expanding your training or onboarding process to include overview presentations or shadowing in different departments. Siloing staff members (or even board members) into very specific roles without giving them the chance to see how their work contributes to the bigger picture can contribute to burnout or low engagement.
3. Share internal knowledge and documentation freely.
This relates directly to fostering a more transparent culture of communication in your organization. Organizational history and process documentation can be an invaluable resource for your staff as they make day-to-day decisions and contribute to your nonprofit's growth.
Internal knowledge and documentation might be intentionally kept siloed or secret. This is typically more common in for-profit businesses than in nonprofits, but you should still avoid this practice in general. Of course, legal and privacy concerns should always be taken into consideration.
If you have no pressing reason to limit the visibility of certain information or documents, though, you should make sure employees are able to easily access and benefit from it. 
If a nonprofit struggles with this strategy, it's very often because their tech or data structures need improvement. A jumbled (or nonexistent) central database isn't really benefiting anyone. Consider these strategies:
Develop an integrated CRM system. Any new digital or web-based tools your organization uses should ideally integrate with your central database or CRM. A steady flow of data on both your internal operations and donor engagement will give your team a broader and more useful view of the organization as a whole.
Look for engaging new tools. If your organization is planning on making new tech investments soon, engaging mobile-based platforms can offer easier access for your staff and more intuitive experiences for donors. Explore DNL OmniMedia's guide to advocacy apps for an idea of what this looks like in action. 
Make use of an intranet network. A secure, internal intranet is a great way to streamline access to documentation across your whole team. You'll likely need to work with a tech team to build a custom solution, but it's worth exploring, particularly for larger nonprofits.
Opening up your store of internal knowledge for employees whenever possible is a best practice for any organization. Not only does it communicate trust, but it also increases employee engagement by letting them know that they're all valuable parts of your organization's ongoing story. Periodically examine your nonprofit's tech infrastructure to make sure there aren't any active barriers to access that could be removed. 
4. Connect internal goals to your mission and communicate them.
As a nonprofit, you have the benefit of being fully guided by your mission, not necessarily by market forces or competing organizations. Chances are your team members have all pursued work in the nonprofit space because they feel personally compelled to contribute to the social good. They've all been drawn to your mission in one way or another. 
Fostering that sense of mission buy-in is critical for nonprofit organizations.
Your internal communication style can support mission buy-in by simply being more explicit. Whenever you're sharing updates about a new goal or development, think about how it ties into your mission, and then explain how they're related. 
How does each new goal contribute to your overarching mission? Communicate that connection every chance you get. When fully tied into the driving mission, even unexciting internal projects become more engaging for nonprofit employees. 
This is especially important for high-stakes or critical goals, as mission buy-in will likely be a major factor that pushes your team over the finish line.
When it comes to setting internal goals and building structures to motivate your team, working with a compensation consultant or HR expert early on in the development of your nonprofit can have particularly positive long-term impacts. Growth can cause teams to lose focus, and developing a concrete roadmap around your central mission is a smart safeguard.
---
An organization's approach to internal communication — transparent or secretive, mission-driven or dull — plays a major role in determining the quality of its culture as a workplace, directly informing employee engagement and retention. 
By implementing one or more of these strategies into how you handle internal communication, you can encourage healthy shifts and growth in your organization's culture. Take a flexible approach, and find the right fits for your unique mission and team. 
---
Author: Jennifer C. Loftus, MBA, SPHR, PHRca, GPHR, SHRM-SCP, CCP, CBP, GRP
Jennifer C. Loftus is a Founding Partner of and National Director for Astron Solutions, a compensation consulting firm.  Jennifer has 23 years of experience garnered at organizations including the Hay Group, Parsons Brinckerhoff, Eagle Electric Manufacturing Company, and Harcourt General.  
Jennifer has held volunteer leadership roles with SHRM, New York City SHRM, and WorldatWork. She serves as a subject matter expert to the SHRM Learning System and as a SHRM instructor.  Jennifer is a sought-after speaker for local & national conferences and media outlets.
Jennifer has an MBA in Human Resource Management with highest honors from Pace University and a BS in Accounting summa cum laude from Rutgers University.  
Jennifer holds Adjunct Professor roles with Pace University, Long Island University, and LIM College.
Jennifer received the 2014 Gotham Comedy Foundation's Lifetime Ambassador of Laughter Award.
https://gettingattention.org/wp-content/uploads/2021/08/AstronSolutions-Getting-Attention-4-Tips-to-Improve-Employee-Communication-for-2020-Beyond_Feature-1.jpg
400
800
Getting Attention
https://gettingattention.org/wp-content/uploads/2021/08/getting-attention-logo.svg
Getting Attention
2021-08-23 16:05:44
2021-09-01 01:53:14
4 Tips to Improve Employee Communication