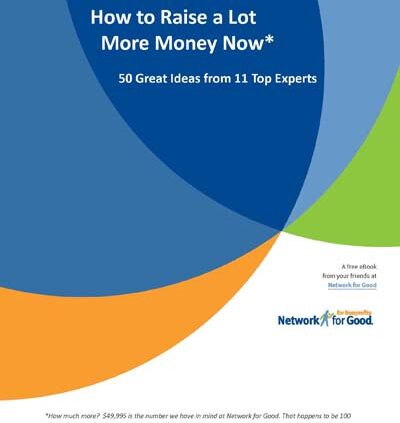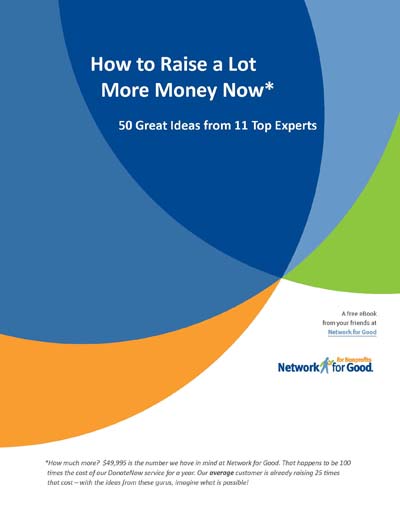 I was honored to be among the folks that Network for Good asked to contribute innovative fundraising ideas to this inspiring new e-book, How to Raise More Money Now.
You know what the tried-and-trues are, and I'm sure you're working them as hard as possible. But swallow this free guide (it's a great, quick read) for ideas beyond the norm — ideas that you can use to wake up donors and prospects now.
Here are a few of my favorite ideas from the e-book:
Don't ask your donors to solve huge problems; ask them to solve solvable problems.
Think like a Girl Scout and start selling cookies. Give me different options for how to invest with your organization.
Organize a volunteer online thank you corps. Donors get a simple training and are then assigned new donors to personally thank on behalf of the cause. (Particularly love this one. Everyone is – or can be — a fundraiser, just as everyone's a communicator. Help your colleagues supporters be great at it.)
You'll find many more ideas like these in How to Make More Money Now.  They won't all be  "cut-and-pasteable" to your organization, but I guarantee they'll spur you to come up with some fresh ideas that are. Download the guide now.
P.S. Vote now to build your messaging skills by selecting the best in class in the 2010 Taggies — the third annual Nonprofit Tagline Award Competition. It's a fun project that will help nonprofits in all fields discover what works, and why.
https://gettingattention.org/wp-content/uploads/2021/08/howtoraise.jpg
518
400
Getting Attention
https://gettingattention.org/wp-content/uploads/2021/08/getting-attention-logo.svg
Getting Attention
2021-08-23 16:04:09
2021-08-26 11:07:46
How to Raise More Money Now – Free E-Book