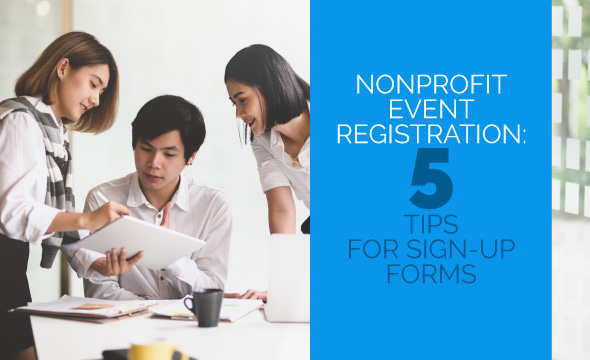 The registration process can be one of the first touchpoints that a supporter has with your organization. In fact, you're more likely to host a well-attended and effective event if it's easy for supporters to register. For this reason, you want the sign-up process to be easy and accessible to anyone who has expressed interest in your work. 
If you want to perfect the way that your nonprofit handles events, you might as well start with the first step of the attendee experience: the sign-up. One of the best ways to ensure that your donors will get involved with your events is by offering a seamless registration process. This way, you prevent any additional hurdles between your supporter and your activities. 
For example, according to Regpack, 90% of applicants prefer to register for an event online, so only offering in-person registration might lower your number of attendees. These mistakes are the ones you'll want to avoid as your event schedule returns to its pre-pandemic level.
To help streamline your registration process, we've picked our top 5 tips for sign-up forms so that your donors can easily add their names to your event list. Here are our picks: 
Only ask necessary questions.
Use one or two powerful images.
Optimize your form for mobile.
Make your "submit" button stand out.
Compile reports on attendance data.
Using these 5 tips will help you optimize your registration form for success, ensuring that your organization is off to the right start for this exciting new chapter. With an effective and easy-to-use sign-up form, you can prevent donors from potentially abandoning your event and instead increase your attendance rate.
1. Only ask necessary questions.
These days, it feels like we are filling out all kinds of online forms, so you want to be mindful of your donor's time when you're designing your sign-up process and form. Be sure to only ask for necessary information. Simplifying your website and registration form makes it less likely that potential attendees will abandon the form due to a lengthy process. The last thing you want is for a supporter to be interested in your event, only to exit out because the form was too long.
You could try using an online form builder to ensure that you're getting everything you need without a lot of extra fluff. For example, you should ask for information such as: 
Name
Contact information 
Payment information
Dietary restrictions, if you're offering food
It might seem obvious to only include necessary information, but you might think that some questions are essential when they really aren't for event registration. You might consider leaving out: 
How the donor learned about your event 
Questions about the donor's demographics (age, gender, race, etc.)
If the donor has attended one of your events before
If you do want to know this information, try asking at the event or sending a follow-up survey after the event has ended. You could also split your form into multiple pages. However, be sure to keep each page relatively short, as you do not want attendees to abandon your form because the process is tedious.You want to make it as easy as possible for the donor to register and attend your program, which will do more to build a connection than extra information fields. 
Ultimately, you want your form to follow a logical order that is free of unnecessary extra steps. Here's a bonus tip: use registration software that adapts in real-time as registrants provide information so the supporter doesn't have to see any irrelevant information. For instance, if your supporter doesn't have any dietary restrictions, don't allow the registration form to show them potential allergies.
2. Use one or two powerful images.
Now that you have a streamlined registration form, you might want to add some images to make it more engaging. Visuals make a huge difference in developing your nonprofit into a memorable and engaging brand. However, including too many images can actually distract the potential attendees from completing your form. 
Rather than having several compelling visuals on your registration page, use just one or two eye-catching images. Fewer pictures can help maintain your audience's engagement levels without being too distracting. 
When choosing your images, you want to be selective. Make sure the images: 
While it may seem contradictory with images, less is more. One striking image can do a lot more than several mediocre ones, and it might even give a potential attendee the final push they need to register for an interesting and socially-beneficial event.
3. Optimize your form for mobile.
Designing your content for mobile use has become more and more important every year. Most people tend to access the Internet from their mobile devices, and engaging with your nonprofit through their phones is no exception. In fact, 360MatchPro found that donors made 33% of their online donation transactions on mobile devices in 2019. 
The frequency with which users engage with your content on their phones means that the mobile version of your website should be aesthetically pleasing and functional. Isn't it annoying when you try to view a website on your phone, only to find that it's too zoomed out, too zoomed in, or takes forever to load? By optimizing your website for mobile use, you're ensuring that your user's experience will be as satisfactory as possible.
If you're not sure where to begin with your mobile optimizations, start with these adjustments: 
Images and text should modify in proportion to the size of the screen 
Forms should still be accessible and easy to fill out 
The page should load as fast as possible 
When so much online traffic comes from mobile engagement, it's important to ensure your event registration page is optimized for phone use. The easier it is for your supporters to sign up, the more likely that they will. 
4. Make your "submit" button stand out.
Your "submit" button is how your donors seal the deal, so you want it to be unique and engaging. Don't forget to exclude unnecessary or repeated questions to keep your registration form as short as possible. keep your entire registration on a single page, with the "submit" button on the bottom. 
Here are some ways you can make your "submit" button stand out: 
Use a bold font 
Incorporate striking colors
Draw your donors to the "submit" button with a compelling tagline
Choose your words wisely — a straightforward call-to-action like "submit" or "register" will be more effective than a longer phrase
You'll also want to be sure that registrants will receive confirmation that they've registered, whether it's a different page that shows their submitted information, an email confirming their RSVP in their inbox, or both. In this confirmation, you could include pertinent details about the event, such as the location, the time to arrive, or what to bring.
5. Compile reports on attendance data.
With the right event registration technology, you can pull reports that provide valuable information about sign-ups and attendance. This data can give you a better idea of which supporters are involved and which ones aren't. Now you can strategize different ways to re-engage donors who might have become disconnected from your nonprofit. 
But who's signing up for your events isn't the only thing that you can track. You can also collect data about: 
Conversion rates on your registration page
Attendance rates compared to registrations
Registrants who have paid and those who haven't
Attendance trends over time as you host more events
If you want to go above and beyond, you could even try A/B testing to compare the effectiveness of specific portions of your registration page or emails. Doing so might help you determine which strategies work best for your supporters.
---
With these 5 tips, you can improve your registration process, making it faster for supporters to sign-up and easier for you to manage your events. And although your programming efforts are likely focused on in-person events, all of these tips could still apply to planning virtual events. 
But here's a good rule of thumb for any event: always prioritize your supporter's registration experience. Streamlining the sign-up process is a crucial step in boosting your attendance numbers.
https://gettingattention.org/wp-content/uploads/2021/08/Regpack_Getting-Attention_Nonprofit-Event-Registration-5-Tips-for-Sign-Up-Forms_feature.jpg
360
590
Getting Attention
https://gettingattention.org/wp-content/uploads/2021/08/getting-attention-logo.svg
Getting Attention
2021-08-23 16:06:22
2022-04-14 16:53:12
Nonprofit Event Registration: 5 Tips for Sign-Up Forms