Guest blogger Rob Wu is CEO of CauseVox, a crowdfunding and peer-to-peer fundraising platform used by nonprofits to create fundraising websites.
Today, fundraising extends far beyond motivating people to donate. We want engagement, we want other actions, and we want to build a relationship! We also want as many people as possible rallying for our cause.
Here's where peer-to-peer (P-to-P) fundraising comes in, as a reliable method of leveraging your existing audience to raise money on your behalf. It's a great way to reach a broader audience, activate new donors, and re-engage current supporters.
You tell us that your biggest challenge is getting your peer-to-peer fundraisers prepared, informed, and engaged. This five-part fundraising toolkit will be a great help: 
1) Overview and Instructions
Equip your fundraisers with an overview of your fundraising efforts so they know how their efforts fit in. Explain the who, what, where, when and why of your campaign, so your participants can accurately articulate the purpose of your campaign when asked by potential donors.
Consider including a fundraising timeline. Are there important dates or deadlines that participants should keep in mind? The overview is also a great place to jot down any compelling statistics or stories so that your fundraisers have some hard data to present potential donors.
Finally, your overview section should also include any specific instructions for your participants. Do they need to set up their personal fundraising pages? Do they need to register somewhere? Outline any specific directions and include contact information should they need more help.
Girls' education organization She's The First launched the Sweat For STF campaign to motivate participation in a fundraising fitness challenge. They put together this stellar toolkit featuring a highly-effective overview of campaign facts.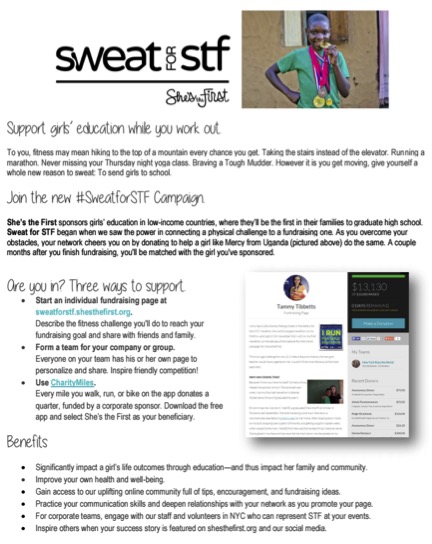 2) Images and Graphics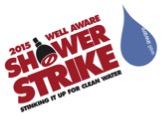 They say a picture is worth 1,000 words. Include a collection of compelling graphics, photos, and logos.
The Shower Strike campaign toolkit featured comprehensive graphic support, including:
Social Media Graphics:

Photos are the most engaging type of content on Facebook. Offering participants Facebook and Twitter-sized photos that they can include with their posts or set as their cover photos.

Logos:

Provide a few different versions and sizes of your campaign logo so that fundraisers can use it on promotional materials, correspondence, and any other campaign-related pieces they need to distribute.
Promotional Graphics: Create an assortment of graphics for use in emails, newsletters, printed flyers, and other promotional materials. These graphics should be colorful, and consist of mostly your campaign name and logo.

Printable Materials:

Peer-to-peer fundraising occurs just as much offline as online. Pull together a few eye-catching flyers, posters, and handouts that your participants can download directly from the toolkit.
3) Social Media Tips
There's no denying the incredible influence of social media. Even though your personal fundraisers are likely familiar with social media from a personal standpoint, they might not be as confident when it comes to actuallypromoting something.
Pull together social media tips like these to help your fundraisers craft social posts that are compelling, engaging, and on-message:
Hashtags:

Include the specific hashtags participants should use in their social posts, so you can monitor, engage, and help build relationships.

Links:

If you've enabled tracking on specific links, ask your supporters to use them as is, so your web analytics are accurate and useful.

Canned Posts:

Craft a few prepared Tweets and posts that your fundraisers can cut-and-paste for their social outreach. Doing so makes it easy for your fundraisers, and increases your control of the message.

Your Social Accounts:

If your participants aren't already following your campaign social accounts, they should be. List your different social media handles here, and encourage fundraisers to follow and tag you in campaign-related posts.
Here's how Shower Strike guides peer-to-peer fundraisers to use, and personalize, hashtags and canned tweets: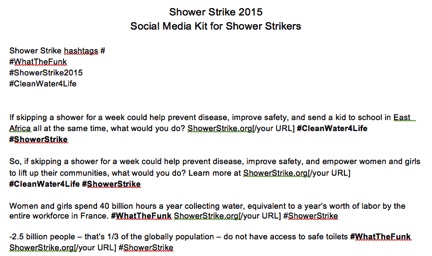 4) Correspondence Templates
Your personal fundraisers will send out emails, letters, and press releases to connect with potential donors. Make it easy for them to succeed!
Your first step is to share editable templates to smooth your fundraisers' start. For example, craft an email template that explains your campaign and the call to action. Fundraisers can plug in their specifics, which is far easier than starting from a blank page.
Some fundraisers conduct phone calls to reach out to potential donors. Make it easier for them to succeed by sharing a sample call script. These templates take the guesswork out of the process for your fundraisers, boosting their confidence and probability of success.
Here's an email template for She's The First peer-to-peer fundraisers. It's easy to personalize but ensures that recipients will get an accurate and succinct campaign description, a powerful and memorable story, and a clear, doable call to action.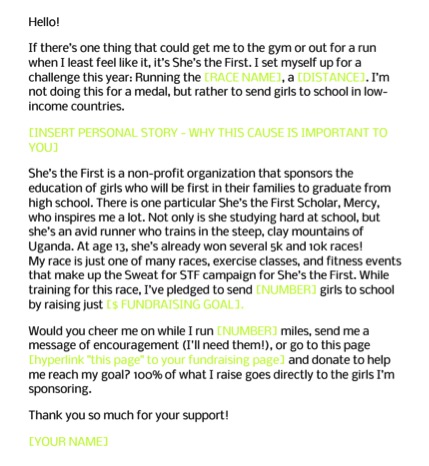 5) Frequently Asked Questions
Include an FAQ sheet with your toolkit to help your participants satisfy their prospects and save you from an overflowing inbox of repetitive questions!
Draw from these two sources:
Peer fundraisers' questions, i.e. What is the deadline for accepting donations? What do I do if I'm having ___ problem with my personal fundraising page?).
Their prospects' questions, i.e., Where is my money going? Is this donation tax deductible?
Putting together a comprehensive peer-to-peer fundraising toolkit to walk personal fundraisers through the process smooths the process, reduces the pain and boosts the fun and results. Do everything you can to ensure campaign success by featuring these five must-haves in your peer-to-peer fundraising toolkit.
Bonus! Providing the right fundraising toolkit to your personal fundraisers will engage and foster a stronger connection with these participants, and increase the probability they'll help out again.
Want more guidance to peer-to-peer fundraising success? Check out this free ebook, The Ultimate Guide To Peer-To-Peer Fundraising.
https://gettingattention.org/wp-content/uploads/2021/08/getting-attention-logo.svg
0
0
Getting Attention
https://gettingattention.org/wp-content/uploads/2021/08/getting-attention-logo.svg
Getting Attention
2021-08-23 16:04:46
2022-04-05 19:42:30
5 Must-Haves: Your Peer-to-Peer Fundraising Toolkit