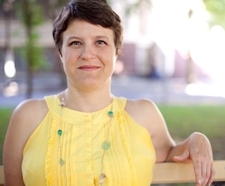 I'm thrilled to welcome Holly Ross, our newest guest blogger. Holly has spent seven+ years at the Nonprofit Technology Network (NTEN), working with community members to identify technology trends —  from ubiquitous access to technology leadership — that will reshape the nonprofit sector. Full Disclosure: I'm an NTEN board member and a huge fan.

"Social media is not a megaphone, it's a conversation." You've doubtlessly heard this phrase uttered at dozens of conference sessions and read it in many blog posts. Although that's the first lesson most of us learned about social media, it's been the hardest to implement. Having a "conversation" with people you may not know very well, on a platform you're not entirely comfortable with, isn't easy to pull off. It's a skill that has to be developed.

The challenge is that there isn't a single "social media." There are social media places, plural, and the audience you develop in each channel requires a distinctive mix of tone, content and curation. In other words, each group will want to have their own conversations.
We at the Nonprofit Technology Network (NTEN) learned this lesson after no less than two years of wandering through the social media forest. We've always been fairly strategic about our use of social media, tying goals to our organization plan. For example, since connecting our community members with each other is one of our organization's goals, we might set a social media goal of sparking five conversations a month with five or more comments in our main social media channels: Facebook, LinkedIn and Twitter.
It seemed simple enough, but we failed more often than we succeeded. Why? We treated our audience in each channel as if it was exactly the same as those in other channels. If we posted a comment or story on our Facebook page, we'd also do so in LinkedIn and to Twitter. Only rarely would a post ignite in one of the channels. But not a single post took off in all three channels.
Then something amazing happened — we got a new voicemail system which lets us upload MP3s to use as hold music. Copyright laws aside, we're now able to play whatever we wanted as folks hold. So we did what any good community would do — we asked our Facebook fans what they wanted to hear. In the first five minutes, we had our five comments.
More importantly, we had a new idea about how to approach our social spaces — channel-specific conversations. Here's how:
Facebook: This is

the place people go to reconnect with elementary school classmates and family. People come to Facebook to make personal connections and have fun

. They don't want to talk about work (unless work happens to be social media), so we don't burden them with questions about how they are staffing IT in their organizations.

Our new aim with Facebook is to help our members feel more connected to NTEN by showing them who we are as individuals and to helping them connect with each other through conversation. We share "behind the scenes" photos and ask lots of light, easy questions about what NTEN should be doing, as well on use of social media.

LinkedIn: This is

a professional network, where people go to build networks and connect to resources

. Unlike Facebook, people actually WANT to talk about IT staffing in LinkedIn. In fact, we often get thousand-word responses to questions we pose about everything from cloud computing to mobile phone policies.

Our aim with LinkedIn is to foster discussion that moves people to think about the issues we're focused on at NTEN, including data, the cloud and IT leadership.

Twitter: We think of Twitter as the world's greatest magazine, curated by the people we follow. It's the space

where people share the content that gets them excited

, where the link reigns supreme. We don't look for opinions or get too personal in our Twitter accounts. We just share the best content we can find from our membership and our own work.

Our aim here is to get people to share the content they find most valuable far and wide.
It's key to note that though our approach to each channel is different, we're still NTEN, no matter where you find us. Our voice or tone is as recognizable and authentic in Facebook as it is in LinkedIn, even if it's a bit less quirky in LinkedIn. This  is a tricky that's been vital to our social media success. And we HAVE been very successful. Since we redefined our social media approach, we've more than doubled our followers in all three spaces, and the number of comments, likes and re-tweets has skyrocketed.
Does your organization generate social media conversations that are channel specific and, if so, is it working for you? If not, why not?
https://gettingattention.org/wp-content/uploads/2021/08/Holly-Ross-Small.jpg
186
225
Getting Attention
https://gettingattention.org/wp-content/uploads/2021/08/getting-attention-logo.svg
Getting Attention
2021-08-23 16:04:09
2021-09-01 03:09:32
Think Conversation, Not Megaphone, for Social Media Success (NTEN Case Study)