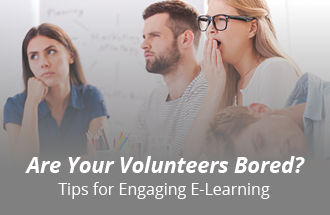 This guest post was contributed by Amy Morrisey, President of Artisan E-Learning.
You've just unveiled a new volunteer training e-learning course. The content is based on the in-person training you used before your volunteer workforce moved to home offices and you had to create an effective learning experience while keeping people safe. All is well… until you receive the first batch of feedback from volunteers taking the course.
In that feedback? A high percentage of learners quit the course halfway through, and an even higher percentage received subpar scores on the assessments—clearly indicating they're unprepared to be passionate ambassadors for your cause.
You were hoping for a high-quality, e-learning course, but your volunteers have tuned-out the experience. Easily a worst-case scenario! So, what can you incorporate into your e-learning courses to prevent this from happening in the future?
Let's walk through three volunteer training scenarios you may encounter and how you can create engaging e-learning to keep supporters of all types returning.
Scenario 1) You're preparing volunteers for their first day on the job.
If you're a nonprofit volunteer coordinator now, you've surely been a first-time volunteer at some point in your philanthropic career. So, let's flash back to your first day on the job.
Were you nervous? Excited? We'd guess a combination of both.
The first day volunteering at an organization is full of new things—new experiences, people, and tasks. It always seems to feel like everyone around you is already up to speed, right? It's that first day of school feeling, and the faster you can learn the ropes, the better.
Flash forward to your position now, at the other end of this interaction. You want volunteers to learn as much as possible in preparation for their first day, to make sure they're ready to tackle essential tasks effectively. This is where e-learning comes into play as the solution to reach both your goals and your volunteers' goals.
With initial volunteer training, you have to cover a massive amount of new information to prepare them for the job. But, you don't want to overwhelm them and have them disengage from the material as a result. Here are a few tips to create e-learning that's valuable for first-time volunteers and accomplishes your goals:
Avoid information overload. While you may see your nonprofit's history as valuable, an in-depth history lesson may take up too much space in your volunteers' already overloaded brains. Focus on information that's actionable and directly valuable for volunteers, and consider using images of your team at work to tell a compelling (but brief!) story of your history.
Cover a variety of volunteer opportunities. Give volunteers a good look at the many positions available to them, so they can discover which area of your organization they're most interested in working with. Consider using microlearning courses to highlight each unique opportunity.
The goal here is to cover a ton of information for learners while also remaining interesting. Don't slap a textbook in their hands (or even a long brochure). Use these tips and they'll come back after the first day as a volunteer!
Scenario 2) You're tasking volunteers with a complicated but essential task.
Now, consider your progression after that first day of volunteering. As one volunteer shift became two, your first month became your second, and so on… your return was rewarded by an increase in opportunities. But of course, volunteering at a nonprofit isn't all sunshine and rainbows. For every exciting, constituent-facing task is a less exciting, perhaps even complicated, filing task.
As you continued volunteering, you gained access to more and more of the nonprofit's operations. You became more essential to their efforts and carried more responsibilities. But, you also learned the hard lesson that sometimes, volunteering for a nonprofit can be dull, complicated, and carry a large learning curve.
Clearly, you overcame these obstacles. And now you can help your volunteers do the same. They'll continue building their knowledge and adding value to your organization.
Here are a few tips to make a complicated, and perhaps even boring, topic engaging in an e-learning course:
Find creative ways to display less-than-exciting content. Ditch the droning webinar and voiceover in favor of something more engaging. Live-action videos, simulations—you name it; get creative! And remember, you can always work with an e-learning content development consultant to assist if you're struggling to do so.
Have learners practice challenging skills. Consider using e-learning games that encourage volunteers to practice through repetition. They can make mistakes and learn from them, without the consequences of slipping up on the job!
Use examples to convey complicated topics. Don't just tell a volunteer what to do—show them. Let's say they're learning how to check in individuals at a disaster shelter. Don't list the steps. Walk them through an example of checking in a family (give the family members names!) and have them learn by doing.
Think of it this way: your nonprofit is incredibly intentional with the stories it shares externally to be both ethical and effective. You should be just as intentional with the stories you share internally—including how you present training to existing volunteers. This isn't the time to get complacent because they're already returning regularly. Continue to engage them with valuable content.
Scenario 3) You're training volunteers with diverse backgrounds.
Lastly, we need to acknowledge the nonprofits that are operating here, there, and everywhere around the globe. If your nonprofit is working with volunteers that speak a variety of languages and are from diverse cultures, this section is for you.
If you're welcoming volunteers whose native language is something other than English, it's up to you to create e-learning courses that are accessible for all. Here are a few tips we've found for engaging e-learning across cultures:
Translate your e-learning courses. If you work at a U.S. based nonprofit but you're welcoming volunteers from other countries, avoid creating content that caters to a U.S. view. Translate your content to be in the learner's native language and consider working with a narrator that speaks in an accent familiar to the learner.
Provide any information about your location's culture. Specifically, focus on where your nonprofit's culture differs from the learner's. What do volunteers need to know to be successful when giving their time with your organization?
Use immersive scenarios. Consider taking things a step further by walking volunteers through a day in the job at the new location, via a scenario.
With these strategies, you'll provide the needed training to all volunteers, regardless of the language spoken. 
---
To wrap up, we know that volunteers who tune training out will be ill prepared and unlikely to give their time in the future. Whether you're conducting onboarding, elevating volunteers' skills with complicated tasks, or working with supporters from diverse backgrounds—it's up to you to prepare them with engaging courses.
Use these tips to create courses that keep your volunteers engaged for the duration. And, if you need help implementing them, consider bringing on an e-learning content development firm to help you do so.
---
Amy Morrisey is the President of Artisan E-Learning and serves as Sales & Marketing Manager. Amy started with Artisan as a contract writer/instructional designer. She was our Production Manager for four years and helped the team to double its capacity. As President, she stays focused on maintaining the high standards our clients have grown to expect. She believes that staying close to our clients, our people, and our work is a smart way to do that. One of her favorite things to do in the e-learning world is jump in with a client to write a storyboard that is creative and application-based. Before working with Artisan, Amy spent 17 years in corporate training and development predominantly teaching leadership development and coaching teams and executives. She currently serves on the board of ATD Detroit.
https://gettingattention.org/wp-content/uploads/2021/08/Artisan-Getting-Attention-Are-Your-Volunteers-Bored_-Tips-for-Engaging-E-Learning_Feature.jpeg
215
330
Getting Attention
https://gettingattention.org/wp-content/uploads/2021/08/getting-attention-logo.svg
Getting Attention
2021-08-23 16:05:44
2022-04-05 19:10:38
Are Your Volunteers Bored? Tips for Engaging E-Learning