The world of marketing, especially digital marketing, is constantly adapting to consumer preferences. That means that you cannot afford to structure your nonprofit's strategy in a vacuum—you'll need to keep pace with the changing landscape that the diverse world of marketing presents.
As you build your strategy, you'll need to keep that in mind as you plan to make the most of your available budget, tools, and efforts.  In this guide, we'll help you do just that by exploring recent nonprofit marketing trends and giving tips on how you can adapt your strategy to stay relevant.
Here's what we'll cover:
At Getting Attention, we help nonprofits diversify their marketing strategy with the power of the Google Ad Grant. While this Grant is explored in a trend later, keep in mind that it's a valuable tool to add to your current strategy. That said, let's take a closer look at why your nonprofit should stay on top of marketing trends.
Why Trends Matter for Your Nonprofit Marketing Strategy
It can be tempting to choose your favorite marketing channels and stick to them for all your advertising activities. After all, just because it's "trendy" to pursue a certain marketing technique doesn't mean it's the right move for your organization, does it?
Short answer: yes and no. While there might be consequences to following a trend that does not quite match your nonprofit's image, there are also consequences for not staying up to date with trends. To offer some perspective, nonprofits who maximize current, relevant trends can experience:
Increased relevance and appeal: Following trends shows that your nonprofit is responsive to the preferences, expectations, and behaviors of your target audience.
Greater competitive advantage: If your nonprofit takes informed steps to follow trends, you'll gain a competitive advantage and differentiate yourself from similar organizations that are slower to act.
Optimized resource allocation: Keeping track of trends will help you efficiently allocate your existing resources, as you'll need to consider every possible investment before finalizing your budget.
Expanded partnership and collaboration opportunities: Trends can help you identify potential partners, collaborators, and allies who align with your message and can amplify it to your audience.
Heightened donor engagement: Trends can indicate changing audience preferences. If you follow them, you'll have a greater chance of employing techniques that resonate with your donors.
Following relevant trends can have a positive impact on your nonprofit's health. Let's take a closer look at which channels to monitor for upcoming trends.

Nonprofit Marketing Channels: An Overview
A 2022 HubSpot survey of over 1,200 marketers found that 80% said marketing has changed more in the last three years than in the last 50. That's a lot of change, but which channels have been the most affected? The top channels you should keep an eye on are as follows: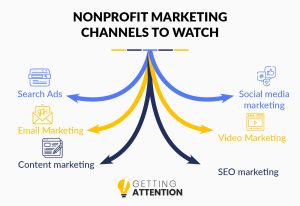 We'll explore each of these in the coming sections in addition to examining how strategies such as personalization and user-generated content impact the effectiveness of each channel.


Top Nonprofit Marketing Trends to Watch
Changes in the Social Media Marketing Mix
Social media marketing has been a dominant marketing channel for a few years now—a whopping 4.9 billion people worldwide identify as active social media users.
However, the preferred channels within social media have gone back and forth between Facebook, YouTube, Instagram, and now TikTok. As of 2023, here's where each social media channel stands as measured by monthly active users:

Active social media user counts:
Facebook: 2.9 million active users
YouTube: 2.5 million active users
Instagram: 2.0 million active users
TikTok: 1 million active users
Although ranking the smallest, TikTok is used by 42% of marketers and ties for 2nd with YouTube and Instagram as a top ROI-generating platform. This means that TikTok's popularity is projected to rise in the coming years.
Here are ways you can leverage social media marketing:
Run a social awareness campaign: Boost awareness of a specific cause relating to your mission by launching a cross-promotional campaign. Consider starting a challenge or partnering with influencers to increase your cause's online visibility.
Stay consistent: Stick to a consistent posting schedule to engage your audience and cultivate a memorable online presence.
Understand your audience: 69% of Millennials prefer to use Facebook compared to 37% of Gen Z. Use your audience data to determine which platforms would be most impactful for your nonprofit.
Email Marketing is Swaying
Only a quarter of nonprofit email recipients open their emails. That means that there are inboxes full of unopened communications from your nonprofit. However, before you ditch your email newsletter, think about ways you can make it more engaging for your specific audience.
Here are ways you can increase interest in your emails:
Segment your audience: 78% of marketers agree that segmentation, or the division of recipients into smaller groups based on shared criteria, is the most effective strategy. Personalize your mailing list for the best results.
Craft compelling subject lines: Make your emails click-worthy with compelling subject lines that grab your audience's attention.
Check your email cadence: You could be sending too many or too few emails, make sure your communications are regular so recipients can expect to hear from you on a regular basis.
User-Generated Content is Making Waves
About 90% of consumers report that user-generated content (UGC) influences their buying decisions more than marketing emails and even search engine results. UGC refers to any form of content created and shared by users based on their experiences with your nonprofit. For example, a new volunteer might post a short "a day in the life of a Humane Society volunteer" describing their daily tasks like walking dogs or organizing pet food.
UGC comes across as more genuine and credible than content posted by your organization. This is because people tend to trust people more than they trust organizations. Therefore, your marketing strategy should look for ways to make UGC the norm.
This means you'll need to connect with your audience in a way that facilitates two-way communication. Thus incorporating more opportunities for "earned media" to build up credibility.
Here are ways you can encourage UGC:
Provide clear instructions: When posting UGC prompts and challenges, provide clear instructions to make it easy for supporters to join in and submit content.
Get creative with campaign challenges: Give your supporters a reason to participate by making your challenges fun and engaging like the ice bucket challenge of 2014.
Make your content shareable: Wherever possible, incorporate social sharing links on your content for supporters to repost and comment on.
Video Marketing is Now a Must-Have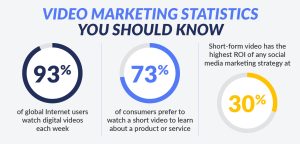 Video marketing is becoming the standard as 93% of global Internet users watch digital videos each week and 73% of consumers prefer to watch a short video to learn about a product or service.
Leverage this trend by creating compelling video content. For instance, rather than simply sharing an impact report with your donors, send them a video showing the impact they've made on your beneficiaries.
Here are tips to create engaging video content:
Create bite-sized updates: Short-form video has the highest ROI of any social media marketing strategy at 30%. Therefore, look for ways to update your social media with short video content to keep supporters in the know.
Provide an engaging hook: Grab supporters' attention with an engaging hook such as a product teaser or event teaser.
Be spontaneous: Post spontaneous on-the-ground content that gives your supporters an inside look into your nonprofit's operations.
Personalization Still Matters
Message personalization has been around for a while and it's not going anywhere as 72% of  consumers claim that they respond to marketing messages crafted to their choices. That means you'll need to keep a pulse on your supporter preferences and tailor your messaging in a way that communicates that you value their contributions.
Here are ways you can personalize your messaging:
Customize your landing pages: Separate your website landing pages so each audience segment can quickly find relevant information. For example, a donor might be looking for your recent impact report while volunteers will want to know how they can help.
Personalize your donation appeals: Leverage your nonprofit CRM to personalize your donation appeals in a way that recognizes donor giving history and personal investment in your cause.
Appreciate your donors: Genuinely recognize your donors' contributions by sending them heartfelt thank-you messages.
Search Ads Can Revolutionize Your Strategy
Did you know that Google controls 92% of the search engine market share? This means that investing in Google ads can have a significant positive impact on your nonprofit's revenue generation. Luckily Google has provided a program tailor-made for nonprofits—the Google Ad Grants Program.
Since 2003, the Google Ad Grants program has provided $10 billion in free advertising to more than 115,000 nonprofits across 51 countries. This program can launch your content straight to the top of Google's search results so that more people find you faster.
The Google Ad Grant offers:
Better site engagement: The Google Ad Grant can direct more readers to your site based on the keyword your supporters are already searching for.
Increased online engagement: Get more registrations, donations, ticket sales, and email list subscribers with a streamlined Google Ad Grant strategy.
Insight into supporter motivation: Google Ad Grants lets you track your campaign performance in real time so you can make meaningful adjustments and draw conclusions about what inspires your audience.

Website SEO Marketing is Essential
Your website is the centerpiece of your marketing strategy. In fact, 60% of marketers say that inbound marketing (SEO, blog content, etc.) is their highest source of qualified leads. It's no different for nonprofits—your website must be SEO optimized to get the most out of your online presence.
An essential part of optimizing your website is focusing on publishing quality content. When creating content use the EEAT acronym: experience, expertise, authoritativeness, trustworthiness. Following this framework will get both search engines and supporters on your side.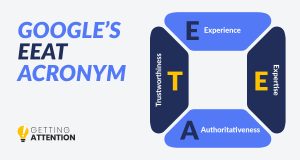 Here are ways you can boost your SEO:
Publish quality content: Use the EEAT guidelines to publish quality content that establishes your organization as a credible source.
Optimize for technical SEO: Review your website's navigation, links, and page speed to ensure that it's crawlable by Google and prioritizes user experience.
Check your backlinks: Strategic link-building to other internal posts and trustworthy nonprofit sources will increase can rankings and authority.
AI Isn't Going Anywhere
Recent research indicates that chatbots and other advanced AI technologies are here to stay. With an ever-evolving market, your nonprofit needs to learn how to leverage these tools to connect with supporters. However, bear in mind that nonprofit connections are distinctly personal and human, so use AI as a tool to refine your communications rather than as a direct replacement.
Slowly incorporate AI into your marketing workflows and assess how it can streamline your tasks. That way, you'll have more time to research and implement new marketing strategies.
Here are ways you can use AI:
Predict future outcomes: Leverage AI to evaluate previous donation habits or campaign performance that can inform your messaging strategy going forward.
Automate tasks: Experiment with AI to find ways to automate daily tasks such as content or event scheduling.
Take your personalization a step further: Use AI algorithms to analyze donor data and identify new segments, trends, and patterns.
Consider how each of these trends can inform your current marketing strategy as you look for new ways to engage your audience. Track your progress as you adopt each strategy and know that not every microtrend requires immediate action.

How to Select Which Nonprofit Marketing Trends to Follow
The above trends are redefining nonprofit marketing communications and your organization should research and adopt as many as possible to sharpen your strategy.
Of course, In an ideal world, every marketing effort you invest in would produce increased funds, long-term support, and greater general awareness. However, because your resources are limited, you're going to need to know how to sufficiently allocate them for the best marketing results. Additionally, you'll want to choose trends that resonate with your audience, expand your supporter base, and/or increase the efficiency of your day-to-day marketing operations.
To know which trends to focus on, ask yourself these five questions: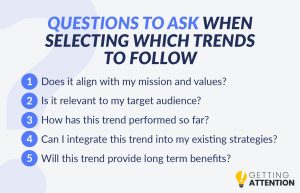 Does it align with my mission and values? For example, if one of your values is sustainability, you'll want to steer clear of participating in any trend that might compromise that value. Instead, look for eco-friendly trends.
Is it relevant to my target audience? Consider your audience data like demographics, interests, and preferences to determine if this trend is worth pursuing. For example, if your target audience is recently expanded into younger, Gen Z supporters you might consider using TikTok to increase engagement.
How has this trend performed so far? Examine the growth of similar organizations that have adopted the trend. Are they reaching new audiences? Do their supporters seem to respond well to their new efforts? Observe and adjust your strategy accordingly.
Can I integrate it into my existing strategies? Some trends require additional effort to adopt. However, most trends occur on channels you already use. Think about ways you can make small adjustments for greater impact, such as sticking to a regular posting schedule for existing social media accounts.
Will this trend provide long-term benefits? Some trends can be repurposed to provide lasting benefits. For example, video can be edited and reused on your nonprofit website, social media, and for events to explain your mission and rally support.
Conclusion + Additional Resources
The development of new technologies results in more ways to connect with your supporters than ever before. That means your organization needs to consistently research and adapt your marketing strategy to stay relevant in an ever-changing environment.
As you adjust your strategy, check out these resources to keep learning:

https://gettingattention.org/wp-content/uploads/2023/06/Nonprofit-Marketing-Trends_Feature-1-e1688126852404.jpg
335
1300
Getting Attention
https://gettingattention.org/wp-content/uploads/2021/08/getting-attention-logo.svg
Getting Attention
2023-06-27 18:26:41
2023-07-20 17:53:04
Top 2023 Nonprofit Marketing Trends to Inform Your Strategy