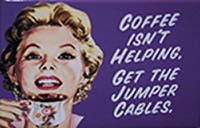 Developing a high-power tagline for your nonprofit can be a daunting task, especially with so many competing priorities.  Whether you are creating a first-time tagline or revitalizing an existing brand, here are five steps to jump start the process:
Confirm that the tagline (or lack of one) is a problem. Feature a few talking points about your organization (or your tagline, if you already have one) in conversations with colleagues, members and volunteers.  Make a note of their reactions.  Does your messaging inspire people to dig in and ask more questions or get involved, or does it create confusion about your organization's work and impact?
Get your colleagues on board.  Let your colleagues know that it's time to develop stronger messaging for your organization based on what you've heard in your listening research, and that you'll need their help. Be as specific as possible about your goals and outcomes, and how you'd like them to help.
Uncover some audience intelligence, Sherlock Holmes.  Ask colleagues (and volunteers, if you need to) to insert your organization's messaging (or current tagline, if you have one) in their own conversations in the field and report back to you what they find. Make it easy for them to report back in a way that's easy for them and useful to you.
Summarize the feedback you get and your recommendations for moving forward.  What does and doesn't work? What does that suggest about revising existing messaging or shaping  a new tagline?
Is more research needed? Decide if you need to take your audience research one step further or you're ready to kickoff the tagline creation process with a brainstorming session.
These five steps are a proven stepping stone to developing a strong tagline for your organization. Supplement them with our free guide to powerful messaging for your organization: The Getting Attention Tagline Report features don't dos, must dos and over 2,500 nonprofit tagline examples to kick-start your message brainstorming.
By Amy Kehoe, Manager – Getting Attention
Flickr photo: Jeff Carlson
https://gettingattention.org/wp-content/uploads/2021/08/5-Steps-to-Jumpstart-Your-Tagline-Development-Process.jpg
128
200
Getting Attention
https://gettingattention.org/wp-content/uploads/2021/08/getting-attention-logo.svg
Getting Attention
2021-08-23 16:03:43
2021-09-01 03:30:00
5 Steps to Jumpstart Your Tagline Development Process