Donor-loss danger ahead! An all-time low 39% donor retention rate means donors are likely to cut your organization from the list next time round.
You have to stop the attrition: "A 10% improvement in retention can yield up to a 200% increase in projected lifetime value, as with higher retention significantly more donors upgrade their giving, give in multiple ways, recommend others, and, ultimately, perhaps, pledge a planned gift to the organization," says fundraising expert Adrian Sargent.
That's mammoth potential, and your donor newsletter is a vital tool for getting there.
Here's how:
Read Part One first
4) Use this Proven Format Formula—Makes Reading Easy and Satisfying
Your Print Newsletter
You're lucky enough here to have a well-tested format formula for your print newsletter, created fundraisers at the Domain Group in the 1990s. It still works!
The Domain formula includes:
• Page count: Four to six pages (in tests, adding more pages did not produce more revenue)
• Short articles
• Write for skimmers (use superstar headlines, bullets and lots of white space)
• Send to donors only, but ensure it goes to ALL donors
• Make the voice personal (the word "you" dominates) rather than institutional; get one-to-one
• Focus on progress updates (tell donors how much they have changed the world through their gifts)
• Include a response envelope
• Mail in an envelope
Source: Tom Ahern
I'd go one step further to suggest you:
Design a 4-page (11×17) newsletter, that folds to 8 ½ x 11
Print it four-color (it's cheaper than 2-color in most cases)
Test the outside envelope with your list. I'm not as convinced of its value.
On the fundraising content, it's more implicit than explicit. You do want to put the opportunity out there and make it easy for folks to give. In addition to including a response envelope like the one below, mention your donation page web address and the speed and safety of online giving frequently and clearly.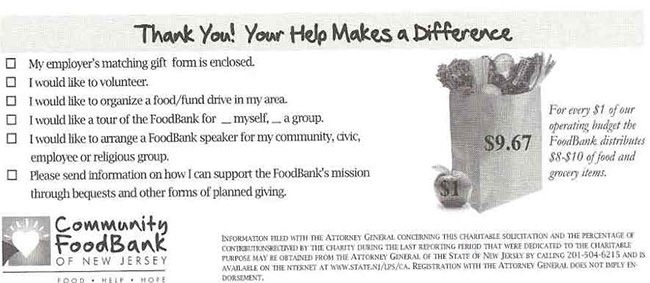 This response envelope makes it clear how to give clear, and easy to do so.
Your Email Newsletter
43% of all emails are opened on mobile devices. That means your single most important formatting to-do is ensuring your e-news is easy to read, and click on, via smartphones and tablets. Make it happen now.
Otherwise, make your emails brief, punchy and a pleasure to view and read. Follow usage patterns closely to see what issues, calls to action, layout, subject lines and other elements drive interest and action, and which don't.
Two must-includes here, beyond the content:
A big, bold Donate Now button
Links to follow your organization on social media channels, and to share your e-news content there as well.

Source: Nonprofit Tech for Good
5) Set an Ambitious but Realistic Schedule, and Meet It
I recommend that you publish your print newsletter quarterly, and your e-newsletter once or twice monthly. If that print newsletter schedule is absolutely impossible—due to budget and/or time limitations—send two print newsletters annually, timing them to arrive four weeks before your late spring and year end appeals
Of course, twice (or even four times) annually means that your publication is more of an update or progress report than a true e-newsletter. So set expectations (and name your publication) accordingly.
But whatever schedule you commit to, meet it! I know that can be hard. We're a 1½- person firm so I face the same kind of time and budget limitations you do. But breaking a promise is bad news, shouts "who cares," and undermines your organization's credibility. Just don't do it!
Read Part One here
What feedback do you get on your donor newsletters? Please share it here, along with newsletter suggestions for your donor-loving peers in the field! Thanks.
https://gettingattention.org/wp-content/uploads/2021/08/getting-attention-logo.svg
0
0
Getting Attention
https://gettingattention.org/wp-content/uploads/2021/08/getting-attention-logo.svg
Getting Attention
2021-08-23 16:05:28
2021-09-01 01:55:41
5 Steps to Newsletters that Keep Your Donors Close (Part Two)