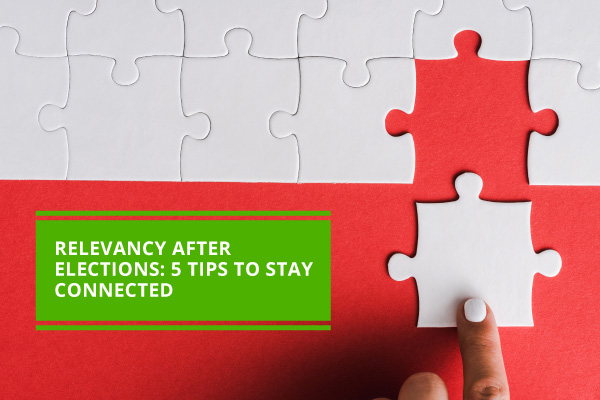 Nonprofits, social good, and politically affiliated organizations attract support in cycles. Charities earn most of their donations at the end of the end of the year, while political organizations attract the bulk of their support during election years. However, operations continue year-round and require year-round support. 
To fundraise smarter, create a sustainable base of supporters by staying in touch all year. Research shows that attracting new donors costs approximately ten times more than maintaining current ones. This means starting from scratch at the beginning of each election cycle hurts your organization's fundraising efforts. It's more cost-effective than letting supporter relationships slip.
This doesn't just apply to donors. Whether they're answering phones, researching potential donors, or canvasing the streets, volunteers help your organization function. Recruiting and training a new group every election cycle is a waste of time and resources. Manage and re-recruit past volunteers to build a knowledgeable base of advocates who can work on behalf of your organization during both on and off seasons. 
At Grassroots Unwired, we're experts in helping grassroots nonprofit and political organizations make the most of their relationships with supporters. Our canvassing and event software solutions are all built around our belief that strong relationships are what drive powerful change.
To help you create and maintain these relationships year-round, we've compiled five tips for cultivating consistent support from both donors and volunteers:
Keep Your Organization's Website Up to Date
Stay Active on Multiple Online Channels
Empower Your Volunteers Through Peer-to-Peer Fundraising
Create High Quality Branded Merchandise
Offer Volunteers Resources and Opportunities all Year
Human resources are some of your organization's greatest assets, and they often require the simplest maintenance. As we move forward in 2021, you can still make the most of our recent election year momentum. Build relationships with supporters and stay vigilant for opportunities to show your base that your mission never takes a break. 
1. Keep Your Organization's Website Up to Date
Your website is the face of your organization. If your organization has a news page or blog, update it regularly, and if you don't have a news page or blog, consider getting one. After elections, supporters' attention can drift, but a steady posting schedule signals that your organization is active while also providing quality content to your supporters about your work. 
Even if news is slow, don't neglect basic website maintenance. Here are a few ways to improve your visitors' experience when they visit your homepage:
Clear Navigation. Almost every nonprofit website has a few keypages: mission statement, contact information, and a donation form. Create obvious and easy-to-use menus so your supporters can find what they're looking for in as few clicks as possible. 
Fast Loading Times. Speed matters more than you think. 47% of people expect web pages to load in under two seconds. Ensure there is nothing slowing down your website. Uncompressed images and unnecessary link redirects are a few obvious suspects, and researching a caching method that works for your website can also reduce waiting times. 
Mobile Adaptability. Make sure that your website will be viewable for your supporters to stay updated even when they're away from their desktops. Minimize scrolling and design elements that may clutter the screen so key elements will be visible and easy to navigate to. 
If your website needs an update or more sophisticated features, consider hiring a consultant. Web design specialists will know how to create visuals for the web, and some even specialize in specific website types. Do your research ahead of time to figure out what your organization needs and what service makes the most sense for your website. 
2. Stay Active on Multiple Online Channels
Technology is your best friend for keeping in touch with your supporters. Regular updates will keep your organization in the back of your supporters' minds even when election season finishes and they aren't actively participating in events, pitching in for your canvassing efforts, or otherwise engaging in person. Online communication is also a low-cost investment, meaning you can hit post or send to remind your supporters about your organization without breaking the bank. 
However, different supporters watch different platforms for activity, making it necessary to diversify your organization's outreach approach. 
Social Media
While social media has a low bar to entry, don't start posting without a strategy. Create a formal social media plan with a timeline of posts, an index of appropriate post types, and knowledge about what strategies work best on what websites. 
Not all social media is created equal. Many nonprofits use Facebook, Twitter, and Instagram to stay in touch with current supporters and attract new ones. Consider these suggestions for tailoring your content to the context of each platform:
Facebook. Almost all social media platforms prefer short form content, but if you do have a long story or report to share with your supporters, Facebook is the place to do it. You'll still have limited time to convince someone scrolling through their feed to read your post, so consider starting off with an eye-catching header image. 
Twitter. With its strict word limit, Twitter is all about quick, snappy updates. Twitter also rewards interactive content that attracts responses, making it a good place to post supporter shoutouts or polls.
Instagram. If you have high-quality pictures of your work, put them on your Instagram. Take lots of pictures during busy times so you'll have a pool to pull from during lulls in activity. Attractive graphic designs can also serve in a pinch. 
Invest in the platforms your supporters are already on. Volunteers advocating on behalf of your organization will likely use their social media as their main platforms. Even if you don't have the time to devote to a comprehensive strategy, creating a semi-active account your volunteers can link to will make marketing outreach smoother on both your and their ends.  
Email
No matter what other approaches your organization is using, you'll need email. Regular emails will keep you in contact with your supporters by delivering thank you messages, newsletters, and fundraising letters. 
You can improve your email strategies to build relationships with volunteers both when they are and aren't actively working for your organization. Personalize emails to reference past and current projects your volunteers have worked on and never forget to address them by name. Small touches like these will let your volunteers know that your organization recognizes and appreciates their contributions, which might convince them to lend a hand the next time things get busy. 
3. Empower Your Volunteers Through Peer-to-Peer Fundraising
During election cycles, your organization and volunteers coordinate schedules to meet campaign targets. After election season, your volunteers might keep different hours than your organization. Encouraging your volunteers to advocate for your organization individually can lead to connections and marketing strategies unobtainable if you're directing their every move. 
Establish guidelines for branding and appropriate messages, then let your volunteers speak directly with their friends, family, and social media followers about your organization. 
While face-to-face marketing currently isn't practical, your volunteers can still make personal connections online. For example, Grassroots Unwired has virtual canvassing software for political campaigns. This lends itself to giving more independence to your volunteers by letting them log-in from anywhere and engage supporters in video chats at any time. If your organization specialized in canvassing, check out this guide for strategies to employ when election season starts up again. 
Keep track of your volunteer's efforts through regular check-ins and software with real time reporting. This way your volunteers will customize their approach to advocating for your organization while also providing feedback around what is and isn't working. 
Also, never forget to thank your volunteers for all their work!
4. Create High-Quality Branded Merchandise
Branded merchandise benefits both your organization and your supporters all year round. Your supporters get t-shirts and sweaters as additions to their wardrobes, and your organization gets free advertising whenever they wear your merchandise in public. 
Designing high-quality merchandise will also be worth it in the long run for everyone. Your supporters will use and wear products that last longer, giving them more opportunities to show them off. Creative designs attract more attention, and out of the box merchandise ideas can spark conversations that lead back to your organization and the work you do. 
Shop around before investing in a store or supplier. Some online stores offer more opportunities for different organizations. For example, some suppliers give discounts to nonprofits while others like Bonfire let political campaigns collect donor information during checkout. 
5. Offer Volunteers Resources and Opportunities all Year
While it's unlikely you'll always have active projects for volunteers, create online resources for volunteers to engage with to keep them interested in your organization during down periods. Find opportunities to create evergreen materials, content your volunteers can interact with at any time without ever being irrelevant. 
A few examples of evergreen content are:
E-learning courses. Your volunteers are interested in your field, so give them opportunities to learn more. Some courses on how to be a better volunteer are always appropriate, but additional knowledge will give your volunteers a better understanding about the implications of their efforts, leading to more investment in your organization's mission.
Entertaining videos. If your organization has or plans to launch events that will result in funny or interesting videos, be sure to save the produced content and urge your supporters to share their creations with you. Compilations of past events are fun to rewatch and highly shareable.
Inspire loyalty in your volunteers by making them feel like they're part of your organization no matter what time of year it is. Pointing them towards activities to keep them interested can inspire volunteer retention and allow your organization to build long-lasting relationships with a strong core of reliable supporters. 
---
While your organization has busy seasons, it should never have an off season. Retaining your volunteers and donors will always be easier than attracting entirely new ones. Keep the lines of communication open all year long, let your volunteers advocate on behalf of your organization, and always say thank you to all your supporters for sticking around. 
https://gettingattention.org/wp-content/uploads/2021/08/Grassroots-Unwired_Getting-Attention_Relevancy-After-Elections-5-Tips-to-Stay-Connected.jpg
400
600
Getting Attention
https://gettingattention.org/wp-content/uploads/2021/08/getting-attention-logo.svg
Getting Attention
2021-08-23 16:06:22
2023-09-28 14:19:35
Relevancy After Elections: 5 Tips to Stay Connected