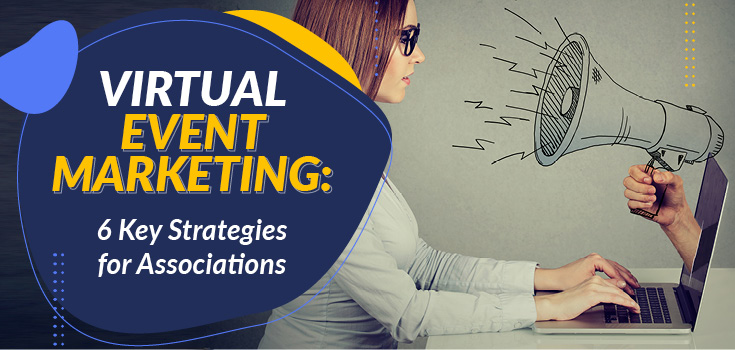 Virtual events have become a standard part of associations' calendars. Unlike in-person events, they cost less, require less planning, help associations reach a larger audience, and allow attendees to tune in from the comfort of their homes.
But just like any event, their success depends on good marketing. If you're planning your first virtual event or want a refresher on virtual event marketing for associations, this guide's for you.
You'll learn:
The importance of virtual event marketing for associations
Promoting a virtual association event: 6 best practices
The importance of virtual event marketing for associations
Your event planning is for nothing without marketing.
Virtual event marketing creates awareness for your event by grabbing attendees' attention and ensuring they know about the event in the first place. Virtual events can be attended by anyone, from anywhere so you don't have to be as limited in where you market or where your audience lives.
Your marketing should also get attendees excited about the event and generate pre-event engagement. This is super important considering that nearly half of marketers use it as a primary indicator for event success. Engagement helps you achieve your event goals like fundraising targets. It also makes sure that you're getting a positive return on what you're investing in, whether that be staff, logistical costs, sponsorships, or your virtual event software.
Promoting a virtual association event: 6 best practices
With virtual events becoming increasingly popular, standing out from the crowd can be tricky. But it doesn't have to be as long as you keep the following six tips and best practices in mind when promoting your virtual association event.
1. Use dedicated event management software
There are many moving parts to planning a successful event besides marketing like ticketing, registration, payments, email communication, and managing your contacts. It's always helpful to centralize them in one place because it makes planning and promoting your event easier.
With the right event management software, you'll be able to find what you need in one place. Look for virtual event software that helps you:
Organize, promote, and host your event from one place.
Simplify registration and event delivery with custom and automated registration, a simplified event lobby, and an integration with Zoom.
Create a virtual exhibit hall so sponsors can engage with attendees to drive revenue.
Easily transition from registration to hosting a single one-off webinar or multi-session event.
2. Study your performance from past events
Studying past performance helps with future planning. Review marketing data from previous events you've hosted to learn what did and didn't work. Then, adapt as needed.
For instance, compare registrations versus actual attendance or review fundraising targets versus actual figures. If you're underperforming, think of why and what improvements you can make. Maybe the promotion period was too short. In that case, create resources well in advance.
You can also assess how your technology performed on the day in terms of speeds, session delivery, and overall user experience. If there were tech issues, think about what you can do to fix them. You may need a new virtual management software or a more reliable internet line.
Finally, don't be afraid to gather feedback from attendees on your performance through a post-event survey.
3. Consider your audience
An event will usually have multiple audiences, including sponsors, exhibitors, and attendees. Understanding all these audiences helps you an event tailored to them and present your brand in an appealing way.
Your audience influences the content of the conference, the speakers you choose to deliver this content, the messaging for each audience to promote the event, and the channels to deliver that message.
So, think carefully about these audiences to create, promote, and deliver an event they'll enjoy. Don't be afraid to sit down with existing members to better understand their hobbies, work, and how they spend their free time. You can also gather data by asking potential attendees questions during the registration process.
4. Create resources in advance
Create your event resources in advance to share with members early. This can help hype up your members for your event and act as a promotion tool.
It also helps simplify your marketing process once it kicks into gear. You'll have all the resources you need and won't be scrambling to get them created at the last minute, which can be stressful and lead to sub-par resources and marketing.
Resources may include landing pages, promotional emails, and FAQ pages. Creating a page or handbook covering FAQs is an excellent place to start. Make sure it covers crucial questions about the event, like how to sign up and use the platform to participate.
5. Empower members to get involved
Your existing members are often your strongest advocates. They also have lots of experience and knowledge they can use to promote your virtual event.
So, encourage members to market your event—usually an easy task if you already have substantial member benefits and/or a referral program. Provide them with resources to do this and, if required, train them to confidently promote the message and details about the event.
6. Foster plenty of pre-event engagement
Pre-event engagement (chat rooms, forums, polls, Q&As – all before your event happens) can create excitement around your event. It encourages networking, can build a sense of community, and improves connectivity during the event. Members will be more familiar with you, your association, your goals, and other members.
Just make sure you don't engage members too late. It won't give you enough time to benefit from the engagement and members adequate time to review the opportunity and plan for it in their schedules.
Also, be careful of doing it too early. The excitement and enthusiasm around the event may wear off, and you won't carry in the buzz you want. Plan to engage members 30 days out from the event.
You can foster virtual event engagement before an event by:
Running social media contests encouraging members to use specific hashtags.
Offering a giveaway where you raffle off an item on the day.
Promoting the event in industry publications or member blogs.
Incentivizing engagement with tiered registration packages or early bird perks like a discount.
The bottom line on virtual event marketing for associations
Virtual events are a popular option because of their low cost, large reach, easier planning, and convenience, but like any event, their success depends on marketing.
With strong marketing and advertising tactics, you can drive awareness, excitement, and engagement around your event – which helps you achieve your fundraising targets.
Just make sure you promote your virtual association event the right way: study up on nonprofit marketing best practices like using dedicated event software, creating resources in advance, and fostering pre-event engagement. Do that, and the odds of hosting a successful event will be just that much higher!
https://gettingattention.org/wp-content/uploads/2022/05/virtual-event-marketing-for-associations.jpg
350
735
Getting Attention
https://gettingattention.org/wp-content/uploads/2021/08/getting-attention-logo.svg
Getting Attention
2022-05-16 13:36:10
2023-09-18 01:39:17
Virtual Event Marketing: 6 Tips for Associations