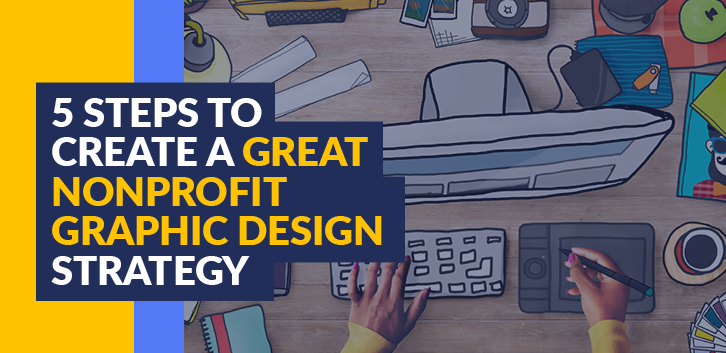 A solid marketing strategy is essential for any nonprofit to make an impact. Nonprofit marketing can help with raising awareness about your organization's mission, promoting your services in the community, and attracting volunteers and donors, among other keys to success.
You can take your nonprofit's marketing to the next level by adding a graphic design strategy. They say a picture is worth a thousand words, and graphic design can elevate almost any kind of nonprofit marketing material. It makes your message more inviting, engaging, and memorable for your supporters.
In this article, we'll cover these 5 steps to a great nonprofit graphic design strategy:
Graphic design has high rewards for nonprofits, but it can be a challenging process, especially when you're starting out. If you encounter any questions or difficulties, consider partnering with a graphic design service that can help you with many types of graphic designs and stages of the process.
1. Establish Your Nonprofit's Brand
Every organization needs a brand, including nonprofits. While you may not be selling a product or service to customers like most brands do, you're still selling something—your impact. When potential supporters come across your marketing materials, they're deciding if they want to "buy" into your mission by donating or participating.
Your nonprofit's brand needs to be recognizable to supporters immediately. That way, anyone who comes across your marketing materials will immediately associate them with you.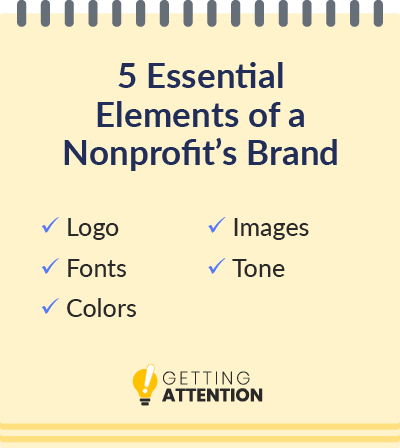 When you create your nonprofit's brand strategy, several elements will overlap with your graphic design strategy:
Logo. A well-designed logo will be the most noticeable part of your brand for your supporters. Create a logo for your nonprofit that expresses your organization's "personality," isn't overly complicated, and resonates with your audience.
Fonts. Using the same fonts across all your communications ties them together in your supporters' minds. Choosing two brand typefaces

—

one for titles or headings and one for body text

—will add visual variety. But don't use more than three fonts in order to avoid a cluttered look.

Color scheme. Your color scheme is one area of your brand where you have a lot of creative freedom. While many brands pick one or two main colors and a few additional shades, you can use any number of colors as long as you keep them consistent. Color psychology also applies to branding

—choose colors based on how you want your audience to perceive your brand.

Images. Whenever you include photos or graphics in your marketing materials, make sure they reflect your organization's mission and your supporters' values.
Tone. Every way that you communicate with your supporters, in writing and through graphic design, should reflect your nonprofit's identity. Is your organization trustworthy? Optimistic? Passionate? Let those traits come through in your words and images.
In order to keep your brand consistent across all your marketing materials, create a nonprofit brand guide including all the elements above, as well as information about the communication platforms you use and the audience for each one. Also, you may need to test and tweak your brand over time in order to make it reflect your nonprofit and appeal to your audience.
2. Choose Graphic Design Tools to Get Started
Once you've established a brand for your nonprofit, you can start designing! But you'll need to have the right set of graphic design tools that will help your work, not hinder it. These tools should be easy to use and have little to no cost associated with them.
Having one of each of these tools is an absolute must for nonprofit graphic design:
A beginner graphic creator, where you can use templates to design flyers, infographics, social media posts, and even short videos. Canva and VistaCreate are both easy to use and have free options as well as paid premium versions.
An online source for stock images, like Pexels or Pixabay. These sites provide free or low-cost stock photos that you can use in your marketing materials without risking copyright lawsuits.
An intuitive website builder that you can use to create and update your organization's website without having to hire a web developer to code the site from scratch. WordPress is one of the most popular website builders across all sectors, while Morweb provides web support specifically for nonprofits.
Presentation software, since slideshows make your meetings and events much more engaging and easier to follow. Prezi has a fun structure you can experiment with, and Google Slides' sharing feature allows multiple people across your organization to work on a slide deck at the same time.
If you have difficulty using any of these tools or are ready to take your nonprofit graphic design to the next level, outsourcing to a subscription-based design service like Kwala will especially be helpful for you.
3. Tell Stories Through Your Graphic Design
No matter what graphic design tools you're using, everything you create should point back to your nonprofit's mission. Using graphic design to tell stories is a great way to highlight your organization's community impact and function.
Storytelling is the way to go in order to get your message to stick in your supporters' minds. People remember stories considerably more than statistics—it's scientifically proven. Stories also get your supporters emotionally involved in your mission, inspiring them to take action.
You don't have to—and shouldn't—limit your storytelling efforts to words alone. Graphic design can add to verbal stories or become a story in itself. To incorporate graphic design into your nonprofit's storytelling on different platforms, start with these ideas:
Create a carousel of images celebrating a successful event on your website.
Feature those who've benefitted from your services in social media posts with images and descriptive captions.
Design header images for marketing emails to detail your mission statement creatively before diving into the specifics of the message.
Add charts and graphs in your brand colors to your presentations to show successes and areas of improvement backed up by data.
Wherever you use stories in your designs, make sure they reflect both your organization's overall goals and the intent of that particular piece of communication.
4. Keep Your Nonprofit's Audience in Mind
Even if your nonprofit tells elaborate stories through your graphic designs, they'll only be effective if you understand your audience. Remember that your goal is to make your nonprofit stick in your supporters' minds. So, you'll need to shape your designs to reflect their needs, wants, and interests.
But, of course, not every supporter of your nonprofit has the same needs, wants, or interests. Trying to make designs that consistently reflect your organization but also appeal to a diverse audience can quickly become complicated. To make the process easier, keep these considerations in mind: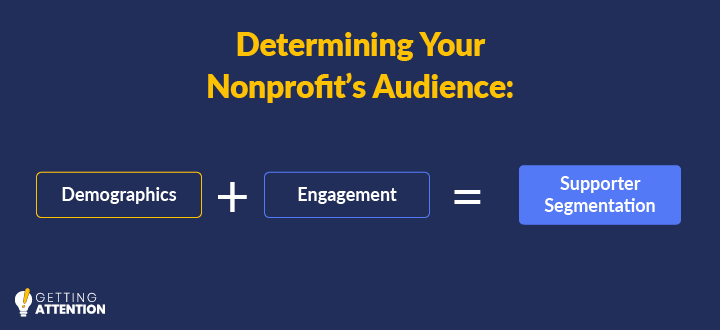 Demographics
Gathering demographic data on your supporters is the first step to understanding your audience. If you know which groups of the population you're dealing with, you can tailor your design strategy to their interests.
These are some common demographic factors that will be helpful to know about your nonprofit's audience:
Age
Gender
Location
Education
Family status
Wealth
These factors all influence how your audience thinks and what they value, which in turn shape their unique motivations for engaging with your nonprofit. To use age demographics as an example, younger generations may want to see social media graphics or digital flyers about creating positive change in society, while older generations might prefer charts incorporated into presentations related to tax-deductible giving. But any of these analytical points will produce valuable data when you conduct research and actively ask donors for the information you want to learn..
Past Engagement
Demographics are good general metrics to start with in understanding your audience, but statistics on past engagement will tell you more about the way your individual supporters interact with your nonprofit. Remember that supporters can get involved in any number of ways. These considerations will be most useful from a design-strategy standpoint:
Type

—how they mainly interact with your nonprofit (monetary gifts, in-kind gifts, volunteering, etc.).

Recency—when they made their last contribution or attended their last event.
Frequency

—how often they donate or volunteer.

Amount—how much money they give each time, or how much total time they've spent volunteering and attending events.
Motivation

—

why they're involved with your organization (for example, a personal connection to your cause or confidence that you're making a positive impact in the community).
Besides helping you understand the behaviors and motives of your audience, engagement analytics can help you to prioritize certain groups within your audience. While attracting new supporters might be helpful in some cases when you want to take your organization in a new direction, retention is more cost effective for day-to-day operations. So, you'll decide which set of engagement data is most important to your graphic design strategy based on your nonprofit's current goals.
Supporter Segmentation
When you combine demographic data with analytics on past engagement, you can start the process of supporter segmentation. A supporter segment is a group of people who interact with your nonprofit and share a profile characteristics. Examples of segments may include long-term major donors (who are likely older, wealthy, and educated) or volunteers acquired through social media (who may be younger and have fewer means to donate at this point).
Once you've established some segments, you can use your understanding of who you're targeting in each of your marketing campaigns to adapt your graphic design choices. This way, audience members will be more likely to respond to calls to action and engage with your organization over time.
5. Stay Open to New Graphic Design Ideas
Especially when you're starting out in nonprofit graphic design, you'll need to be flexible with your ideas and process. Flexibility doesn't make planning any less important—you should still outline each of your design ideas in detail and make sure they work with your overall marketing strategy. But don't be surprised if you end up going in a different direction based on initial reactions to your concepts, new data on your audience, or limitations related to time or tools.
In these early stages, asking for help from graphic design experts is always a good idea. Designers can give you many types of advice, whether you don't know where to start, get stuck while creating a design, or just want someone else's opinion on your work.
Graphic design experts can also do the heavy lifting for you. You give them an overview of your strategy and tell them about your plans for certain designs, and they'll come back with examples of content.
Kwala is a subscription-based graphic design service that can help your nonprofit create a full range of custom designs. The subscription model means that you'll pay a set rate for each month instead of paying by the project or by work hours. This way, you get more value through unlimited designs and revisions. If you're not a heavy user or just want to try out Kwala's services, you can also ask for a quote on a one-off task before committing to a subscription.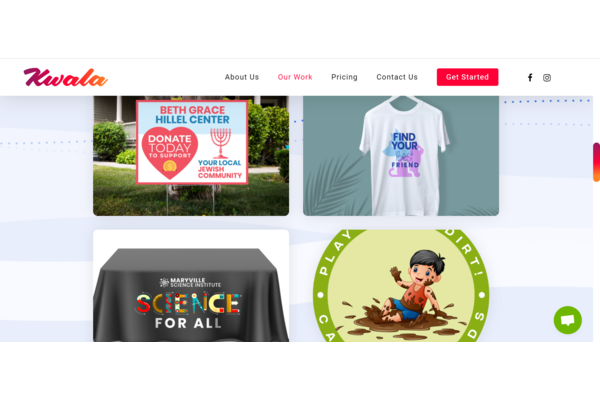 The Bottom Line
Creating great graphic designs for your nonprofit will go a long way in attracting, engaging, and retaining supporters. Follow these steps to get started with adding graphic design to your nonprofit's marketing strategy. Also, remember that you can reach out for risk-free, high-reward help from a design service like Kwala at any time.
https://gettingattention.org/wp-content/uploads/2022/07/Kwala_GettingAttention_5StepstoCreateaGreatNonprofitGraphicDesignStrategy_Feature.png
353
726
Getting Attention
https://gettingattention.org/wp-content/uploads/2021/08/getting-attention-logo.svg
Getting Attention
2022-07-05 13:32:43
2022-12-13 20:01:26
5 Steps to Create a Great Nonprofit Graphic Design Strategy