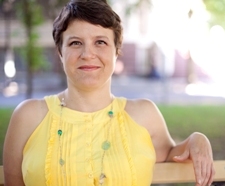 Guest blogger Holly Ross has spent seven+ years at the Nonprofit Technology Network (NTEN), working with community members to identify technology trends that are reshaping the nonprofit sector. Brett Meyer, NTEN Communications Director, co-authored this post.

As nonprofits have flocked to the e-newsletter as an inexpensive and timely way to communicate with stakeholders, the number of newsletter tips has also proliferated. While subject lines, "from" addresses, and your template design are all important, they aren't the biggest challenge to putting out a quality newsletter.  The most difficult part is creating good content, content your subscribers want to read.
For many organizations, simply getting an e-newsletter out regularly, with enough  content — let alone enough good content — is a win. That was certainly true for NTEN a few years ago. But since then, we've developed loftier goals for our e-news NTEN Connect, transforming it from a chore we had to cross off the monthly to-do list to a blockbuster driver of traffic to our blog. And we managed to reinforce our values and culture while doing so. Here's how:
The chore of creating good content
NTEN is a small organization. With just a handful of staff members, we felt the pain of the e-news challenge intensely.
Writing enough good, timely content to fill a monthly newsletter was simply not an option for our overburdened staff. Instead, in 2007, we started stocking it with articles written by members of our community.
While we selected the topics and the authors for each issue, producing the newsletter itself became a matter of curation rather than creation. This shift also aligned nicely with one of our core values: providing a platform for our community's views. And we took one step further to publish our newsletter stories on our blog (on our website). Readers of the newsletter received a teaser for the article – usually the first paragraph or two – and a link to read the entire article on our site.
We very quickly saw a jump in the website metrics we track. Traffic started to rise and we got lots of compliments on the new format. At that point, we knew we had something good on our hands, but knew we could do even better.
The content creation experiment
We shook up our e-news format again in November 2008. Rather than hand-picking topics and authors, we invited the community to write about anything they wanted. Submissions flowed in, including quite a few we couldn't use. While we put out an interesting issue, it didn't drive traffic quite the way we had hoped it would.
Then we added a twist to the experiment in Fall 2009. We had always used the newsletter to "break" stories, publishing all of the new articles at once on our website, on the day we sent out the newsletter. This time, we posted the articles on our website as they were submitted, letting the authors know that the most successful posts — those that generated the greatest usage as measured by page views, time spent on the site, and comments — would be included in the November newsletter.
By this time, of course, social media had burst upon the scene. Being that the NTEN community is generally pretty tech savvy, we saw them using blogs, Facebook, and Twitter to share news, likes and their own accomplishments. So we tapped the power and reach of the community for the newsletter, leveraging our authors' social networks to drive traffic to our site and increase newsletter subscriptions.
Our incentive strategy worked! That November, we saw an 80% increase in blog traffic over November 2008. We watched our authors using their social networks to highlight their accomplishment – "Look! I have an article on the NTEN site!" – driving traffic our way. That single month was a huge factor in our 22% increase in blog traffic in 2009.
Unfortunately, blog traffic in every other month (when we curated newsletter content) flatlined.
We continued experimenting with the e-news throughout 2010 to boost site traffic, redesigning the template and removing less-popular features. Nothing helped us reach the boost that the social network November 2009 edition created.
The leap into a new content strategy
So, in September 2010, we moved to our Community Guided Content model. We still ask authors to write about specific topics, but we post new articles to our website almost daily, then use the stats to determine what goes into the actual newsletter. Since this shift, blog traffic is up 37% year-over-year  and shows a fairly steady month-to-month growth rate. Plus time spent on web pages on page is up – a modest but welcome increase of three seconds.
This new strategy means we're driving a lot of traffic to NTEN.org overall: We're up 24% year-over-year in 2011. The blog/newsletter strategy drives most of that, as you can see from the increase in blog traffic as a percentage of total site traffic for the last few years:
2008: 17%
2009: 19%
2010: 22%
2011: 25%
Most importantly,  publishing more and more diverse content on the blog gives us a sense of what the NTEN community is most interested in. Then, when we compose NTEN Connect each month, instead of guessing what we should send out to our 30,000 subscribers, we can look at our blog and social media analytics data to learn what our blog readers have already found most engaging.
Looking to the future
We now have a successful newsletter strategy in place — one that aligns our values and goals, and has significantly expanded our visibility and prominence in the sector. This year alone, our newsletter subscriber base has increased 50%.
Next, we're hoping to match newsletter content even more closely with our audiences' wants and interests. We've begun experimenting more with segmentation: instead of sending out one issue to our full list, we deliver seven different versions based on job function, e.g. Executive Directors receive different content than IT staff members.
Going forward, we'll be able to tailor newsletter content based on the articles our readers have interacted with over time. Already, we've seen the potential for this level of segmentation by including dynamic content based on our subscribers' membership status and activity levels. And we expect to continue refining our content strategy on an ongoing basis to ensure it meets the needs of the NTEN community. That's what makes a successful e-newsletter!
What are your strategies for creating content that's valued by your audiences and advances your organization's mission — for your e-news, blog, or other channels — when it's just one of many must-do tasks?
https://gettingattention.org/wp-content/uploads/2021/08/getting-attention-logo.svg
0
0
Getting Attention
https://gettingattention.org/wp-content/uploads/2021/08/getting-attention-logo.svg
Getting Attention
2021-08-23 16:04:09
2023-09-21 14:25:27
How to Create Enough Good Content
(Case Study)