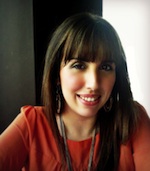 Guest blogger, Caroline Avakian is the founder & CEO of SourceRise, a social enterprise connecting journalists to nonprofit subject matter experts and sources, and managing partner of  Socialbrite, a social media for nonprofits consultancy and digital learning hub.

Conference season is ongoing these days. So I was particularly pleased when, at the recent, Harvard Social Enterprise Conference, keynote speaker and Echoing Green president, Cheryl Dorsey, shared some valuable hints to us attendees on conference participation best practices.

Here are the helpful tips I learned—all easy to manage but packing a big punch. Bet that you''ll be glad you set these in motion when you return from your next conference.
1. Start with the end in mind
What are the top three things you want to get out of this conference? Whether it's meeting a particular attendee or speaker or gaining a better understanding of how to create a social media strategy for your nonprofit, the more specific you are, the likelier you are to walk out of that conference feeling satisfied and accomplished.
Also, something that stood out to me as being really powerful was that Cheryl mentioned being conscious of not only meeting those who can help you, but those who you can help as well. They are equally important.
2. Use your business cards to their fullest potential
In the flurry of meet and greets, it is likely you get home and don't remember half of who those cards are from. To remedy this, think of one actionable item for each person you meet. Then write it on their business card before you walk out of the room.
3. Lessons learned
Take a minute and write down the three things you learned after each conference session you attend. It will all seem like less of a blur once you get back home and you'll be able to take action on the items that really stood out.
What are some of your favorite conference-going tips and tricks?
https://gettingattention.org/wp-content/uploads/2021/08/carol.jpg
171
150
Getting Attention
https://gettingattention.org/wp-content/uploads/2021/08/getting-attention-logo.svg
Getting Attention
2021-08-23 16:04:26
2021-09-01 02:47:42
Get More from Conference Participation