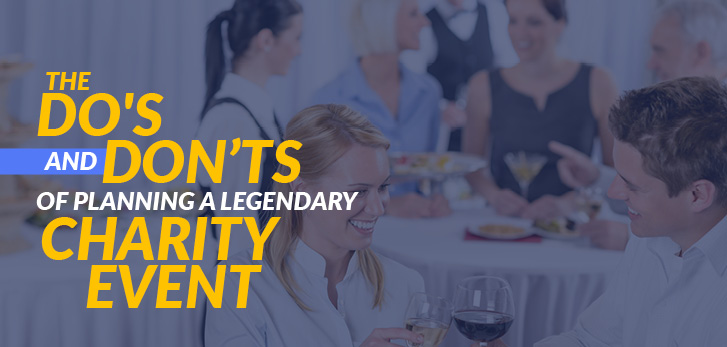 Whether your nonprofit is preparing to host its annual gala or a one-off virtual game night, you likely have specific goals you want to reach, such as raising a certain amount of money, securing a particular number of new sponsors, or increasing your average attendance rate.
These goals are important, especially when you consider the investment of time, energy, and money that your nonprofit has to make for big events to happen. But what about leaving a lasting impression on your attendees, and providing them with a memorable experience that they'll be talking about for years to come? In other words, how can you take your charity events to the next level, and make them legendary?
The answer lies in careful event planning. With the right approach to planning your nonprofit's next event, you can ensure that you'll meet all of your goals, and put together an occasion that your supporters won't soon forget. To fine-tune your event planning strategy to this end, follow these do's and don'ts:
As you review these do's and don'ts and consider how you can take your events to new heights, remember that you don't have to figure it all out on your own. An experienced charity event planning and production company can help you manage the many moving parts of your event, and give you the time and headspace needed to focus on making your attendee experience a legendary one.

Do pick an event idea that will wow your audience.
One great way to freshen up your event planning strategy is to pick a unique event idea you've never done before. As you consider the many different types of events there are to choose from, consider what you know about your nonprofit's audience and select an idea that will resonate with them.
Here are some of the top fundraising ideas from Best Fundraising Ideas for you to consider:
Paint and Sip: This is a relaxing fundraiser that involves getting your supporters together to enjoy drinks and an evening of painting. Consider asking a local artist or art teacher to lead a painting class, and to offer tips and techniques to participants.
Car Show: Invite classic car owners to assemble for a car show. Your supporters can browse the collection of cars, enter giveaways, and purchase food from food trucks. For certain demographics, this idea can prove to be incredibly successful.
Talent Show: Tap into your community's talents by hosting a talent show. Set up your show in an interesting venue, and recruit some of your board members or notable community members to act as judges. Make sure to offer an exciting prize for the winning act, like a trophy or gift basket.
Night at the Museum: If your organization runs a museum or can partner with one, try hosting an all-night event where attendees can explore the museum exhibits after hours. Allow attendees to hear from museum experts, admire the works around them,  and enjoy good food with great company.
Of course, sometimes you'll need to stick with event ideas you've been using for years. For example, you may have an annual winter ball or gala that is an established tradition in your community. To generate more interest, and to ensure your team is approaching the planning stage in a different way, you can always put a fresh twist on an already-established event.
For example, don't overlook opportunities to transform your event into a virtual occasion. According to CharityBids' guide to virtual charity events, these events allow for a flexible experience, help your organization save money, empower you to try new methods of raising money, and can even give you the chance to tap into exclusive experiences like celebrity appearances.

Don't put off assembling an event planning committee.
To effectively plan and execute your event, you'll need to create a planning committee made up of individuals who are committed to their responsibilities and to making your event the best it can be.
Here are the roles you'll need to fill, along with their responsibilities:
Committee Chair: The chair will be in charge of communicating with your nonprofit's leadership about the event, and ensuring the team is adhering to the budget. They'll also ensure that all other individuals on the committee feel supported in completing their duties ahead of the event.
Event Designer: The event designer or planner, will handle all of the event details, including the venue, catering, decor, and entertainment. They'll also be responsible for securing any necessary liquor or games of chance licenses for the big day.
Sponsorships Coordinator: A sponsorships coordinator is tasked with creating and maintaining relationships with event sponsors like local businesses or restaurants. One of the most important things they'll do is ensure that your sponsors receive the benefits your organization promises them in return for sponsoring your event.
Communications Manager: This individual will lead the charge of marketing your event. They'll guide the rest of your team in how to get the word out to the public and will inform the media about it if necessary.
Volunteer Coordinator: The volunteer coordinator will be responsible for recruiting volunteers for the event, training them in their roles, and managing the volunteer team  during the event.
If your event will involve an auction, you may also need to recruit an auction item procurement specialist. They'll be responsible for identifying auction items, managing relationships with the donors of the items, and gathering the items ahead of the big event. This is a big job, so in some instances, you may need a whole team of procurement specialists.

Do recruit volunteers.
Most often, nonprofits are most concerned about engaging donors during their events, but volunteers are a critical part of the event equation, too. Not only can your event run more smoothly with more hands to help, but your organization can also strengthen relationships with its volunteers by offering them fulfilling opportunities to get involved with the event.
As you recruit volunteers for your event, take what you know about your existing volunteers into consideration, and try to match them with roles that will resonate with their interests and skill sets. For example, if you know one volunteer has great graphic design skills, you might ask them to help you create virtual event invitations.
For volunteers who are signing up to work for your organization for the first time, take the time before and during the event to get to know them, chat about your mission, and ensure they're comfortable performing their duties. Their experience volunteering during the event will play a big role in whether they return for another volunteer opportunity in the future!

Don't neglect your follow-up activities.
Once your event is over, it can be tempting to move on to planning your next campaign or project. But if you really want to make a great impression on your event attendees, you'll ensure that you perform follow-up tasks before you do.
As you plan your event, consider how you'll reach out to your event attendees, volunteers, and sponsors to thank them for their time and contributions after the event is over. Doing so will help you have a plan in place to get started right after your event ends! Here are some popular options:
Traditional thank-you letters
Social media shout-outs and/or messages
Thank-you videos
Small gifts (like your nonprofit's branded merchandise)
You should also let the larger community know how your event went. For example, you might post about your event on your blog, share pictures from the event on social media, or give an event recap in the next edition of your newsletter. This will show your community how your events are tied to your larger cause, and can encourage more people to attend your next event!
---
When it comes to nonprofit events, there's no need to settle for good or great. You can make your next event legendary by approaching the planning process with care. Use these do's and don'ts to make sure your next event will be one for the books!
https://gettingattention.org/wp-content/uploads/2023/04/CharityBids-Getting-Attention-The-Dos-and-Donts-of-Planning-a-Legendary-Charity-Event_feature.jpg
347
727
Getting Attention
https://gettingattention.org/wp-content/uploads/2021/08/getting-attention-logo.svg
Getting Attention
2023-04-06 19:52:33
2023-04-06 19:56:58
The Do's and Don'ts of Planning a Legendary Charity Event