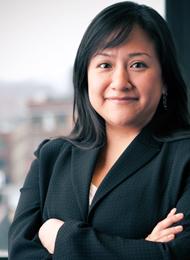 So glad to welcome guest blogger Yesenia Sotelo! Yesenia founded Smart Cause Digital where she builds and grows smart websites.
A couple of months ago, I finally gave my business website the same love and attention that I bring to nonprofit clients' sites. During this process, I learned several important lessons that will help you build a site that truly reflects your nonprofit and its goals.
Stop trying to hide
Originally, I tried to make SmartCause look more like an agency rather than just me. Why? Because I thought nonprofits wanted to work with an agency for their website.

But guess what? People want to work with those who provide the best results. And they want to know the name, face, personality and qualifications of the folks they're working with.
Shine a *huge* spotlight on your organization's unique qualities!
Maybe you have a unique combination of specialties? Direct services AND advocacy for state-level legislative reform? Highlight them!
Maybe you have a very narrow and unique mission—the only organization advocating for Asian women's reproductive health in your city? Highlight that!
Maybe you are small but growing in important ways, expanding your staff from five to seven this year and brining in two new grants both topping the million dollar mark? Highlight that!
Cut the noise
My old homepage was flawed like so many others—it was trying to say all the things, all at once. And it succeeded at saying… nothing.
No one cares about *everything* you can say. They care about what's relevant to them, and nothing else. That's human nature!
Cut out some of your homepage's content—Feature just the content that directly and succinctly answers these website visitor questions:
What do you do?
Who are you?
Why should I care?
Own your greatness
I work with the best clients ever, and I should have been showcasing them from day one. Instead, I buried them (and they're my favorite part of my) on a single page.
Now my awesome clients' logos and testimonials are sprinkled throughout the site. You can't overlook them
Prominently feature testimonials and stories from supporters throughout your site—they're the strongest messages you have.
Give people a reason to care
My old site didn't tell the story of why I started SmartCause or highlight how passionate a nonprofit digital nerd I really am. But people relate to other people and especially to other people's stories.
Share your nonprofit's origin in the form of a story:
Include main characters, plot and unique details
Tweak your staff and board bios to include a story about how each person has been affected by your mission.
Go to it! But first…
How have you updated your nonprofit's website to highlight its personality, passion and impact? Please share your approach here.
https://gettingattention.org/wp-content/uploads/2021/08/sotelo_yesenia.jpg
260
190
Getting Attention
https://gettingattention.org/wp-content/uploads/2021/08/getting-attention-logo.svg
Getting Attention
2021-08-23 16:04:26
2021-09-01 02:50:40
Nonprofit Websites that Work: Showcase Your Personality, Passion & Impact