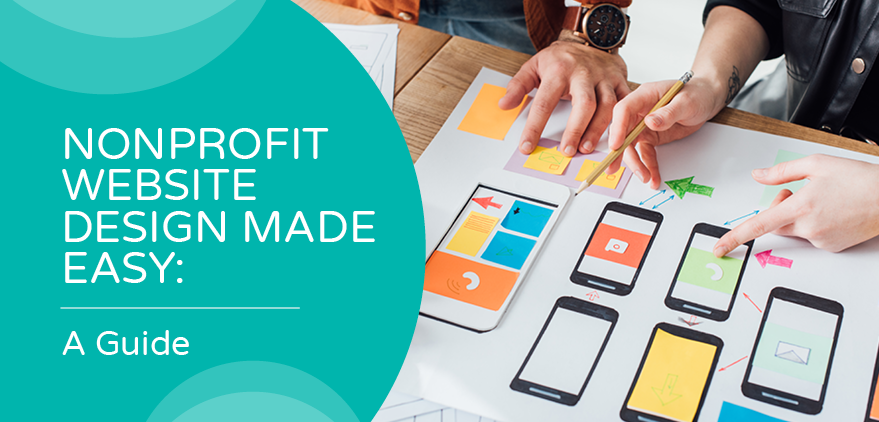 Your nonprofit's website is a powerful tool to expand your reach. With more and more people spending time online, your website can help you gain supporters from all over the world and make people more passionate about your cause. However, if your website doesn't stand out from the crowd, it'll be much more difficult for your organization to prove that it's worthy of people's support.
A tried and true way to improve your website's digital presence is through designing an engaging website. With a well-designed website, you can maximize support and increase revenue, helping your organization better reach its goals.
Web design can be an easy process for anyone, even for people without previous design or technical experience. In this guide, we'll walk through how to streamline the entire website development process. Use these key tips to create a well-designed website:
With a strong website, your organization can effectively market itself and turn casual site visitors into loyal supporters. Let's begin.
Choose a nonprofit website builder.
A content management system (CMS), or a nonprofit website builder, can streamline the design process so your nonprofit can focus on creating great content. The right website builder will offer nonprofit-specific features that enhance the user's experience and offer all the tools you'll need to engage supporters effectively.
To support your programming and fundraising efforts (and grow your supporter base), choose a nonprofit website builder with the following features:
Embedded forms. Your nonprofit will need forms for a variety of purposes, such as facilitating event sign-ups, collecting donations and contact information, and more. Rather than sending your supporters to an external website, your nonprofit website builder should allow you to easily create forms directly on your website.
Social media integration. Social media integrations can help your nonprofit easily advertise fundraisers and programs so current supporters can stay in-the-know and new supporters can learn about your organization.
Customizable templates. Coming up with a website theme on your own can be difficult, which is why a website builder with built-in templates is a must-have in order to simplify the process. The right website builder will allow you to use their templates and adjust them to match your nonprofit's unique style, allowing your nonprofit to stand out online.
User-friendly interface. If your site has a slow loading speed and is hard to navigate, you might face a significant drop in support. Your website builder should come with accessibility features—like a straightforward layout and accessibility widget—that promote a positive user experience and encourage users to interact with your site's content.
Blog. To engage supporters and keep them informed, you should actively maintain a blog on your website. Here, you can post new projects your nonprofit is working on, spotlight volunteers or people who have been positively impacted by your nonprofit, and upload educational guides to help people learn about your mission. Choose a website builder that allows you to create and customize a blog roll.
Getting started with all these tools might take time and require additional support. Your nonprofit website builder should offer training on how to use its system as well as live support from web developers. This way, you can use these features as efficiently as possible and reduce your stress.
Brand your website.
By customizing your website to be unique to your nonprofit, you'll be able to build brand recognition and help supporters feel more connected to your organization. With added brand awareness, site visitors will start to see your organization as credible and will be more likely to turn into loyal supporters.
Include the following features to boost your branding strategy and create a professional-looking website:
Color scheme. Pick colors that work well together and use them throughout your website. This will create a consistent feel that ties your website together. Your colors should make your website visually appealing and help users feel more engaged with your content. If possible, choose colors that relate to your organization's values. For example, if you're an environmental organization, colors like brown and green give an earthy feel, which will help supporters feel more connected to your cause.
Font. Use the same one or two fonts throughout your website to create a seamless reading experience. For instance, you can use one font for all the headers and another font for the body text. Choose fonts that are legible and have a clean, professional look.
Layout. Each page on your website should have the same general layout to create a unified appearance. Use your website builder to create a custom layout that will automatically apply to each webpage.
Logo. Create a simple yet effective design that conveys your organization's values and allows someone to easily recognize that this logo belongs to your nonprofit. Once you have a well-designed logo, display this prominently at the top of your website to help build brand visibility and strengthen relationships with supporters.
Remember that the key to developing your brand is simplicity. If you make your web design complicated or distracting, users will be more likely to click away from your website. Create a clean design that intrigues users but allows them to focus on your website's content.
Create event landing pages.
Your nonprofit will likely host events and fundraisers to help advance your mission. In order to effectively market your event, you'll need well-designed event landing pages. An event landing page is a designated page that gives supporters a complete overview of your event. This way, existing and new supporters can easily learn about your event and sign up.
To make your event landing pages visually appealing and informative, include:
Time and place. Put this information boldly on your event landing page and include a countdown clock, so supporters know exactly when and where your event is taking place. If you're hosting a virtual event, be sure to include details on how to access it, such as a Zoom conferencing link and password if needed.
Topic of event. Let supporters know the general details of your event and why it's taking place. Be sure to emphasize how the funds raised from this event will benefit the community.
Branding. Your event landing page should feature the same branding style as the rest of your website. Include consistent font, color scheme, and page layout so donors recognize that this event is being run by your organization.
Registration form. Help donors sign up easily for your event by embedding a registration form onto the event landing page. This streamlines the process and makes it more likely supporters will fill out each prompt. Make it clear if your event requires an entrance fee, then include a billing information prompt in your registration form.
Your event landing page should motivate people to sign up, so get creative and point out all the highlights of your event. Tailor your event landing page to your audience so you can appeal to their interests and compel them to want to join in on the fun.
Optimize your website for mobile devices.
By extending your website's reach to mobile users, you'll be able to get more people to learn about your nonprofit and bring in more donations. After all, people are spending more time on their phones than ever. Why not prioritize your audience's convenience so they can engage with your website right from the palm of their hand?
According to Morweb, the best nonprofit websites include the following mobile-friendly features:
Appropriately sized text and visuals. No matter what size screen your users are on, they should be able to clearly see your website's content. This means that all images and text should automatically resize to fit smaller screens and maintain the website's readability.
Easy-to-complete forms. All forms—especially your donation page—should be accessible and quick to fill out for mobile users. People using mobile devices shouldn't have to do too much pinching or scrolling to fill out their information.
Clickable buttons and links. All buttons and links should work for mobile users and take them to the appropriate place on your website.
Not sure how to optimize your website for mobile devices? No sweat! The right website builder will automatically optimize your website for mobile devices so all users can engage with your content.
Create a strong donation page.
In order to develop an effective online fundraising strategy, you'll need a well-designed donation page. A donation page that is accessible and visually appealing will attract more donations and help your nonprofit boost its revenue. Plus, donors who have a positive experience on your page will be more likely to give again,
Your donation page should include the following to maximize support:
Visuals. Include photos of volunteers, staff, or people your nonprofit has positively impacted. This helps build credibility for your organization and humanizes it so donors can better connect with your nonprofit. Plus, providing a photo or video of someone directly benefiting from your nonprofit lets donors see how their funds will be used. Under these visuals, write a few sentences telling this person's story to help your supporters emotionally connect with your cause.
Limited number of prompts. Your donors should be able to quickly fill out your donation page. Stick to the most important information, like name, phone number or email, and billing information. You can always ask for more information once you've retained people as loyal supporters.
Matching gifts tool. Did you know there's an easy way to double (or triple) your donations? By adding a matching gifts tool to your donation page, donors can easily search if their employer has a matching gifts program and whether they're eligible. If they're eligible, donors' contributions will be matched by their company, increasing their impact and the revenue your nonprofit will receive. According to 360MatchPro's fundraising statistics, an estimated $2 to $3 billion is donated through matching gift programs annually. This is a great opportunity for your nonprofit to strengthen its fundraising strategy and give donors a more rewarding donation experience.
Payment processor. In order to safely transfer donors' funds to your nonprofit, you'll need a nonprofit payment processor. A payment processor protects donors' billing information so they can feel confident giving to your organization. Plus, you can feel confident knowing that you'll receive all donated funds.
As with all of your nonprofit's webpages, make sure to use consistent branding on your donation page. Branding builds credibility and will help drive more site visitors to your page so you can increase revenue. As a result, your nonprofit will be able to better reach its goals.
The Gist
Nonprofit website design doesn't have to be complicated! The right nonprofit website builder will streamline the process and make it easy to build a beautiful website. With a strong digital presence, your nonprofit can reach more people and take its digital fundraising strategy to the next level. Good luck!
https://gettingattention.org/wp-content/uploads/2022/09/Morweb-Getting-Attention-Nonprofit-Website-Design-Made-Easy-A-Guide_Feature.png
422
879
jackie.jaffe
https://gettingattention.org/wp-content/uploads/2021/08/getting-attention-logo.svg
jackie.jaffe
2022-09-07 15:52:37
2023-07-21 01:29:46
Nonprofit Website Design Made Easy: A Digital Guide