Annie Escobar is co-founder of ListenIn Pictures which produces compelling video stories for nonprofits.
I'm on a mission to end bad nonprofit video. You know, the boring, long, put-you-to-sleep video about what the nonprofit does and not why, how or results. Nonprofits have too much on the line—and too many inspiring stories—for this.
When I first started working with nonprofits to create videos, I realized that communicators see the power of video to connect their audience to their mission, inspire action and build a movement, but often don't know where to begin.
Overwhelmed, they put everything in a single video. So my business partner Ethan and I went on a journey to give our nonprofit partners a framework for thinking about video.
Here are two approaches we use with great success to help our nonprofit partners identify where their audiences are and what kind of video will help move them to the desired action. Give them a try:
1. How do you want to change the audience?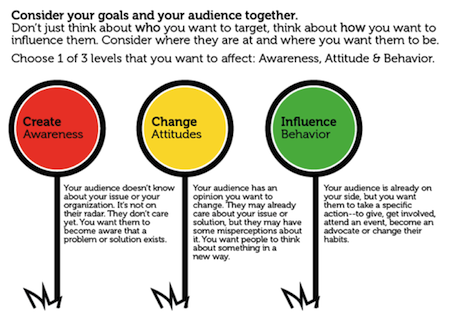 2. Focus in on a genre
The kind of video that you want to create must be aligned with your goals. It is not effective to create a campaign video asking people to take action on your cause, if they don't even know what the problem is.
Listed in the image below are the six most powerful non-profit video genres. The colored dots correspond with the image above, highlight the strongest matches between genre and the movement you want your audiences to make: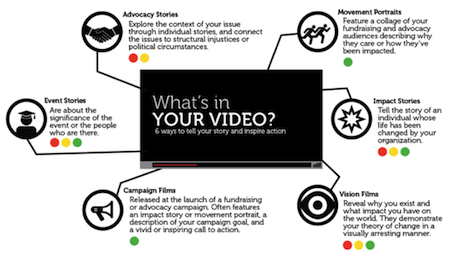 Use these maps next time you're starting the video development process to help you narrow your vision and define your goals. Good luck!
What other pressing questions do you have about your video strategy?
https://gettingattention.org/wp-content/uploads/2021/08/getting-attention-logo.svg
0
0
Getting Attention
https://gettingattention.org/wp-content/uploads/2021/08/getting-attention-logo.svg
Getting Attention
2021-08-23 16:04:09
2021-09-01 18:49:29
The RIGHT Way to Tell Your Story via Video