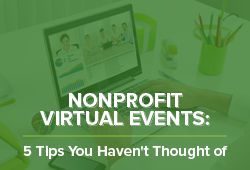 If you're like other nonprofits, you've probably incorporated virtual events into your organization's strategy this year. Due to the wide-spread social distancing guidelines, virtual aspects of nonprofits' strategies have become more prominent and popular throughout the year. While organizations may have been shifting towards more virtual activities anyway, the pandemic guidelines dramatically accelerated the popularity. 
However, because the shift was accelerated so suddenly, many organizations didn't execute the move to an entirely digitally-focused strategic plan as smoothly as they could've done. There were plenty of missed opportunities to get supporters more involved and plenty of room for improvement in future virtual events. 
Whether your nonprofit is planning your first virtual event or you're just trying to make your next one better than your last, this guide is written for you. 
The way you plan and organize your virtual event is key to gaining traction, getting supporters more involved, raising more funds, and ultimately reaching your goals for the event. In this guide, we'll cover some tried-and-true tips that you may not have considered when planning your virtual event. Specifically, we'll cover the following suggestions: 
Ready to get started planning your next event? Let's dive in. 
1. Decide what you want to accomplish.
When you plan your in-person fundraising events, you expect to accomplish certain goals. Before you start planning, you'd likely decide which of the goals is most important to your organization and make it your main focus for the event. 
Virtual events are the same way! You shouldn't just throw together a virtual event because it's what everyone else is doing or because you've always had an annual event in the past. Instead, make sure your event has a targeted purpose and that you have effectively planned to see that purpose fulfilled. 
For example, let's consider a local dog shelter. In the past, they may have hosted an annual adoption event where their main goal is to encourage families to adopt pets. However, secondary goals for the event may have been to raise funds, and increase community awareness. When pivoting to a virtual event, this animal shelter should be sure to keep those same goals in mind and incorporate elements that will accomplish the same purpose. They may: 
Include an online adoption board so that virtual attendees can read profiles on the dogs that need to find new homes. They may also host live feeds of puppies playing with one another or push notifications that highlight individual dogs to draw the attention of the audience. This helps fulfill their goal of adoption at the event. 
Provide virtual fundraising opportunities. Simply by incorporating a text-to-give platform or an easily accessible online donation page, the dog shelter can easily make fundraising available online. Be sure to set a specific fundraising goal and incorporate a fundraising thermometer to encourage people to give. This helps fulfill the fundraising goal. 
Spread the word about the event on various platforms. By marketing the virtual event on social media, on your website, by phone, by word of mouth, and using other communication platforms, the organization can easily tell the community about the event. Without flyers and in-person communication, they should be sure to amp up the virtual marketing to spread awareness. This helps fulfill the goal of increasing community awareness. 
In this example, the dog shelter should ensure they prioritize their goals before diving into how they'll incorporate them into the virtual event. For your own virtual event, be sure to determine your own goals beforehand, and then prioritize them accordingly. 
Key Takeaway: List out all of the goals and objectives that you want to see from your virtual event, then order them by importance. Your top one will be your main goal for the event, keep this in mind when planning the rest of the event. 
2. Plan ahead and choose a virtual platform.
Now that you've identified your primary and secondary goals for your virtual event, it's time that you brainstorm how you'll meet those goals. While you should make sure you accomplish the same goals that you would meet at an in-person event, you won't necessarily accomplish them in the same way. 
Rather, you need to adapt to the virtual environment. Bloomerang's list of virtual fundraising ideas represents some of the diversity you'll find in the types of events available to your organization. The type of event you choose to host should reflect your goals for the event and guide the virtual platforms you'll need. Consider, for instance, the following two organizations: 
A small food bank wants to spread awareness about food insecurity in the community. In order to raise awareness and educate the community about the issues, the food bank decides to host an educational event. They need to invest in registration software so that people can register for the event online. However, they'll also need video conferencing software for live speeches from experts in the community and forum software to create discussions between attendees. This event will become slightly more complicated and require a number of solutions to accomplish the goals of the food bank. 
A homeless shelter wants to raise funds to purchase clothing for men and women in the community. For this type of virtual event, the goal is a bit easier to achieve with fewer solutions. The shelter might pre-record videos and write social media posts that will display the need in the community. Then, for the duration of the event, they'll send and post these resources to their supporters. They may also decide to incorporate a product fundraiser where supporters can purchase t-shirts for themselves while simultaneously purchasing one for a homeless man or woman in the community. 
As you're considering the plans for your event and purchasing the appropriate software to make it happen, be sure to carefully research each solution. The last thing you want is a data breach at your nonprofit. 
Start your research to choose the best software solutions with resources like software referral lists and reviews to help indicate the top solutions. Be sure to also consider the platform's other clientele (are there other nonprofits of a similar size and mission?) and what aspects of your goals will be achieved with the investment. 
Key Takeaway: Create plans for your virtual event and identify the software solutions you'll need to achieve those plans. When you go to invest in new software, look for solutions that combine some of the tools that you (or integrate with one another) need so that you can streamline event activities and collection of event data. 
3. Test all of your software. 
Before the event begins, your nonprofit should make sure that everything works seamlessly for your attendees. Once you've found the best solutions, you should test them multiple times to ensure they'll work the day of the event. 
Run through the event activities yourself and make sure everything is functional. Look specifically to make sure that: 
Payment processing is functional for ticketing, donating, and purchasing merchandise items. 
All transitions from one event activity to another are intuitive and easily recognizable by event attendees. 
Forum discussions and questions are available to attendees and notifications are functional. 
Live streaming visuals are high quality and the sound is functional. 
After you've tested your software yourself, ask a third-party (volunteer or co-worker) to also run through and test it. They'll be able to identify comprehension issues that you might overlook and identify opportunities to make the event more intuitive. 
Key Takeaway: Act like an event participant and walk through each step of the event. Purchase a ticket, donate a dollar, post to discussion boards, and watch the various video collateral. Then, ask someone else to do the same thing before the event starts. Be sure to also create a contingency plan for if something becomes dysfunctional during the event itself.
4. Encourage attendees to engage with one another. 
During in-person events, supporters and attendees are able to mingle amongst themselves. They may discuss the event, your organization, or otherwise develop connections that help create an aspect of community within your organization's support base. 
To encourage this networking and mingling at your virtual event, you need to create and encourage opportunities where attendees can communicate and engage with one another. For example, you might decide to: 
Enable chat functionality. Ask questions that will lead to effective discussion between attendees. For instance, you might make a statement then ask if they agree or disagree and why. Try gamifying these opportunities to encourage more people to participate. You might offer bronze, silver, and gold virtual badges depending on the number of times an attendee posts to discussion forums. 
Encourage breakout sessions. After informational sessions or educational videos, encourage attendees to join breakout groups where they have a list of set discussion questions that they can use to guide conversation. This encourages interaction between supporters and continuous engagement throughout the event itself.
Create social media groups. Social media is a resource that almost everyone can use to network because almost everyone has an account! Encourage attendees to join a Facebook group where they're allowed to ask questions, share insights, and otherwise connect with one another. 
Consider a virtual gala as an example. In an in-person gala event, the mingling tends to happen at different tables while there might be an ongoing auction in the background. Similarly, you can host a virtual silent auction in the background of an online gala, but you'll need some specialized tools to do so. 
According to Snowball's virtual auction guide, it's challenging to keep supporters engaged if they're simultaneously checking their item bids and listening to your keynote speaker. To combat this, consider enabling bidding notifications so that supporters always know when they're outbid. This allows them to pay attention to speakers and other event activities. 
Key Takeaway: Consider your own virtual event plans. Is there a natural place to incorporate community interaction? Ask yourself, "as an attendee, how would I want to get in touch with others?" Then, incorporate those opportunities in your own virtual event plans. 
5. Follow up in a timely manner. 
This tip is probably one that you've heard before. It's a vital step when it comes to any nonprofit event plans, especially when you plan or pivot for the virtual sphere. A timely follow-up is key if you want to express appreciation for the attendee's participation and invite them to continue engaging with your mission.
When you follow up after a virtual event, get the most out of it! Your supporters are probably expecting a thank-you, but they may also be open to other ways to get involved after having a wonderful time at your event. Try incorporating strategies like: 
Specifically explaining the impact they had at the event. You might say, "The For-the-Kids virtual event raised over $100,000 this year! Your donation of $100 was key to help us achieve this goal, which will provide medical resources for over 500 kids in the community." Impact statements like this will help your organization put the thank-you in terms of what has been accomplished. 
Provide social media calls-to-action or email subscription options. After sharing their impact, simply ask your event attendees to continue following the story of your organization by keeping in contact with you. This allows them to see any upcoming opportunities you provide and allows them to continue direct interaction with your organization after they receive the email follow-up. 
Ask for feedback on the virtual event itself. You will probably need to plan another virtual event in the near future. Therefore, make sure your event planning process is as effective as possible by optimizing it based on the feedback provided by supporters. Send out a short survey to the attendees at your event asking them how they enjoyed the opportunity and if they have any recommendations to make it better in the future. This can also help you determine if the tools and virtual solutions you invested in are doing their job. It also allows your most engaged supporters to make themselves apparent.
By providing an immediate action that your supporters can take after the event, it ensures their engagement with your organization doesn't end with the event itself. Use your follow-up message as an opportunity to say "thank you" and to further engagement with your supporters. 
Key Takeaway: Draft your follow-up message for your attendees and be sure to encourage them to continue engaging with your mission after the event ends. 
---
Virtual events are the new norm in the nonprofit world of today. By planning effectively and providing plenty of opportunity for engagement, your organization will be able to reach all of your goals effectively. 
Incorporate these tips into your event planning now. In the future, virtual events won't go away. Be sure you have the best steps to plan and execute these events so that you can use them both during the pandemic and beyond.
This article was contributed by our friends at Bloomerang.
Author: Steven Shattuck
Chief Engagement Officer at Bloomerang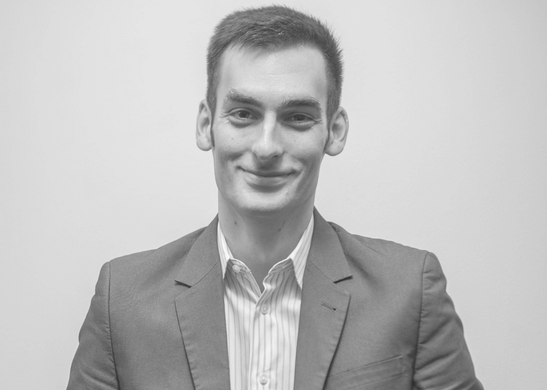 Steven Shattuck is Chief Engagement Officer at Bloomerang and Executive Director of Launch Cause. A prolific writer and speaker, Steven is a contributor to "Fundraising Principles and Practice: Second Edition" and volunteers his time on the Project Work Group of the Fundraising Effectiveness Project and is an AFP Center for Fundraising Innovation (CFI) committee member.
https://gettingattention.org/wp-content/uploads/2021/08/Nonprofit-Virtual-Events-Tips-You-Havent-Thought-Of.png
170
250
Getting Attention
https://gettingattention.org/wp-content/uploads/2021/08/getting-attention-logo.svg
Getting Attention
2021-08-23 16:05:44
2021-08-27 19:59:02
Nonprofit Virtual Events: 5 Tips You Haven't Thought of