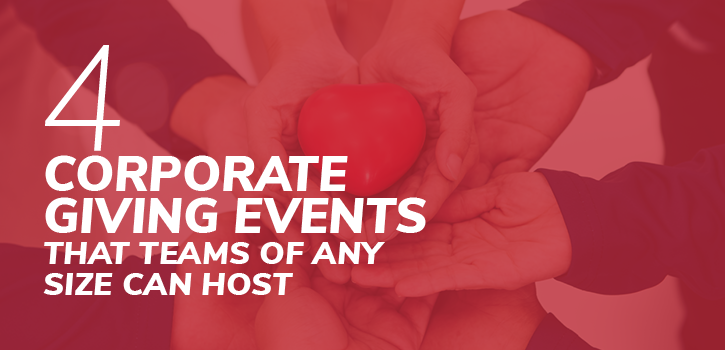 Corporate social responsibility (CSR) is the concept that corporations are responsible for addressing social and environmental concerns to make the world a better place. Corporate giving, which falls under the umbrella of corporate social responsibility, allows businesses to contribute to organizations that promote social good (usually nonprofit organizations). Typically, companies organize events encouraging employee giving to maximize their contribution and impact.
Corporate giving directly benefits the nonprofit partner's worthwhile causes, and these programs can also help your business. For example, after a corporate giving event, your business might enjoy positive publicity from participating in philanthropic activities. This is known as cause marketing and can improve your business's reputation in your community.
These four corporate giving event ideas can help your business promote social good and take advantage of the benefits of CSR:
Giving back to your community doesn't have to be costly or require a large team of volunteers. There are impactful corporate giving events that any team can take part in, no matter what size they are. Let's dive in!

1. Athletic Shoe Drive Fundraiser
By participating in a Sneakers4Good program, your running store or gym collects gently worn, used and new running shoes to raise money. Encourage your employees to bring in their athletic shoes, and place collection materials in your store or gym to collect sneakers from customers as well.
These fundraisers are very simple. According to Sneakers4Funds' guide to donating running shoes, you can breakdown the process into four steps:
Step 1: Collect gently worn, used and new running shoes from your customers and community.
Step 2: Fill shipping bags with the shoes you collect.
Step 3: Take the shoe bags to your nearest UPS store to ship to your fundraising coordinator.
Step 4: Receive a check in the mail after your shoes are processed and donate the funds to your nonprofit partner.
The Sneakers4Good program is quick and easy to put together, especially if your business works with a facilitator like Sneakers4Funds. Because these fundraisers don't require a significant investment of time or money, smaller running stores and gyms can still raise money to donate to a worthy cause.

2. In-Kind Donation Drives
In-kind donations are non-financial contributions that businesses or individuals make to mission-driven organizations. These donations usually include supplies or goods the organization needs to further its mission. Here are a few common ways to make in-kind donations:
Donating school supplies to a local school
Contributing canned goods to a food bank
Giving toys to children's nonprofits during the holiday season
Donating running shoes to a sneaker recycling program
Businesses often donate their own products or services to nonprofits and other mission-driven organizations. To increase your business's impact, market the opportunity to donate items to a mission-driven organization to your customers and employees.

3. Auction Fundraiser
Auctions are a popular corporate giving event. The suspense, fast-paced action, and competition of these events make them one of the most exciting ways to drive employee giving. To make the experience even better for participants, you can add a creative twist to a traditional auction fundraiser.
For example, consider trying one of these innovative ways to host an auction:
Silent auction. During a silent auction, guests place bids on items by writing them down on paper or submitting them through the event's online auction website. According to Handbid's guide to silent auctions, using an auction website or software to facilitate bidding helps eliminate common issues with paper biddings like illegible handwriting or lost bids. You can pair the auction with another event, like a gala, to make the auction even more exciting.
Virtual auction. Virtual auctions take place entirely online, which makes ironing out logistical details much more manageable. You can choose to host the auction over a single night on a synchronous video call with participants or allow participants to bid on the items on your auction site over a few days or weeks.
Holiday auction. Take advantage of the "season of giving" during the holidays by creating a holiday-themed auction. Decorate your location with ribbons, bows, and tinsel, and create holiday-themed gift baskets for participants to bid on at the auction. You can even pair this with other holiday activities like cookie decorating or gift swaps to boost the holiday fun.
Many factors go into making an auction successful, including your bidding solution, auction items, and, most importantly, the guests who will bid on the items. Market the event to your employees and customers to drive attendance at your auction.

4. Fun Run
Fun runs are a great way to raise money for a good cause and encourage participants to be active. These events are fairly simple, and all you need is the space to host the run and willing participants. The "fun" element of these runs adds a fun, customizable twist on the traditional 5K race.
If you decide to organize a fun run, consider these tips when planning your event:
Stay organized. While simple, this event still has several moving parts you need to track. To ensure nothing slips through the cracks, use a platform like Google's G Suite to organize your work and share documents, spreadsheets, and presentations with team members and vendors.
Choose an engaging theme. The best part of a fun run is that the "fun" element can be anything. For example, you might schedule the race for October and encourage runners to wear Halloween costumes. Make sure to choose a theme your staff, customers, and other attendees will enjoy.
Give your participants fundraising tips. Give participants tips and pointers about the best ways to fundraise for your cause, like leveraging social media to reach members of their social networks who want to give. This can help your participants generate more funds to power your corporate giving program so you can maximize your business's impact.
Invite additional guests. Remind participants to invite other guests (like their friends and family members) to cheer them on as they run. Provide opportunities for these guests to contribute to your cause by adding donation collection tables so you can generate additional revenue outside of your staff and customers' contributions.
In addition to inviting guests to watch the event, you can also connect with other groups in your community. For example, you could ask your local running club to get involved to boost participation in your event.
---
Corporate giving events are a great opportunity to bring your business and community together to collect donations that will go to a good cause. Whether you host a shoe drive fundraiser to collect running shoes or organize a fun run, you can make corporate giving events engaging for your staff, customers, and other supporters.
---
About the Author: Wayne Elsey, Founder and CEO of Sneakers4Funds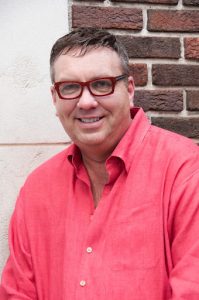 Wayne Elsey is the founder and CEO of Elsey Enterprises (EE) and a member of the Forbes Business Development Council. Among his various independent brands, he is also the founder and CEO of Sneakers4Funds, which is a social enterprise that helps schools, churches, nonprofits, individuals and other organizations raise funds while helping to support micro-enterprise (small business) opportunities in developing nations.
https://gettingattention.org/wp-content/uploads/2022/09/Sneakers4Funds_Getting-Attention_Corporate-Giving-Events-That-Any-Size-Team-Can-Host.png
350
725
china.dennington
https://gettingattention.org/wp-content/uploads/2021/08/getting-attention-logo.svg
china.dennington
2022-09-30 21:44:44
2022-09-30 21:51:05
4 Corporate Giving Events That Teams of Any Size Can Host