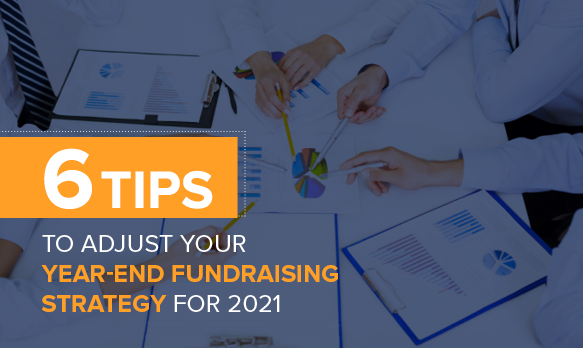 At the start of a new year, it's a great time for your organization to take an "out with the old, in with the new" mindset when it comes to your fundraising efforts. 
In this period of self-reflection, you might be looking to transform your fundraising plans to start seeing improved results. Start by analyzing your previous year-end fundraising strategy to discover opportunities to adjust and improve.
Your year-end giving plan is one of the most important aspects of your overall fundraising strategy for each year. DNL OmniMedia's guide to year-end giving explains why this time period is so crucial for fundraising—not only does the holiday season put people in a charitable mindset, but the end of the year also represents the final opportunity for supporters to make tax-deductible donations before the new year. 
The stats reflect the importance of this period. According to Nonprofits Source, around 30% of annual giving happens in December, with about 10% of all annual donations coming in the last three days of the year. 
To adjust and improve your year-end fundraising strategy and maximize your fundraising gains in the new year, there are a few key tips to implement:
In this guide, we'll take a closer look at each of these tips and offer solutions along the way to get your year-end strategy in top shape with plenty of time for planning and organizing. As they say, the early bird gets the worm (or rather, the increased fundraising boost!), so let's dive in. 
1. Analyze your data from 2020. 
Before you start looking ahead and constructing your year-end fundraising strategy for 2021, look back to your data from 2020 to get an idea of how successful your fundraising efforts were last year. 
Dig into your organization's database to analyze past fundraising data. Use this information to find what your organization does well and where you have opportunities for improvement. 
For example, if your organization discovers that a lot of your supporters RSVP'd for year-end virtual events and gave a donation on top of their registration fee, you should maintain this as a primary part of your year-end campaign. However, you may also find that your email open rate is lower than expected, meaning there's an opportunity to better optimize your email marketing strategies.
Keep these discoveries in mind as you construct your year-end plan for 2021.
2. Consider virtual fundraising opportunities. 
The COVID-19 pandemic has emphasized the importance of virtual fundraising and amplified its use in the nonprofit sector. This trend for virtual fundraising opportunities is unlikely to go away, so learning how to incorporate it into your strategy now will help you in the future.
If you're looking for virtual fundraising ideas, there's no shortage of unique, fun opportunities to get people excited and inspired to contribute to your cause, especially around the year-end holiday season. A few options include:
Hosting a virtual cooking class that guides participants through a holiday recipe
Putting on a "most festive pet" photo contest where people "vote" on their favorite by contributing a donation in the name of their favorite photo
Selling tickets to a Netflix Party fundraiser featuring a film that relates to your mission or the holiday season 
These ideas and many more can be found on Fundly's list of virtual fundraiser options, which includes specific ideas for nonprofits, schools, teams, and clubs, and more groups. These types of fundraisers serve a dual purpose of giving your supporters a fun activity to look forward to while also raising contributions to your organization.
3. Build relationships all year round. 
While the end of the year provides a great opportunity for raising funds, you don't want to only reach out to your supporters at the end of the year. By building relationships throughout the year, you can increase your year-over-year retention rate and even increase your year-end donations. 
Focus on building relationships through stewardship activities and personalized outreach. For example, you can:
Host events and activities to show that you care about your supporters without asking them to open their wallets each time. In these appreciation events, show your supporters how much they are valued and the impact of their contributions to your organization. 
Personalize outreach to your supporters by using their names in all communications and taking their interests into consideration. Consider segmenting your donors or volunteers by common interests to simplify this process, ensuring you're only giving people information that's relevant to them. 
Keep people engaged all year online by maintaining your social media and website presence. This provides easy access points for volunteers and donors to get updates on your organization and donate when they're inspired to do so.
Strong relationships are not only the foundation of your fundraising strategy, but your organization as a whole. Fostering the ongoing support of your volunteers and donors is crucial to maintain your supporter base year after year. 
4. Make a plan to start early. 
Year-end fundraising isn't just about the month of December. In fact, many nonprofits really get things up-and-running in late summer (such as in August) or even earlier, when you can start marketing your upcoming events and lay the groundwork for the busy final months of the year. 
Therefore, it's important to start planning for your year-end fundraising campaign early, so you don't have to scramble as December approaches. This plan should include:
Your Giving Tuesday Campaign. Giving Tuesday is the first Tuesday after Thanksgiving and will probably be one of your busiest donation days of the year. Make sure you're prepared for the day by rolling out a marketing plan a few weeks ahead of time on all your social media pages, your website, and your email newsletter. 
Holiday considerations for your supporters. Lean into the holiday good cheer by emphasizing the idea of the "season of giving" and focus your messaging and communication materials on this idea.
Emphasis on the last few days of the year when fundraising is most lucrative. Plan your biggest communications push for these last few days of 2021, where donors have their last chance to make a tax-deductible gift for the year. 
Careful planning guarantees that when the end of the year rolls around, you can be confident that you've increased awareness of your year-end events. This allows you to focus on executing your fundraising campaigns effectively and efficiently. 
5. Look for new revenue sources. 
For the new year, consider diversifying your revenue sources to widen the pool of donation options for supporters. For instance, in addition to your current year-end fundraising plans, you might try:
Incorporating matching gifts and volunteer grants. Corporate matching gifts are opportunities for companies to match contributions that their employees make to charities and nonprofits. Volunteer grants work in a similar way—companies reward a nonprofit with a donation once an employee volunteers a specified number of hours with that nonprofit. Encourage your supporters to investigate if their companies already have these programs or are interested in starting them.
Launching a peer-to-peer fundraising campaign. While most in-person peer-to-peer fundraisers are still not possible, you can still host a successful fundraising campaign by incorporating the P2P framework into a virtual or socially-distanced event. This guide to virtual peer-to-peer fundraising includes several ideas for events that encourage participants to raise money before participating, such as virtual 5Ks or trivia competitions. 
Seek grants for specific projects. Take this opportunity to revamp your grant-writing strategy by identifying certain projects that would most benefit from grant funding. Be sure to implement the features of effective fundraising grant-writing—creating a unique proposal for each application, describing the similarities in the mission of your organization and the funder, and making your request captivating and unforgettable. 
Instead of relying on the same type of revenue year after year, expanding your funding sources can help you discover areas of untapped fundraising potential. 
6. Partner with a tech consultant. 
A nonprofit tech consultant can help your nonprofit get organized and strategize for online fundraising opportunities. 
When searching for a nonprofit strategy consulting firm, you'll want to connect with a firm that understands your nonprofit's fundraising goals and has the experience necessary to offer recommendations for future actions. 
Nonprofit tech consultants can help with tasks such as:
Implementing new technology. This may be helpful if you've decided that new tech will help you solve some of the challenges you encountered in 2020. For example, if it's been awhile since your last website update and users have noted that it's slow or difficult to navigate, a tech consultant can help figure out the best strategy for a redesign.
Analyzing your online fundraising efforts from 2020. Sometimes, having a third-party analyze your fundraising efforts helps ensure that you didn't miss anything when analyzing yourself. For example, a consultant may notice an opportunity for your organization to take a stronger multi-channel approach to fundraising rather than relying on just one or two fundraising platforms. These experts can bring fresh eyes and insights to enhance your plan moving forward.
Developing analytics and data maintenance strategies. Nonprofit tech consultants offer backgrounds in data analytics that can set up your team to manage data more effectively. They can dive into your Google Analytics, for instance, to assess current website performance and implement new integrations to make the most of your online presence.
If you feel that your team could use a little extra push this year, a tech consultant might be the last piece of the puzzle your organization needs to confidently carry out your year-end fundraising strategy for 2021.
---
By following these recommendations, you can start your nonprofit off on the right foot this year and get a jumpstart on your year-end fundraising plans. Although the end of 2021 might seem far off, it's never too early to line up your game plan for your year-end strategy to make sure you're maximizing fundraising opportunities this year. Happy planning!
https://gettingattention.org/wp-content/uploads/2021/08/DNL-OmniMedia_GettingAttention_6-Tips-to-Adjust-Your-Year-End-Fundraising-Strategy-for-2021_Feature.png
348
583
Getting Attention
https://gettingattention.org/wp-content/uploads/2021/08/getting-attention-logo.svg
Getting Attention
2021-08-23 16:06:22
2022-04-14 14:57:33
6 Tips to Adjust Your Year-End Fundraising Strategy for 2021