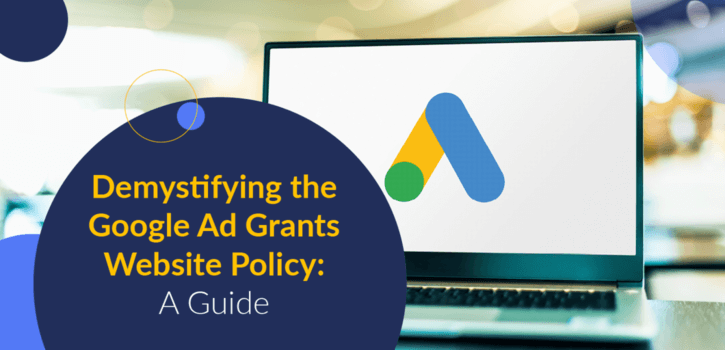 In a word, the Google Ad Grant is transformational. The program has completely altered the way nonprofits market their causes. By breaking down geographical barriers, any organization that meets the Google Ad Grant requirements can reach more donors than ever before without blowing its marketing budget.
In fact, search ads (like Google Ads) have the highest ROI for nonprofits using paid advertising, according to Nonprofits Source. That's primarily due to the program coordinators giving away over $10 billion in free ad credits to nonprofits since 2003.
Pretty incredible, right? However, if you've taken a look at the Google Ad Grants website policy, you've likely grown a little confused. You may ask, "What does a 'high-quality website' look like?" Or you might wonder, "What can I do to make Google approve my nonprofit's website for the program?"
We're here to answer all your questions! We'll dig into the Google Ad Grants website policy, so you can bring your website up to code and get your application approved the first time. We'll even provide a convenient checklist for your team to use! Here's what we'll cover:
Before we begin, know that Google doesn't aspire to limit participation. The Google Ad Grants team wants nonprofits to succeed with their digital marketing. That's why they offer the program! They simply want participants to deliver high-quality content that inspires users to take action, rather than letting advertisers market any and all content on their websites.
If you want an extra pair of eyes to review your website's quality, our Google Ad Grant experts are here to help! The team at Getting Attention works one-on-one with nonprofits to apply for and make the most of the program. That includes checking your eligibility and strengthening your landing pages.

Why Does Google Require High-Quality Websites?
You'll use the Google Ad Grant to drive traffic to content on your website. Because of this, Google requires you to meet a series of website-specific requirements to be deemed eligible for the program.
Applying for the Google Ad Grant is really a two-part process. The first part involves having your website checked. That way, you don't waste time setting up your Ad Grants account when your website actually needs a lot of work to be considered high-quality.
With the Google Ad Grants website requirements, Google strives to deliver a positive experience to its users. Poorly-written content and outdated designs might reflect poorly on Google if they allow advertisers to promote low-quality content. Plus, if your website seems outdated and unprofessional, visitors will feel less inclined to donate, volunteer, or take any other action.
Let's not strictly talk about how poor websites can negatively impact the program and your ad performance. Instead, let's take a look at the brighter side of following the Google Ad Grants website policy!
A high-quality website will help you:
Drive more traffic to your content
Develop meaningful relationships with prospects
Generate real results for your cause
Users who come across your site from a Google Ad will respond more positively to a fresh, inviting website that features helpful content. Ultimately, adhering to the website policy will empower you to make the most of your $10,000 each month.
Breaking Down the Google Ad Grants Website Policy
Enough simply talking about why you need to follow the website requirements! Let's get into the nitty-gritty of the Google Ad Grants website policy. That way, you can see if your site measures up and make the necessary adjustments if it doesn't.
If you need help confirming your eligibility after exploring the sections below, reach out to our Google Ad Grant experts! We're more than happy to confirm whether your website is high-quality and work with Google to get you approved for the program.
Requirement 1) Domain Ownership
Owning your nonprofit's website domain is the most basic website requirement that Google requires nonprofits to meet.
A domain name is a series of letters and numbers that someone will type into the search address bar to find your website. What it means to "own your domain" is that you need to purchase the domain on which your website is hosted and that you will drive traffic to via Google Ads. Your URL should look something along the lines of nonprofitname.org rather than nonprofitname.wix.org or nonprofitname.squarespace.com.

To register a domain for your nonprofit, you'll need to find a domain name registrar like GoDaddy or Google Domains, determine that your desired domain name is available, and then purchase that domain name from your provider.
Requirement 2) Website Security
As another basic Google Ad Grant website requirement, Google requires applicants to have secure sockets layers (SSL) certification.
What this does is encrypt any data that's transferred on your site. So, let's say someone's donating. When filling out your donation form, their name, address, payment details, and any other sensitive information will automatically be encrypted.
Installing an SSL certificate is usually free or low-cost, and it's a great way to build trust with visitors. As explained in our Google Ad Grants application guide, you can quickly verify whether a site has an SSL certificate by looking at the URL. "If the web address begins with https instead of http, that indicates that it's SSL-certified. Google Chrome will even mark sites that don't have an SSL certificate in the address bar as 'Not Secure.'"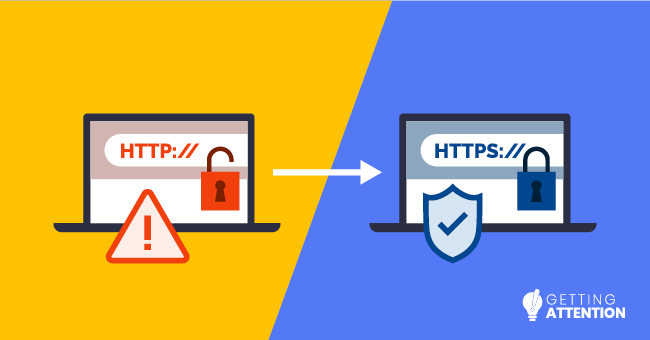 To obtain an SSL certificate, you'll need to follow a few steps:
Choose a Certificate Authority, which is an entity that issues SSL certificates. Popular examples include GoDaddy and Symantec.
Generate a Certificate Signing Request (CSR). You'll need to generate this file on your web server before requesting an SSL certificate from a certificate authority. The information in this file will provide the certificate authority with what they need to issue your SSL certificate.
Submit the CSR to Your Certificate Authority. Go to your certificate authority's website and proceed to purchase your SSL certificate. During checkout, you'll have to submit the CSR file you generated.
Await validation and install the certificate on your website. When ready, the certificate authority will send you an email allowing you to access your SSL certificate. Know that installing your SSL certificate depends on the operating system on which your site is hosted. You might need to contact your website host for more details or see if there are any instructions published online.
Beyond building trust with users, Google also uses SSL certification as a ranking factor. The search engine amplifies websites with SSL certificates, so having one means you can boost your organic traffic.
After installing your SSL certificate, take security up a notch by limiting your plugins, links, and embedded objects to only what is secure and trustworthy.
Requirement 3) Unique, Substantial, and Promotable Content
The Google Ad Grants website policy explains that your nonprofit website must have "substantial content." It also states, "Your site's content must be unique to your organization." In other words, you need to create your own content and a lot of it!
To start, single-page websites (AKA websites with just a homepage) aren't acceptable. You'll need to create plenty of pages related to your work, and these pages should be considered "promotable."
What this means is that your pages or posts should each cover a single, well-defined topic related to your organization's work. Some examples include 'About' pages that explain your work, donation forms, volunteer registration pages, and educational articles connected to your mission. This will give you content to promote with your Google Ads.
Whether you're creating new content or enhancing existing content, here are some steps to get started to help you adhere to the Google Ad Grants website policy:
Identify the goal of your content. What problem are you trying to solve for the user? For instance, maybe someone wants to learn about fighting climate change, so you'll provide them with an article that provides plenty of options, like recycling and donating to your nonprofit.
Choose your keywords. Each ad will have associated keywords. No one really knows how Google determines the quality of a page, but SEM experts (like those at Getting Attention) have some insight into what they're looking for. Start with broad search queries and narrow them down to be more specific. Then, incorporate your keywords into the copy and headings on your page.
Write your content, providing plenty of information. Creating your content is where you can let your expertise and creativity flow! Essentially, provide enough information to cover the page's topic. For blog posts and news stories, we recommend aiming for at least 1,000 words to cover your topic sufficiently. Core pages related to your work can be shorter but should still provide plenty of information for readers.
Incorporate multimedia. This will create engaging content that keeps users on the page. Get creative here by incorporating photographs, graphics, videos, charts, diagrams, and anything else that gets your point across. You want readers to be engaged the second they click your ad and visit your site.
Not only will these tips help you adhere to the Google Ad Grants website policy, but they can help boost your organic rankings too! Creating plenty of content that meets users' needs will transform your nonprofit's website into an SEO-friendly site.
Requirement 4) Mission-Related Content
The Google Ad Grants website policy requires nonprofits to have "a robust and clear description of [its] organization, mission, and activities."
That means you'll need to feature content about your mission and the work you're doing to achieve that mission. It's a smart idea to include some of your credentials as well. This will ultimately position your website as trustworthy and build trust with users.
Here's some mission-related content we suggest you publish on your website:
A statement of your nonprofit status and your organization's EIN: This information is public record — anyone can look it up on the IRS website or on GuideStar. In other words, there's no privacy issue with publicly displaying your EIN. Place this information in your site's footer, so it's available on every page like the World Wildlife Fund did:

A page with staff members or board members: Potential supporters love to see the people behind the steering wheel of the causes they support. Create a page that features nonprofit leadership and their credentials.
Links to annual reports, your File 990, and financial audits: Prospects like to see that the nonprofits they support are responsible stewards of money before giving. Plus, United States federal law requires tax-exempt organizations to make 990s accessible. Include links to documents like your File 990 and annual report on your website.
An events page with an updated list of events: The Google Ad Grants website policy explicitly mentions that participating nonprofits must feature their upcoming events. We recommend that you create an events page with a calendar of upcoming events along with registration links to meet this requirement.
An 'About' Page featured in your navigation bar: Create an 'About' page that features a robust and clear description of your organization, mission, and activities. Make sure you answer key questions like where your nonprofit is located, who it serves, and how it serves those individuals like Kiwanis International did: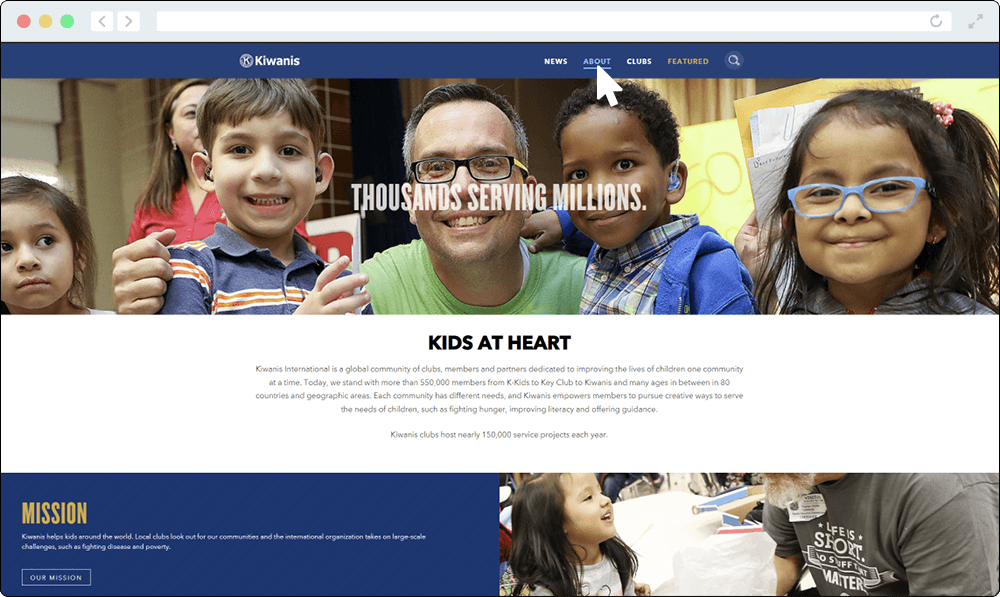 Featuring sufficient mission-specific details will help you adhere to the Google Ad Grants website policy and prove to visitors that your organization is reliable. The suggestions above are a great start!
Requirement 5) Positive User Experience
The Google Ad Grants website policy lists a few different rules that directly impact the user experience (UX) of your site.
A positive user experience is what will ultimately lead to conversions when marketing your cause, whether you're trying to boost donations, volunteer registrations, or something else. Here's a breakdown of the Google Ad Grant website requirements that specifically impact UX:
No broken links: A broken link leads to a page that no longer exists on your website. This can be frustrating for users. Anytime you take down a page, implement a redirect to a current page. For example, let's say you have a page that highlights your current capital campaign. Once the deadline passes, you might take the page down and redirect it to your donation form or your calendar of events page.
Clear navigation: Approach your site as if you're a first-time visitor. What content would you look for to learn more about the organization? Use your answer to create a clear navigation menu that features your most important pages. This might include your 'About' page, donation form, calendar of events, and so on.
Clear calls to action (CTAs): When a reader feels inspired by your content, they need to know what their exact next step is. That's where clear CTAs come into play. You'll want to consider placement and wording. Most nonprofits include donation buttons in their navigation menus. You can also include them in prominent locations, like on any page you'll promote using the Google Ad Grant. In your CTAs, use simple, impactful phrases like 'Donate now' or 'Volunteer today.'
In the example below, notice how The Humane League features a concise navigation bar with its most important pages. There are also clear donation CTAs in the navigation bar and in prominent locations across the site, like their homepage.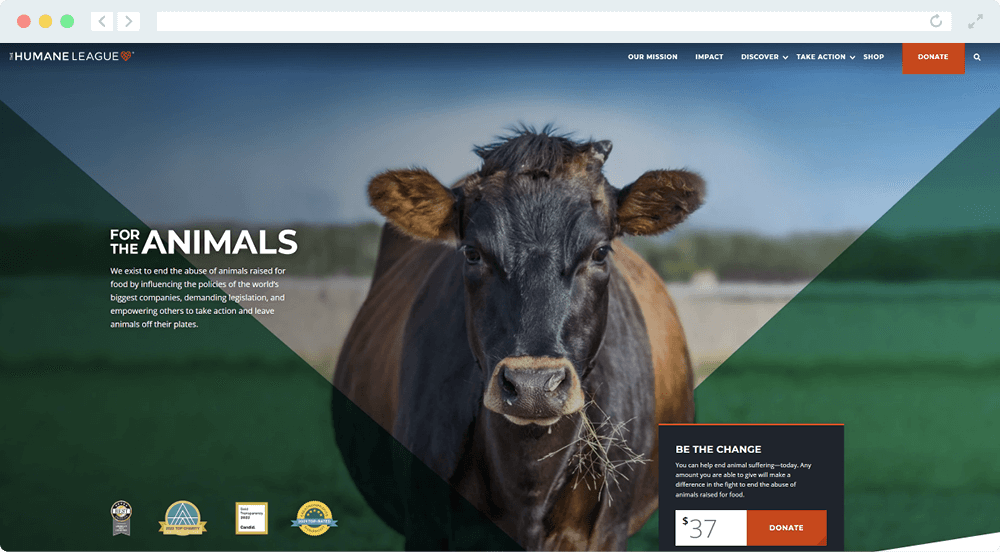 Prioritizing your site's UX means that when people click on your Google Ads, they're more likely to have a positive time exploring your site. In turn, they're more likely to follow through and take the next step to support your work.
Requirement 6) Quick Site Speed
To qualify for the Google Ad Grant, you'll need to quicken your site's speed so that it loads quickly. And while quick load times also enhance the user experience, we thought it was best to cover this Google Ad Grant requirement in a bit more depth.
So what exactly is a quick site speed? Well, Google doesn't define the exact number of seconds in which your site needs to load. However, you can use statistics to estimate whether your site is considered "quick."
For example, Portent's site speed study estimates that the first five seconds of page-load time have the highest impact on conversion rates. Plus, a site that loads in 1 second has a conversion rate that's 3x higher than a site that loads in 5 seconds.
To test your site speed, use free tools like PageSpeed Insights. It'll check your website, then displays a list of recommendations on what to fix (but not necessarily how to fix it).
If your website speed seems a bit high, we recommend you avoid overloading your pages with massive images and auto-playing videos. These can slow down your pages. You'll also want to compress your images, reducing their file sizes. At any point, your Google Grants manager can step in to provide advice for tackling load-speed issues.
Requirement 7) Limited Ads and Commercial Activity
Long story short, you need to make your mission the primary purpose of your site. The Google Ad Grants program is very clear about not permitting commercial activity unless it directly supports your work.
Here are a few key points to make sure your site follows the Google Ad Grants website policy:
Serve the public. Your nonprofit's website should make it clear that your nonprofit serves the public and not only those who pay for services or products. If your primary goal is to sell products, sell services, offer consultations, or generate leads, you likely won't be eligible for the grant unless you're transparent about how these commercial activities support your ability to serve the community.
Remove irrelevant ads. To be accepted into the program, you need to limit ads. It's best to avoid advertising altogether. If you display any ads, they must be relevant to your cause and unobtrusive to users, though. If you have ads that distract users, you might violate the Google Ad Grants website policy.
Don't make money from ads. While participating in the Google Ad Grants program, you also can't use Google AdSense or affiliate advertising links on your website.
If you're disapproved based on the commercial policy, reassess how you promote your services. If your organization comes across as a for-profit entity, you have some work to do on your site. It should be clear that you offer real services and support to your community.
Requirement 8) Google Analytics
While not listed under the Google Ad Grants website policy, installing Google Analytics on your website is one of the program's requirements.
Google Analytics is a free program that tracks users' interactions with your website. Google requires participants to install Google Analytics as a way to track ad and website performance. It provides helpful insights like:
Goal reporting. Within the Google Ad Grant compliance requirements, Google states that you must report at least one meaningful conversion per month. Google Analytics allows you to track and report on goals. Set goals like donations, email signups, volunteer registrations, event signups, and more. Then, see which pages on your website help you achieve these goals.
Web traffic. See how people find your website, such as through Google Ads or social media. You can view which devices your visitors are using. Also, you can compare past and present web traffic to see whether your site's performance meets your expectations.
User engagement. See the average time that your visitors spend on your website, what pages they view, and other vital information. This will help you determine which pages drive results and which aspects of your site need work.
Installing Google Analytics takes a few steps to set up. If you need help, talk to our Google Ad Grant experts here at Getting Attention about getting started.
A Checklist of the Google Ad Grants Website Policy Requirements
That's a lot of information to take in! But now that you understand the Google Ad Grants website policy, you can walk through your organization's site and see if it meets those standards.
We've condensed the requirements down into a convenient checklist that your team can use as you prepare your site for your application. Click below to download your free copy and make sure your site is on par with the program's website requirements!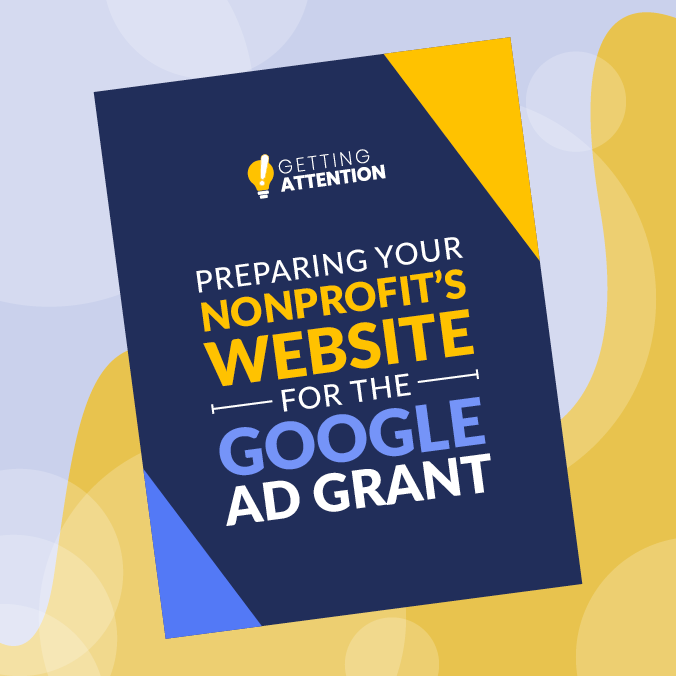 If you're not sure whether your website measures up to these requirements, don't hesitate to reach out to our team! We can walk through your website, provide recommendations, and work with Google to get your organization approved for the Ad Grants program.
In the meantime, download the complete checklist and start improving your website, so you can get approved for the program!
Website Not Up to Code? Reach Out!
We make it our mission to help nonprofits get the most out of the Google Ad Grant. That starts with applying for the program and acquiring the grant!
If you're unsure whether you're eligible after exploring our checklist, reach out for a free consultation. We'll work with you to confirm your nonprofit's eligibility and bring your website up to code with the Google Ad Grants website policy. After all, your nonprofit's website is one of the most crucial parts of your Google Ad Grants strategy (and digital marketing strategy altogether)!
While waiting to meet with our team, explore these resources to dive further into the wonderful world of Google Ad Grants:

https://gettingattention.org/wp-content/uploads/2023/02/Google-Ad-Grants-Website-Policy_Feature-1.png
350
725
Getting Attention
https://gettingattention.org/wp-content/uploads/2021/08/getting-attention-logo.svg
Getting Attention
2023-02-22 18:18:59
2023-09-18 02:07:19
Demystifying the Google Ad Grants Website Policy: A Guide