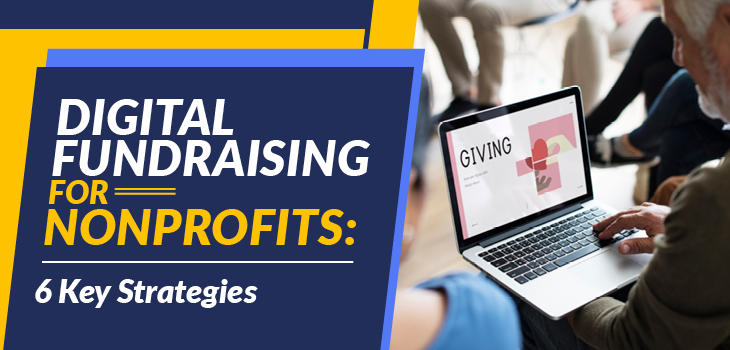 Optimizing your digital fundraising and marketing strategies now helps cement your future fundraising success. But, with so many nonprofits competing for visibility online, it can be difficult to stand out. By investing in the right digital tools, using social media, leveraging the Google algorithm, and organizing your data, your nonprofit can boost your online reach far beyond your existing community. 
1. Use online fundraising software                  
It's only fitting to manage your digital fundraising campaigns online. Digital fundraising software can help your nonprofit:
Record and store donor-specific information

Launch online donation forms

Send automated gift acknowledgments

Manage online event registrations

Report your fundraising metrics

Create and send email blasts 
No matter your nonprofit's size or focus, a well-rounded fundraising software solution can streamline all of your operations. Your nonprofit should choose fundraising software that automatically syncs any donor-specific information with your CRM so your information is always up-to-date. 
Getting started with a fundraising software solution is simple. First, research and demo the different options on the market and choose which one is the best for you. Then, work with your onboarding specialist to learn how to use the software and tailor it to your specific fundraising needs. Once you're comfortable with the system, remember to consistently flag any additional problems you run into so you can best leverage the software.
2. Include remote options for your fundraising event
Virtual and hybrid events naturally complement your digital fundraising strategies. For instance, you can easily send the link to your online donation page in the chat of an event hosted via video call. Plus, hosting remote or hybrid events is easier than ever due to the affordability and user-friendliness of digital fundraising software solutions. Consider adding a remote component to these traditionally in-person fundraising ideas:
Silent auction

5K walk/run

Gala

Dinner party

Movie watch party

Meet-and-greet with beneficiaries

Networking event

Webinars and panels with nonprofit experts

Q&A sessions with the executive director or board president
A simple way to add a remote element to your event is to gather attendees on a video call. Video conferencing software is widely available, so it's likely that your attendees could easily make an account and participate. Also, some platforms even have nonprofit discounts, helping to save your nonprofit valuable operating costs.  
3. Try a peer-to-peer format
Another way to boost your digital fundraising event's revenue is to use a peer-to-peer structure in which participants run their own mini-campaigns and use marketing techniques to promote your larger fundraiser. This structure complements digital fundraising because, with peer-to-peer software, you can automate the fundraising process for your nonprofit, your fundraising participants, and their mini-campaign supporters.
Peer-to-peer fundraising software allows your nonprofit to set up a digital hub for your fundraising campaign. From this landing page, your participants can sign up to host a mini-campaign. Then, they'll receive their own landing page that they can customize with their own fundraising appeals. Once they send their personal link to their network of supporters, they can conveniently donate to the campaign directly from the website. You can also allow participants to join a fundraising team and assign roles with special privileges, such as team captain, through the software. Your peer-to-peer fundraiser will be more shareable and engaging than ever before in a digital setting!      
4. Align your fundraising website with SEO
Boost your fundraising website's visibility by updating it according to search engine optimization (SEO) best practices. SEO is the process of changing your website's content to complement the algorithm that orders the search engine results page (SERP). In other words, it ensures that your digital fundraiser's website ranks highly on Google and that your campaign gets more exposure.
If you aren't tech-savvy and don't have much room in your planned marketing budget, don't worry – updating your website to align with SEO best practices is free and there are many resources to help you get started. According to Google, these elements determine your SERP ranking:
Website security

Mobile accessibility

Speedy load times

Quality of on-site content 

On-page organization of content

Accessibility to visitors of all abilities 
Use your CMS or website builder to gauge your status in these areas. Once you've located any weaknesses on your digital fundraiser's website, determine the scope of your desired changes. For instance, you'll need to budget more time to completely rewrite your blog content than you'll need to add alt text to your images. Then, train your team on how to implement the changes and delegate tasks. Note that you won't see results right away, as it takes Google time to read and rank websites on the SERP.   
5. Apply for the Google Ad Grants program
Your nonprofit can guarantee a desirable spot on the SERP by applying for the Google Ad Grants program. This program awards nonprofits up to $10,000 of prime advertising space on the SERP for free every month. To get started, all you need to do is:
Sign up for a Google for Nonprofits account

Verify your 501(c)(3) status

Apply for the Google Ad Grants program
Once you're approved, determine which pages you want to promote and which keywords to target. Your nonprofit can then use the $10,000 to bid on relevant keywords against other nonprofits, so target the keywords that are specific to your mission. 
6. Keep your data organized
Any strong digital fundraising strategy is data-driven. But, to properly leverage your data, you need to keep it organized so you can access it when needed. You can clean your CRM by:
Identifying and removing duplicate data points

Sending a survey to supporters to update contact information and preferences

Standardizing processes for maintaining data
With accurate and organized data, your nonprofit can pinpoint which areas of your digital fundraising strategy need further attention and which efforts were successful.
Wrapping Up
Ultimately, your online fundraising success depends on how you leverage digital platforms, such as fundraising management and peer-to-peer software. To launch your new digital fundraising tactics, establish attainable, data-driven, and specific goals with your team. Then, pick the software solutions and strategies that allow you to achieve these objectives. Throughout the process, ensure you're maintaining constant digital communication with your prospects because you can cultivate a deep relationship with them, even through a screen.
https://gettingattention.org/wp-content/uploads/2023/02/digital-fundraising-for-nonprofits_Feature-Image.png
350
730
Contributor
https://gettingattention.org/wp-content/uploads/2021/08/getting-attention-logo.svg
Contributor
2023-02-13 13:55:38
2023-03-08 15:45:30
Digital Fundraising for Nonprofits: 6 Key Strategies