Nonprofit marketing raises mission awareness, ensures you develop strong relationships with supporters, promotes your organization's services, and so much more! For example, did you know that 25% of donors ages 18 to 29 want social media communications from nonprofit organizations? However, it's not enough to draft a couple of emails and post a few generic social media posts. That's why organizational leaders often turn to nonprofit marketing consultants for professional help.
There are many different types of marketing consultants out there, each with their own specialty and qualifications that make them valuable to partner with. A great nonprofit marketing consultant will work closely with your fundraising team to ensure that the steps in your marketing plan further your goals.
This guide will walk through:
At Getting Attention, we understand that marketing is a complex topic, and implementing your strategy can quickly become a full-time job. We're dedicated to helping nonprofits forge long-lasting partnerships with the right nonprofit marketing consultant for them. Let's get started.

Nonprofit Marketing Consultant: 4 FAQs
Hiring a consultant can be a big investment for your nonprofit, so ensure you have completed your research and know the answers to essential questions, such as:
What is a nonprofit marketing consultant?
A consultant is a professional who provides targeted advice to organizational leaders. They typically specialize in a few areas of expertise, so their clients can strengthen their organizations' weaknesses.
This means a nonprofit marketing consultant is someone who gives advice on how nonprofits can take their outreach and donor engagement strategy to the next level.
Nonprofit marketing consultants can help with a variety of tasks, but ultimately they should work closely with your nonprofit to support your strategy no matter the stage you're in. From general support to a complete overhaul of your marketing strategy, a consultant can help at any point during the process.
When should you hire a nonprofit marketing consultant?
Researching and partnering with a consultant can take time and require a significant investment of your nonprofit's resources. Before diving into this process, take the time to consider if hiring a nonprofit marketing consultant is the right course of action for your organization at this time.
Nonprofit organizations hire marketing consultants for all sorts of reasons, including general support for their promotional efforts. However, there are also a few situations where it makes sense to seek out a marketing consultant's unique expertise, such as: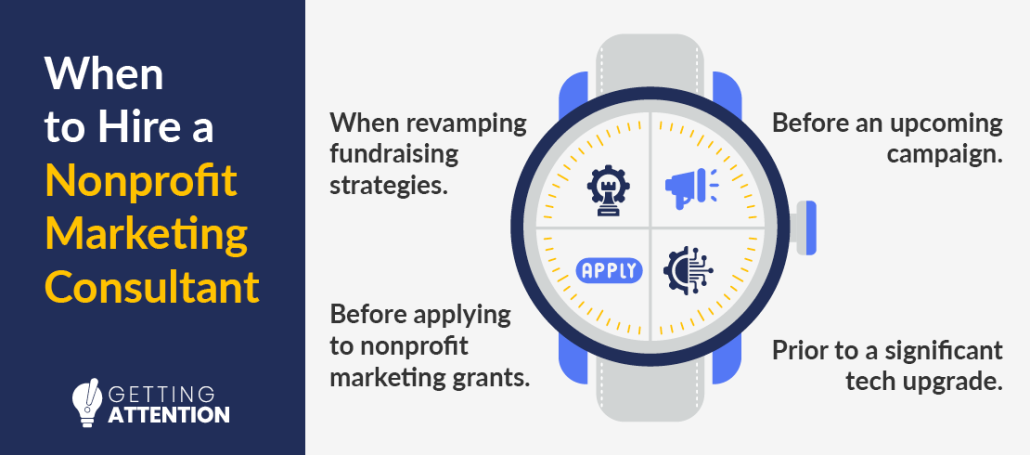 Before an upcoming major campaign. A fundraising campaign is a major undertaking, and if a campaign falls short of its goal, it can negatively impact your nonprofit's credibility. If it's your nonprofit's first time launching a major fundraising campaign, or if you think you'll need extra help, try looking into nonprofit marketing consultants with fundraising and campaign planning expertise.
To assist in big technology upgrades. It's great when your nonprofit is ready to upgrade its technology, but it can also be accompanied by a work slowdown as employees get accustomed to your new software. With a consultant who specializes in nonprofit technology, you can speed up your onboarding process by getting professional assistance for managing your workflows.
When launching or revamping your fundraising strategies. If you're looking to make a major change in your approach to fundraising, a consultant can provide the professional insight you need. Bringing in a consultant can help you get a fresh perspective on your old approach to fundraising, allowing you to create new strategies that capitalize on your previous methods' strengths and avoid their pitfalls.
To apply for nonprofit marketing grants. Applying for a grant is often a long process that requires your team to carefully put together the strongest application possible. Bringing in a nonprofit marketing consultant who specializes in the grants you're applying for can give your team new guidance and ensure you stick to all of your grant's deadlines. For example, you'd want a Google Ad Grant consulting agency to manage your application for the Google Ad Grants program since they understand all the eligibility requirements.
It's important to note that you don't have to wait for an event or large campaign to seek out a nonprofit marketing consultant. If you simply want to revitalize your communication efforts or you notice a key performance indicator falling behind, a marketing consultant can step in at any point and provide assistance.
How can marketing consultants help your nonprofit efforts?
What exactly do marketing consultants do? First and foremost, they should have a deep understanding of your organization and audience, along with the specific goals you're trying to accomplish. Then, they'll develop a marketing plan that compiles all of that knowledge and lays out strategies that will propel your nonprofit toward those goals.
Along with strategic planning, here are the specific actions nonprofit marketing consultants might help you with when executing their plan:
Copywriting. Compelling copy can be the determining factor in whether someone engages further with your nonprofit. Most nonprofits need a lot of copy for a variety of tasks, including their fundraising letters, thank-you messages, social media posts, event invitations, grant applications, and more.
Content management. Content management includes all the tasks that need to be completed after your content is created, such as posting or sending it, managing a messaging calendar, and tracking engagement rates. Your marketing consultant can help you refine your content management strategy and make adjustments based on the results you're currently seeing.
Print and web design. Effective marketing appeals are rarely just unformatted text. If your nonprofit doesn't have a graphic designer on staff, a nonprofit marketing consultant can leverage powerful graphic design to transform your content into something that will stand out and drive donations.
Grant application. Finding nonprofit grants and applying for them will require your team to take on responsibilities that go beyond their normal fundraising efforts. Hiring a consultant with expertise in grant writing and management can help you create a smooth, timely grant application process.
Google Ad Grant maintenance. Google Ad Grants provide nonprofits with $10,000 of Google Ads, for free. But making the most of these funds, tracking results, and ensuring your nonprofit maintains compliance can require the expertise of a marketing consultant. Check out the video below to learn more about the benefits of Google Ad Grant maintenance:
Because there are so many consultant specializations that fall under the umbrella of marketing, determine which services your nonprofit will need so you can narrow down your search for the perfect consultant.
What are common nonprofit marketing consultant services?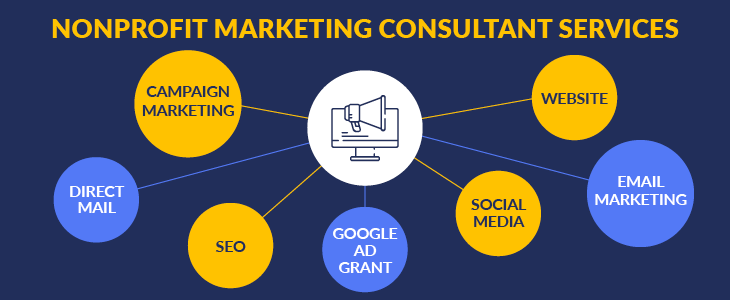 The great thing about the expansive online space is that your nonprofit has a variety of marketing channels at its disposal. Each platform has its unique quirks, which is why there are nonprofit marketing consultants who specialize in one or several of these platforms.
As you develop your marketing strategy, consider how you can use the following platforms and if a professional can help bring your strategy to the next level:
Website. Your website is the face of your organization, and a nonprofit marketing consultant who specializes in website design can help you create a digital hub to store all of your content and make the best possible first impression on new donors.
Google Ad Grant. Google Ad Grants is a unique marketing opportunity that allows you to amplify your nonprofit's most important pages for cause-related keywords using free advertising credits. A Google Ad Grants consultant can get your nonprofit on the right track toward qualifying for a grant and help make the most of the funding you receive.
SEO. Search engine optimization (SEO) can help more supporters find your content organically through Google searches. Launching an SEO strategy isn't something your nonprofit can just do overnight, however. Partner with an SEO nonprofit marketing consultant to learn how to leverage your current content and what new content you should be creating to start ranking on search engines.
Email marketing. Take advantage of donors' affinity for email communications from nonprofits. In 2023, the average nonprofit email open rate is over 28%, much higher than the average open rate across all industries (roughly 21%). Consultants who specialize in communication and online messaging can help you refine your email marketing strategy to craft more eye-catching, effective emails, whether they're fundraising appeals or your monthly newsletter.
Social media. Social media has been a necessity for nonprofits looking to gain a wide audience online. However, keeping multiple accounts on different platforms active can be a challenge. By partnering with a digital marketing consultant, you'll get expert advice on which platforms to use and how to make your content as effective as possible on them.
Direct mail. Even with the rising popularity of digital marketing, direct mail isn't dead. In fact, the sheer prominence of online-only marketing has caused direct mail appeals to stand out even more for some donors. If you're interested in a multi-channel approach that incorporates physical mail appeals, try partnering with a direct mailing consultant.
Campaign marketing. Campaigns are always extensive undertakings that require a significant amount of your staff's time and your nonprofit's resources. A campaign marketing consultant can help you plan and promote the most effective campaign possible with the resources your organization has.
This isn't an exhaustive list—there are tons of different specialties that a consultant can help your nonprofit improve.
Steps To Finding The Best Nonprofit Marketing Consultant
To find the consultant who best aligns with your nonprofit's goals and can take your marketing strategy to the next level, follow these six steps:

1. Review your nonprofit marketing needs with an audit.
Before you start thinking about partnering with a marketing professional, you have to get a sense of how your current marketing strategy is performing and determine your needs.
We recommend starting with a marketing audit. This might include:
A SWOT analysis: A SWOT analysis is a strategic planning technique used to help organizations identify strengths, weaknesses, opportunities, and threats.
Reviewing marketing trends: Identify any relevant marketing trends like changes to the standard social media marketing mix, leveraging user-generated content, and video marketing your nonprofit would like to adopt.
Gathering current marketing assets: Take stock of which materials you have already and what you'll need.
Data analysis: Look at your past marketing data. What strategies have worked in the past? Were there any strategies that missed its mark? Which areas will need the most improvement to help you reach your goals?
From there, you can create an action plan. Divide your needs into "immediate" and "long-term." Then, you can easily pinpoint your highest-priority needs and select a consultant who is equipped to help you meet them.
2. Meet with your board members and other key stakeholders.
Before making any major decisions and hiring a marketing consultant for your nonprofit, you need to ensure that the rest of your nonprofit leadership team is on board and understands the exact help you're seeking.
When meeting with your nonprofit board and other key stakeholders, discuss:
Guidelines for a general budget
A target start date for the consulting service
A general timeframe for the partnership
Remember, these guidelines are there to do just that: guide you. It's important to remain flexible, as not everything can be predicted before the partnership even begins.
3. Compile a list of prospects that meet your needs.
Once you understand your current marketing needs and what you want from the partnership, compile a list of possible consultants.
Here are some of the common ways to find potential nonprofit marketing consultant partners:
Ask for recommendations from colleagues at similar nonprofit organizations.
Take a look at online lists or directories of top nonprofit technology consulting firms.
Consider what is most important to you. If you prefer to meet in person, then look for a local agency. If you know that you need consulting in a specialized area like website development, review the agency's specialties to see if they align with your goals.
As you look through your list of consultants, consider their experience and client history. Ideally, you should select a marketing professional that often works with nonprofits with a similar size, mission, and needs to yours.
4. Create an RFP (Request for Proposal)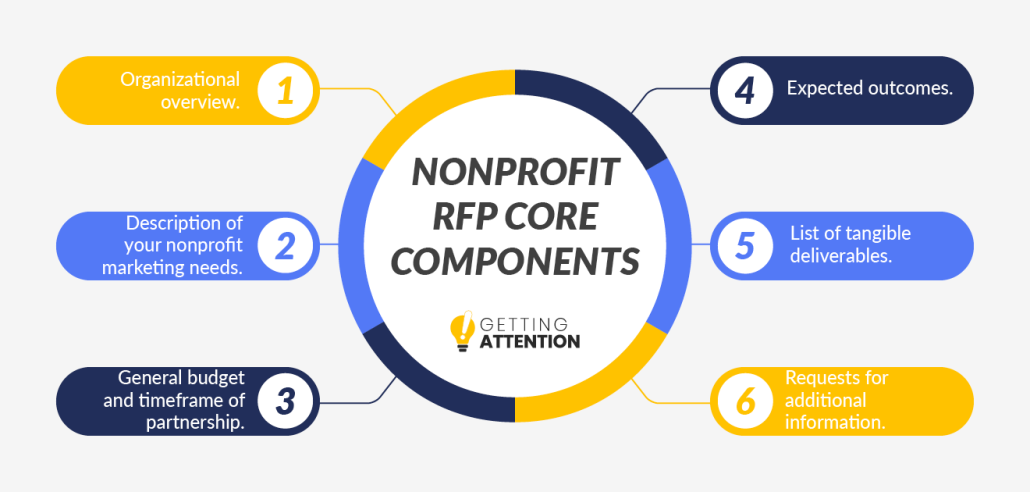 RFPs are used to request information from potential partners and communicate your nonprofit's needs, mission, and relevant goals that the prospective consultant might need. Requesting a proposal is the most direct and straightforward way to determine if a consultant is right for you.
While your RFP will be unique to your organization, we recommend including these essential components:
An overview of your organization, any relevant history, your mission, and a brief description of your donor base.
A description of your nonprofit marketing needs.
The guidelines of the partnership, like the general budget and timeframe.
Expected outcomes for the partnership.
A list of tangible deliverables.
Requests for additional information or background history.
Generally, your RFP should give consultants the necessary information to propose a strategy to address them. The more focused your RFP is, the more effective the proposal will be!
5. Reach out to top candidates
It can be difficult to narrow down your search, especially if you receive several qualified proposals. Reach out to your team and nonprofit leadership, and ask them to rank their favorite choices. Compare these lists to spot trends or favorite candidates.
Once you've narrowed down your top picks and finalized your RFP, reach out to your prospects. Make sure the consultants you connect with receive your RFP and know how to get back in touch if they're interested in working with you.
6. Ask for references and follow up
When you hire a nonprofit marketing consultant, you're adding another player to your nonprofit team. It's important to vet them just like you would a potential new hire.
Review the consultants' proposals like you would job applications. Don't be afraid to ask for references or case studies from past clients. It's crucial to have an accurate understanding of each consultant's past experiences to see if the relationship will work for both parties.
Once you've selected your favorite candidate, it's time to follow up and begin the partnership.

4 Nonprofit Marketing Best Practices
After kicking off your partnership with a nonprofit marketing consultant, you can start familiarizing them with your organization, its mission, and your short- and long-term goals. As your relationship with the consultant progresses, it's essential to make sure they are following nonprofit marketing best practices.
Here are a few of the most important best practices your nonprofit consultant should adhere to:
Follow a strict budget. Nonprofits are required to be transparent about their finances, meaning that you will need to track each dollar spent or earned by your organization. It's best to create a marketing budget for your nonprofit to properly allocate organizational funds, and your marketing consultant should make it a top priority to stick to that budget.
Tell compelling stories. The work nonprofits do can have profound impacts on the lives of their beneficiaries, and sharing those impacts with your supporters can motivate them to make a gift. Studies show that 74% of donors are more likely to make a larger donation when faced with a compelling reason to give to a campaign. Ask your marketing consultant how you can weave emotional nonprofit storytelling into your campaigns.
Stay up-to-date with trends. Marketing trends are always changing, especially as social media continues to evolve. Have conversations with your consultant about the latest marketing trends to see if they have their finger on the pulse of nonprofit marketing (and request their recommendations for your organization!).
Align marketing with organizational goals. If you work with a nonprofit consultant for many months or years, it's almost inevitable that your nonprofit's goals will change over that period. Additionally, you may make adjustments to your core mission, values, or programming. Your consultant should remain committed to understanding your organization and its supporters throughout its evolution.
Check in with your marketing consultant periodically to ensure that the work they are doing for your nonprofit aligns with these best practices as well as any more specific stipulations your organization has for them.
Top Nonprofit Marketing Consultants
We've compiled a list of some of our favorite marketing consultants for nonprofits divided by specialty. You're bound to find the best partner for your unique needs:
Getting Attention — Best for Google Grant Management
At Getting Attention, the Google Ad Grant is our core marketing specialty. If you're unfamiliar with the program, Google offers eligible organizations to amplify their most important landing webpages for the keywords their supporters are searching online. Using Google Ads and leveraging the Google Grant program is one of the most valuable ways to jumpstart your marketing efforts and promote your digital content!
Explore the details of Google Ad Grant requirements in our comprehensive guide to learn how your nonprofit can maximize this valuable opportunity.
As a Google Grant agency, our goal is to assist nonprofits in managing their account no matter if they're just applying or want to revitalize an existing campaign. Our marketing team will work closely with your nonprofit to ensure that the strategies you use and the plans you carry out are aligned with your audience's needs and your overall mission.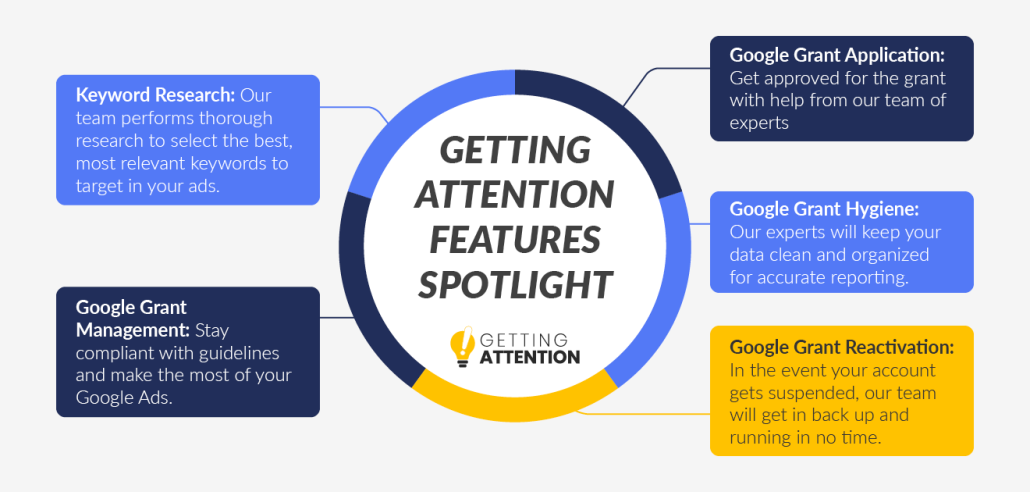 Standout Consultant Services
Standout Consultant Services

Google Grant Application: Our professional consultants are here to walk you through every step of the Google Grant application process. We'll check your eligibility and fill out the application for you, making sure you get approved in no time!
Google Grant Hygiene: Both in your Google Grant and overall marketing strategy, data is important. You don't want unclean or duplicate data bogging down your fundraising efforts. We'll help you keep your data clean and organized.
Google Grant Reactivation: Maintaining your Google Ad Grant account isn't as easy as one might think. Google will suspend your account if it doesn't comply with certain guidelines. Our professionals can get your account back up and running in case you are suspended.
Keyword Research: Targeting the right keywords is vital if you want to take your digital marketing to the next level and show success in your Google Ads. That's why keyword research is one of our main skills!
Google Grant Management: Not only can our Getting Attention professionals track data and research keywords, but we can also make sure your campaigns remain compliant with all of Google's official guidelines.

Kwala — Best for Nonprofit Graphic Design
Kwala is a graphic design agency that specializes in mission-driven marketing. They understand the unique needs of nonprofits and know how to make your cause stand out through powerful marketing materials. Not to mention, they offer unlimited requests and revisions, meaning they'll keep designing until your materials are perfect.
From improving your social media presence to transforming your direct marketing appeals, Kwala offers everything you need to build brand awareness and connect with supporters.
Standout Consultant Services
Digital Marketing Materials: Kwala's team of designers recognizes the need for a strong digital presence in today's world. That's why they offer web design services such as site design, web ads, and social media graphics.
Physical Marketing Materials: Kwala won't let your in-person efforts fall by the wayside. They offer design services such as fundraising flyers, business cards, brochures, and postcards.
Logo Design: Your logo is the centerpiece of your marketing. Kwala can design a timeless logo that supporters will associate with your cause for years to come.
Product designs: If you want to ramp up your product designs, Kwala can help you create t-shirt graphics, hat designs, and more.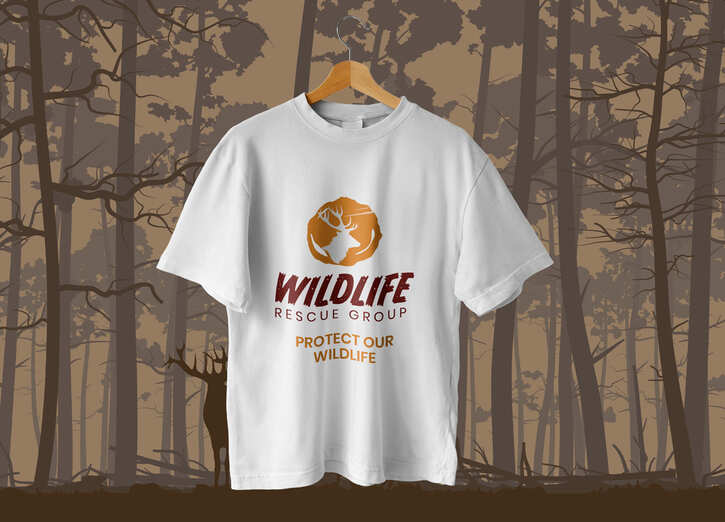 DNL OmniMedia — Best for Strategy Development
DNL OmniMedia is a full-service nonprofit marketing consulting firm and is dedicated to helping fundraisers carry out an effective campaign and reach supporters. Their extensive suite of services can help large and enterprise-level nonprofits achieve a variety of goals, no matter how complex or time-consuming.
Standout Nonprofit Marketing Consulting Services:
Pay-per-click marketing
Copywriting services
Video and digital marketing
Print and web design
Kanopi — Best for Nonprofit Website Support
Kanopi Studios is a digital website agency and a top partner for nonprofits looking to take their online marketing efforts to the next level. They currently support over 150 active sites and work closely with nonprofits to ensure that their content is effectively promoting their mission and supporting their overall marketing strategy.
Standout Nonprofit Marketing Consulting Services:
Website user research
Content strategy development
User personas and mapped-out user journeys
Full website growth plan
Meyer Partners — Best for Direct Mail Marketing
Meyer Partners is a marketing agency for nonprofits dedicated to helping fundraisers craft effective direct mail appeals. Don't make the mistake of assuming that direct mail is dead—it's still a valuable channel when it comes to marketing your mission and connecting with supporters. Meyer Partners can help you harness that power!
Standout Nonprofit Marketing Consulting Services:
Direct mail copywriting
Creative storytelling advice
Data collecting and reporting
The Fundraising Coach — Best Nonprofit Marketing Consultant for Training
Marc A. Pitman, AKA The Fundraising Coach, trains nonprofit professionals to improve their fundraising abilities. If your nonprofit is interested in improving your staff and leadership's skills when it comes to asking for donations, sharing your nonprofit's story, and overall fundraising abilities, The Fundraising Coach can provide training that will have lasting value beyond just one or two campaigns.
Standout Nonprofit Marketing Consulting Services:
Fundraising 101 training
Coaching for executive staff members and leadership
Access to training resources such as online courses
Big Duck — Best Nonprofit Marketing Consultant for Brand Promotion
What is your nonprofit's brand voice? If you need help defining it, Big Duck's consulting services might be right for your nonprofit. Big Duck helps nonprofits launch campaigns that represent their mission by first working to refine with brand voice.
Standout Nonprofit Marketing Consulting Services:
Brand strategy development
Campaign planning
Internal process management
Donorly — Best Nonprofit Consultant for Fundraising
Fundraising encompasses a variety of skills and responsibilities. Donorly understands that and aims to help nonprofits improve their fundraising through a variety of methods, from capital campaigns to streamlining internal workflows.
Standout Nonprofit Marketing Consulting Services:
Temporary staffing support
Multi-step fundraising assessment and rehaul process
Capital campaign support
Additional Resources
Your nonprofit's marketing strategy is a critical component of your overall success, so turning to a professional consultant might be your best bet. Make sure you do your research and reach out to agencies that align with your mission and audience. That way, you'll find a reliable coach who can help you transform your promotional efforts.
If you want to continue learning more about nonprofit marketing and how to optimize your strategy, check out these additional resources:

https://gettingattention.org/wp-content/uploads/2023/06/Feature-Image.png
700
1450
Getting Attention
https://gettingattention.org/wp-content/uploads/2021/08/getting-attention-logo.svg
Getting Attention
2023-06-10 16:17:23
2023-08-31 11:53:34
6 Steps to Hire an Excellent Nonprofit Marketing Consultant