With online fundraising and marketing becoming increasingly important for nonprofits, your website is more essential than ever for capturing leads, displaying engaging and relevant mission information, and facilitating donations and volunteer sign-ups. To effectively engage audience members and retain their attention, you need to design your website to increase site visit length. 
According to Contentsquare's 2023 Digital Experience Benchmark report, the average time on page spent per session is 5.9 minutes for desktop users and 2.7 minutes for mobile users. If your organization's website falls under these thresholds, it could be time to refresh your user experience to boost engagement on your site. 
In this guide, we'll walk through seven web design tips to help lengthen and improve your site visits: 
The most effective nonprofit websites make it easy for visitors to engage with content and opportunities that interest them. When visitors enjoy using your website and learning more about your organization, they'll naturally spend more time on it. 
1. Present your content strategically
Your website is your most important digital marketing tool for helping potential supporters learn about your mission, recent accomplishments, and other information regarding your organization or sector.
As soon as a visitor lands on your website, they'll expect to see organized, updated content. To exceed visitor expectations, follow these navigation and content guidelines: 
Keep your website's navigation easy to use with a simple design.

Place your navigation menu at the top or side of the page. Include links to your most popular landing pages, such as your online donation page, event calendar, and volunteer registration form. 

Update your content frequently.

If the most recent article on your blog is from 2010, visitors will likely assume that your organization isn't active anymore and click away. Keep your blog roll fresh with educational articles and recaps of your recent events and projects. 

Optimize your homepage.

Look at the "above-the-fold" area of your website's homepage (the first view you get of your website before scrolling) for both mobile and desktop views. Because this is the first thing users see, you should display your most important content there. Make sure to update this content frequently to make your homepage look fresh. 

Direct users to important pages using calls-to-action (CTAs).

CTAs are buttons or links that encourage visitors to engage more deeply with your organization. For example, you might include homepage CTAs linking to your online donation form or volunteer registration page. Your CTAs should align with visitors' interests and motivations. 
With fresh, easy-to-find content, visitors will be able to quickly get a sense of your organization's work and determine whether they'd like to get more involved. 
2. Improve your site's accessibility and readability
You've probably come across an outdated website from time to time where the text is too small, the color contrast is not high enough, or the background image is too busy, compromising the readability of the page. 
Your website should be readable and accessible for everyone, no matter their device or ability. Here are some general tips to follow:
Make sure the fonts you use are large enough to be easily read on laptops and mobile devices. However, don't make the font so large that you force the user to unnecessarily scroll through the page or zoom out. 

Break up large paragraphs into easy-to-read sections. Use bulleted lists to highlight the most important information.

Ensure that the background color and font color are contrasted enough, with a contrast ratio of at least 4.5:1.

Include alternative text for images and captions for videos. 

Proofread your content for spelling and grammar issues and other readability considerations before publishing it. 
These steps not only ensure that your content is more readable but make it easier for screen reader devices to read the text out loud for those with visual impairments, improving your website's accessibility. The better the words flow, the easier it is for those listening to understand and engage with the content.
In addition to your website's written content, make sure your forms are equally accessible and easy to read. Kanopi's accessible forms guide recommends including descriptive form labels and instructions so visitors know exactly what is expected of them. 
3. Use engaging visuals
Large chunks of text can be intimidating and hard to parse through. Including compelling visual content throughout your site is a great way to break up text and make your site more engaging. 
Consider incorporating the following types of visual content into your web design strategy: 
Images 

Infographics or charts
High-quality images will have a larger file size, which can slow down your site speed. Therefore, be sure to compress them so that they don't slow down your page load speed. 
According to Double the Donation's nonprofit web design guide, "By minimizing page load time, your organization will significantly increase the chances that the donors who click on your website will actually land there and stay long enough to look around." 
4. Incorporate interactive elements
One key method of increasing site visit length as well as conversions for your nonprofit website is to incorporate interactive or clickable elements. 
Interactive elements capture users' attention and encourage them to stay on your site. These fun components increase their enjoyment of your site. 
Consider creating engaging site features like: 
Image slideshow

Poll or quiz

Mini game
Users will remember your site and nonprofit mission better with these enjoyable experiences as a core memory.
5. Optimize your most important landing pages
For most websites, your homepage will be the most popular landing page and receive the most site visits. However, nonprofit organizations are unique in that there are a couple of other core landing pages that will be frequently visited and sought after by current and prospective supporters.
For instance, your organization might prioritize pages like your: 
Online donation form.

Your nonprofit's online donation page

should include a secure payment processor, uniform branding, and a compelling reason to donate. The form should only ask for essential information so it's easy and fast for donors to complete. 

Event calendar or registration page.

Supporters should be able to click through your event calendar to find opportunities that appeal to them, review the event's logistics, and register. 

Volunteer registration page.

If you offer volunteer opportunities, provide search and filter options so that users can easily find experiences that match their skills and interests. 
Optimizing your most important landing pages is especially essential If your organization has a Google ads strategy. Using your Google ads to direct attention to your most vital landing pages can help boost conversions, turning more site visitors into donors and volunteers. 
6. Include internal links
An easy way to keep people on your site is to simply incorporate more internal links. This means linking to appropriate landing pages to leverage key conversion opportunities as well as linking to blog posts or other written content throughout the site.
Ensure that each article and page on your site has plenty of internal links. This is the best way to get people to visit those pages and can help reduce your bounce rate, which is the rate of how often people enter your site and then leave without exploring further.
Incorporating internal links can also improve your site's SEO (or search engine optimization), but only if you're linking to valuable content. Adding internal links just for the sake of it won't do much, so be sure to link to valuable educational content that's clearly related to the page's topic. This can not only encourage visitors to continue engaging with you but also bring up the overall value of your website. 
7. Demonstrate credibility
Building trust among your audience members through your website is essential to gaining their support. Showing credibility is a simple way to establish trust with supporters. 
For instance, adding photos of real people who have been impacted by your organization can make your site appear more trustworthy. 
Here are some other quick ways to show credibility:
Link to your social profiles. 

Add trust markers like

Charity Navigator ratings

, awards, certifications, and more. 

Make your annual reports and tax information easy to find and navigate. 

Include bios and pictures for your staff members. 
To ensure your website is secure and trustworthy, you can turn to a nonprofit web consultant for support. These professionals can ensure that your website is up to security standards and recommend changes to help enhance your credibility. 
---
Your website is the online face of your nonprofit's mission. Updating it to improve user engagement is crucial to boosting your online fundraising and developing supporter relationships. These tips will help you retain visitors' attention longer and give them opportunities to get more involved with your organization. 
---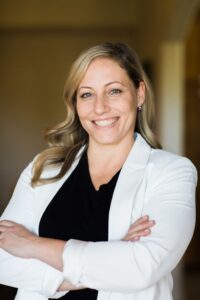 AUTHOR: ANNE STEFANYK
As Founder and CEO of Kanopi Studios, Anne helps create clarity around project needs, and turns client conversations into actionable outcomes. She enjoys helping clients identify their problems, and then empowering the Kanopi team to execute great solutions.
Anne is an advocate for open source and co-organizes the Bay Area Drupal Camp. When she's not contributing to the community or running her thoughtful web agency, she enjoys yoga, meditation, treehouses, dharma, cycling, paddle boarding, kayaking, and hanging with her nephew.
https://twitter.com/Anne_Kanopi
https://www.drupal.org/u/annabella
https://gettingattention.org/wp-content/uploads/2021/08/Kanopi_Getting-Attention_Website-Design-7-Tips-to-Increase-Site-Visit-Length_Feature.png
700
1450
Getting Attention
https://gettingattention.org/wp-content/uploads/2021/08/getting-attention-logo.svg
Getting Attention
2023-06-19 16:05:44
2023-07-21 14:35:18
Website Design: 7 Tips to Increase Site Visit Length