The key to creating lasting change today is advocacy—speaking up on behalf of members of your community affected by a particular issue. Running a successful advocacy campaign will likely start with mobilizing supporters and educating your community about your cause. To support these efforts, you'll need to raise funds.
Events are a particularly effective fundraising method for advocacy groups. When you hold a fundraising event, you'll bring supporters together, spread awareness, and earn funding at the same time. The type of event you choose to hold will depend on your organization's needs and capabilities, in addition to your supporters' interests.
To help your advocacy group earn more for your cause, these five fundraising event ideas are a great place to start:
With the right tools and a solid plan, any of these five events will help you engage donors as you raise the funds you need to support your advocacy campaign. Let's dive in!
1. 5K Races
Race fundraisers work well in a variety of communities. 5Ks in particular tend to attract large audiences, as there are many ways for participants to get involved. Many 5Ks allow participants to choose whether they want to run in the timed race or walk the race course at their own pace. Supporters who decide not to race can volunteer at the event or donate while they cheer on their friends and family.
Grassroots Unwired's guide to 5K fundraisers suggests several tips for making your event more effective, such as: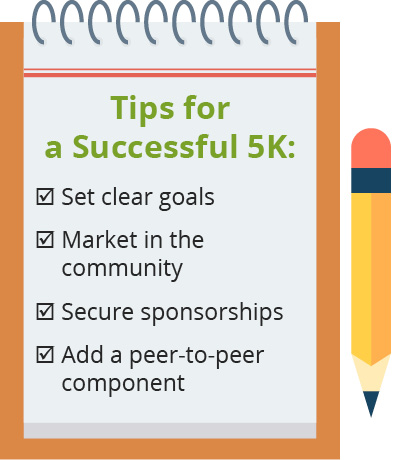 Setting clear fundraising goals. As with any fundraiser, your organization should plan a 5K with specific, measurable goals in mind. For example, you might set goals of increasing your revenue total from last year's race by 20% and registering 50 new supporters who you can add to your organization's contact lists.
Marketing your event throughout the community. Besides sending out emails and posting on social media, distributing fundraising flyers in your community can be a great way to spread the word about your 5K to new supporters.
Securing sponsorships. Asking businesses in your area to sponsor your 5K will help you cover event costs and get necessary supplies (like tents, race course markers, and water bottles). In exchange, you'll promote them on your marketing materials, helping to associate their names with a good cause. Make sure to choose sponsors whose business values align with your cause.
Adding a peer-to-peer component. To bring in additional funding and involve more community members, consider pairing your 5K with a peer-to-peer fundraiser. When supporters sign up to race, ask them to create a fundraising page through your organization's peer-to-peer software and share it with their friends and family.
Besides using peer-to-peer software, digital event tools that include registration and ticketing features can help your advocacy group organize your 5K. Careful planning and efficient registration is key to a successful race fundraiser.
2. A-thon Style Events
The characteristic all a-thon style fundraising events have in common is that you'll ask supporters to do a particular activity as much as they can to raise money for your cause. To maximize the funds you bring in, you'll want to choose an activity that interests your supporters.
To help make this decision, you could send out a survey to supporters asking them to vote on their favorite a-thon style event idea. Some of the most common a-thon events include:

Walk-a-thons
Bike-a-thons
Swim-a-thons
Dance-a-thons
Bowl-a-thons
Read-a-thons
When deciding which a-thon style event to hold, consider what activities coordinate best with your cause. For example, if you're advocating for an education-related issue, a read-a-thon would be a great fit. Or, if your cause is related to health, you could try a bike- or swim-a-thon to encourage supporters to be physically active while fundraising.
No matter what event you choose, you'll need volunteers to run it. Look into volunteer grant opportunities to bring in even more funds. These grants can also help expand your network and get the word out about your cause as you form new relationships with the businesses who provide volunteer grants as well as the volunteers themselves.
3. Auctions
Hosting an auction can also bring your community together while raising funds to support your cause. Auctions are an especially versatile fundraiser—you could host either a silent auction or a live event depending on your organization's capabilities and your supporters' interests. You can also decide whether to hold your auction in person, virtually, or in a hybrid format.
Once you've decided on your event's format, you'll need to procure items for your supporters to bid on. Auctions often attract more attention when they offer items that supporters can't buy at major retailers, such as:
Experiences and services. Highly popular auction items often aren't physical. These items can range from car wash gift certificates to spa packages to vacations.
Goods made by local artists. This category can include paintings, jewelry, furniture, or anything else created in your community. Locally made goods are often one-of-a-kind, making them more valuable. Plus connecting with artists in your community can help you gain even more support for your cause.
Prize baskets or bundles. To increase the value of individual items,Handbid's guide to silent auctions recommends auctioning off several smaller items as one prize basket or bundle. For example, you could put together a movie theater gift certificate, popcorn, candy, and a throw blanket to create a "movie night" prize basket.
Your organization can often get these auction items via in-kind donations from corporate sponsors. Besides featuring your sponsors in your marketing materials leading up to the auction, make sure to mention them during the event and thank them afterward.
4. Lectures, Webinars, and Panels

Educating supporters about your cause is key to a successful advocacy campaign. Hosting an educational fundraising event can serve that purpose and bring in funds at the same time.
Your educational fundraisers can be in-person or virtual events. If you go the in-person route, you'll want to find a large space where an expert on your cause can give a lecture explaining the history and impact of your target issue. To raise money, charge an admission fee and set up a donation box at the event.
To educate your supporters through a virtual event, try a webinar or panel. Your supporters can attend from the convenience of their homes, and you can bring in speakers from different locations to share their unique insights.
5. Rallies

When considering events related to community advocacy, rallies are probably one of the first that comes to mind. Besides providing an opportunity for supporters to donate, rallies help raise awareness of your cause throughout your community and prompt action.
If you organize a rally, you'll need to get permission to use a large outdoor space. Find several speakers who can speak to your audience about the cause you're advocating for and inspire them. Also, prepare educational materials that can be distributed during your rally featuring links or QR codes to your website so supporters can connect with your organization afterwards.
A rally can help strengthen community support for your cause and draw new advocates. It may also attract the attention of the local press, spreading the word about your cause even further. This increase in both support and interest will make contacting policymakers about your cause a natural next step—if the issue has been in the news, they'll already be aware of it when you reach out, and you'll have new supporters who you can encourage to call or write to them.
6. Community Art Festival

Every activist has a deep emotional connection to their cause. Allow them to share their passion, connect with other activists, and educate the community by hosting a themed community art festival devoted to your cause.
Raise money with this dynamic fundraising event idea by charging admission, selling food and drink tickets, and selling custom merchandise for the art festival. Remember to place collection boxes and information booths around the venue so guests have ample opportunities to give and learn more about your nonprofit.
If you're envisioning an average arts and crafts sale when planning the festival schedule, don't be afraid to think bigger! Art comes in many forms, and the more art you showcase, the more people can participate. Some events you could add to your art festival lineup include:
Benefit concert
Poetry slam
Art gallery
Dance showcase
Fashion show
Film festival
Since activism is about inspiring action, ensure your supporters get the chance to spread the word about your cause to people who aren't yet aware of your initiatives. Help them forge these connections by offering hands-on art workshops. For instance, if the theme of the art show is environmentalism, an art demonstration could entail creating a sculpture out of recycled materials. Not only does this help attendees better understand your cause but it's also an effective strategy to enhance your fundraising.
Wrapping Up
The ideas listed above are just five of the possible event fundraisers that your advocacy group could hold. Weigh several event options to choose the best ones based on your organization's budget and supporter base. As you plan your fundraising events, make sure to invest in the right digital tools to help you earn more for your cause.
This article was contributed by our friends at Grassroots Unwired.
Author: Russ Oster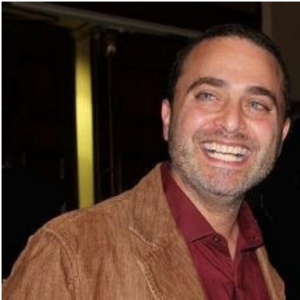 Russ' first experience in the world of grassroots organizing came when he was an infant and his mother pushed him in a stroller door to door to collect signatures for the Impeach Nixon movement. Eighteen years later he embarked on his college career in Washington, DC and during that time developed a passion for campaigns and elections that started with an internship on the campaign of the first woman ever elected to Congress from the State of Virginia. 
For the next 15 years Russ lived and breathed campaigns, running field operations in a wide range of races and for a number of coordinated campaign efforts. When it became obvious to Russ that the technology existed to make field efforts drastically more efficient and accountable but the solutions did not, he launched Grassroots Unwired and has worked every day since to keep GU on the cutting edge, pushing new features and enhancements to meet the needs of ever evolving grassroots organizing efforts.

https://gettingattention.org/wp-content/uploads/2022/08/Advocacy-Events_-Fundraisers-to-Earn-More-for-Your-Cause-Feature.jpg
700
1450
Getting Attention
https://gettingattention.org/wp-content/uploads/2021/08/getting-attention-logo.svg
Getting Attention
2022-08-23 18:42:42
2023-08-21 13:18:33
Advocacy Events: 6 Fundraisers to Earn More for Your Cause