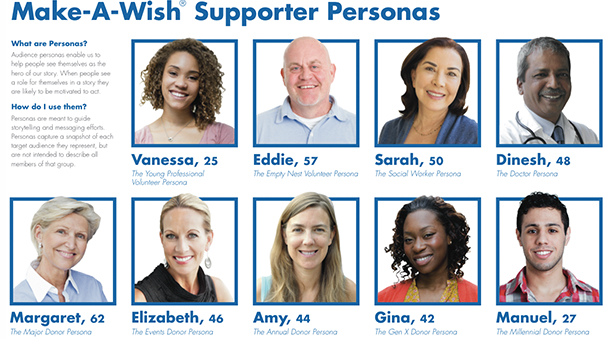 Thanks to See3 for sharing this useful case study, originally published on the See3 blog.
Learn more: Create personas to bridge the gap with your target audiences
Many nonprofits fall into the trap of believing that their audience is the general public, when the truth is that your supporters are much more nuanced than that.  By putting together a comprehensive profile of your audience, your nonprofit is better able to create personalized content that speaks to your audience and drives them to action.
An excellent way to narrow in on your organization's audience is to develop audience personas. Audience personas are imaginary people that you create who represent your audience, based on real aggregate audience data. Each persona has demographic information that helps make them real for the viewer, including things like age, race, gender and even a name.
Additionally, since these personas are created based on information about your real constituents, you already know things about them—like what they read, where they work, what they like to learn about from your organization and what kinds of communications work best for them.
Recently, See3 partnered with Make-A-Wish Foundation of America to help the organization better understand its audiences and develop an organization-wide content strategy.
With this project came the task of establishing personas that the organization could use in telling stories that attract and retain a strong base of volunteers, donors and wish referrers. Once we brought the personas to life, they were featured in print materials—including a deck of cards, posters, and a flip book—designed to keep Make-A-Wish's audience top of mind for its communications team. 
We spoke to Jono Smith, the Director of Brand Marketing and Digital Strategy for Make-A-Wish America, to understand why the organization decided to invest in content strategy. Though our conversation, we identified three essential considerations for every nonprofit developing its content strategy: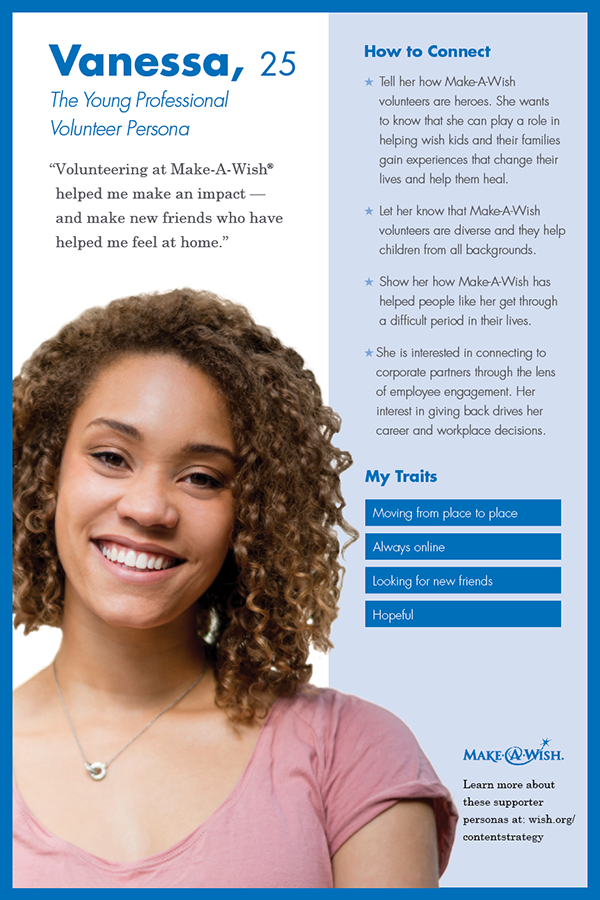 1. Push your organization to start telling new stories.
When you think of Make-A-Wish, what's the image that comes to mind? Most likely, it's the idea of a sick kid experiencing hope and joy in the form of a wish experience, most likely through an incredible experience like a trip to Disney World or Hawaii. 
This story framework is powerful, and it's one Make-A-Wish has been using for the past 35 years successfully. However, Make-A-Wish experiences impact more than just wish kids; they have significant effects on the families, doctors, social workers and volunteers who are involved. But those impact stories weren't getting back to Make-A-Wish's supporters, and they weren't helping the organization convert new supporters who weren't as affected by the organization's traditional messaging.
"We discovered a significant lack of personalization and segmentation in our brand messaging and storytelling, and personas were our response to that," Smith said.
To help Make-A-Wish diversify its storytelling, See3 created nine audience personas to represent current and potential volunteers, donors and wish referrers. All of these supporters play a critical role in Make-A-Wish's mission to grant wishes to children living with life-altering illnesses, and they all experience the impact of Make-A-Wish differently. By considering these personas before developing stories, Make-A-Wish is more likely to tell stories that speak to these audience's needs, challenges and goals.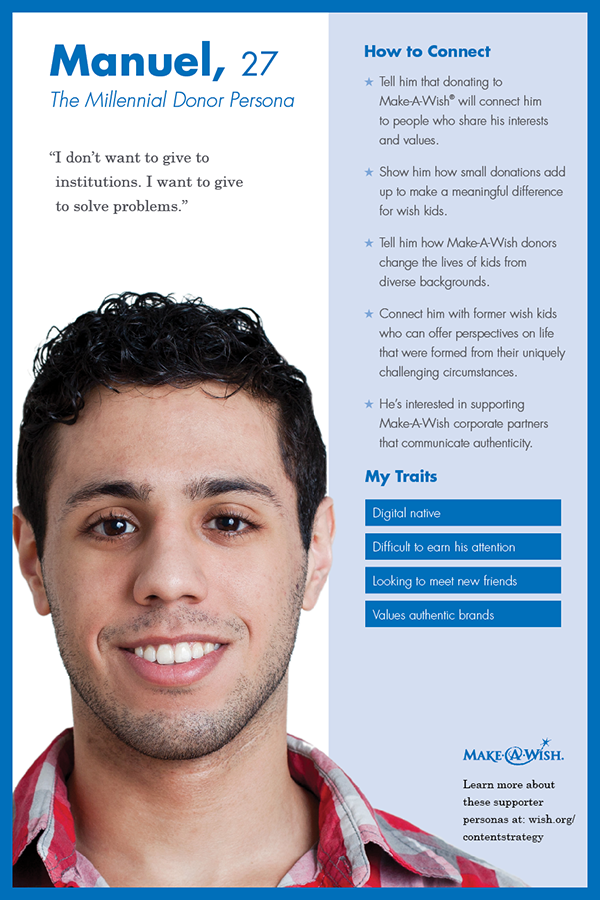 2. Put your audience first.
"Most modern marketing organizations in the for-profit and non-profit sector today utilize some form of audience personas," Smith remarked. "It's a proven technique and, if you're going to compete for donors, a strong competitive advantage."
With so many for-profits and nonprofits investing in audience personas, Make-A-Wish knew it was time for them to do the same. Taking an audience-centric approach is nothing new to the for-profit world, but it can be hard for nonprofits to make this switch.
As do-gooders, we often think that talking about our organization's accomplishments and the important work that we're doing should be enough to engage our supporters. But stories that focus on the nonprofit often fail to drive constituents to action. It's important to think about how the content you are creating provides value for the people who support your organization. Make them the hero of your story and show them how their contributions are essential to the work you're doing.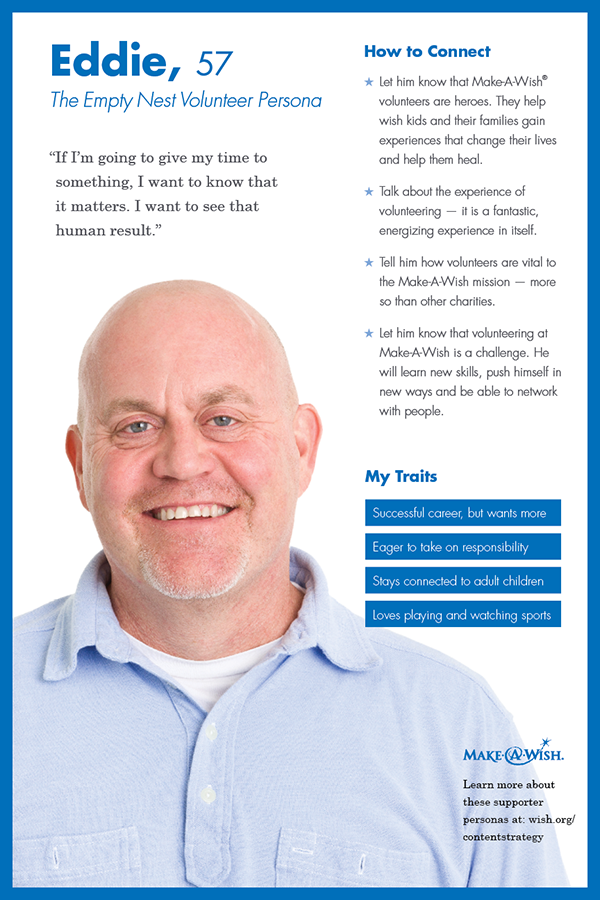 3. Get your team on board.
To make sure these personas are effectively implemented across all 60 Make-A-Wish chapters and other affiliates, the organization provided training on the value of personas and how to use them in their daily work. 
"The initial response has been overwhelmingly positive," said Smith. "This is a long time in coming, and people are excited to start implementing them and learning more about how to utilize them in their communications."
This persona portfolio is just the kickoff of Make-A-Wish's audience persona journey. Chapters will play a significant role in the next step by participating in a content strategy training program organized by See3. We know that their insights will provide rich insights in understanding target audiences and help to make personas even more relevant on a chapter level. We're looking forward to partnering with many Make-A-Wish chapters to help them take their content strategies to the next level.
Learn more: Create personas to bridge the gap with your target audiences
Thanks to See3 for sharing this case study. Concrete models like this one are priceless in showing what's possible and how to get started. 
https://gettingattention.org/wp-content/uploads/2021/08/getting-attention-logo.svg
0
0
Getting Attention
https://gettingattention.org/wp-content/uploads/2021/08/getting-attention-logo.svg
Getting Attention
2021-08-23 16:04:46
2021-09-01 02:41:35
Use Audience Personas to Connect & Convert (Case Study)