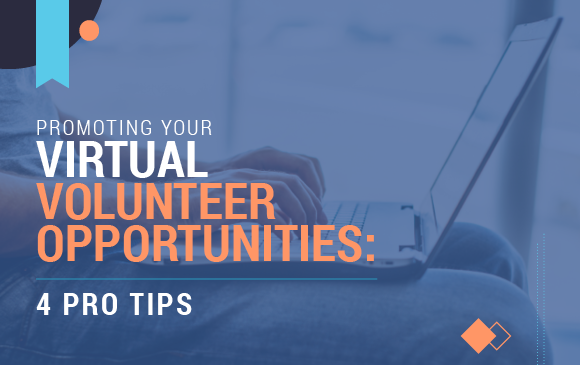 With people and organizations moving to the virtual landscape in the COVID era, there are new ways to empower and engage your supporters. Whether you're looking to increase virtual event attendance or expand your volunteer base, developing a volunteer management strategy tailored to attracting online engagement is crucial.
In the digital age, effectively promoting your virtual fundraising opportunities is essential for mobilizing people to support your organization's mission. 
Effectively managing your volunteers has a beneficial payoff for your organization. With a well-planned strategy comes increased engagement, meaningful relationships with your volunteers and community, and boosts to revenue over time. Plus, developing a strong plan will save your team time and expand your events' turnout. 
Surprisingly, many growing organizations neglect developing a concrete promotional strategy for their volunteer programming. This component is often overlooked due to other priorities taking precedence. Some consider it to take too much time to address, or sometimes volunteer management is an issue not yet on their radar. However, remember that your organization can get ahead and grow your impact by making effective volunteer engagement and management a point of focus. 
Because virtual volunteering is at the forefront of an organization's recruitment strategies and has staying power, it is a worthwhile endeavor. Digital platforms reach a broad audience regardless of location and can exponentially grow your organization's reach. However, effectively promoting these opportunities is the challenge, as virtual volunteer involvement is still new for many supporters. 
Here's what to consider when forming your strategy for promoting volunteer opportunities:
Using dedicated volunteer management software.
Tapping into the power of peer-to-peer recruiting.
Taking a targeted approach to marketing.
Promoting new ways for volunteers to grow their impact. 
This year, aim to seek out new ways for your organization to stand out online. Promote your organization's opportunities strategically while forming meaningful connections with those who support you. Here's how to promote your nonprofit's virtual volunteering opportunities to your online audience of supporters. 
Use dedicated volunteer management software.
Anchoring your recruitment efforts with dedicated volunteer management software is a crucial aspect of your growth in the digital age. This software simplifies the management of those who volunteer with and support your mission. It will also provide invaluable data by tracking volunteer engagement. 
With this information, it'll be easier to refine your marketing strategies over time by showing you what does and doesn't work to attract and engage new volunteers. The long-term value of investing in management software is beneficial as it helps your organization increase volunteer engagement and retention to better support your cause.
For example, tracking engagement data can help you discover:
Which marketing outlets most effectively attract volunteers
Trends in volunteer feedback
Common characteristics of your most engaged volunteers
With these crucial metrics at your fingertips, your organization has untapped growth potential. Reading into trends and understanding behaviors will help you place your promotional efforts in the right place at the right time.
For instance, if you find that social media is your most effective source for volunteers for a particular type of virtual volunteer opportunity, you can anchor your future outreach strategies with social media. Or, if you find that volunteer sign-ups dropped for a recent event or campaign, you can look back to your marketing strategies to see exactly where your promotional efforts underperformed.
Tap into the power of peer-to-peer recruiting.
Your current volunteers are some of your most valuable assets when it comes to recruiting new volunteers. Provide them with the right tools to recruit volunteers to support your cause! Whether it's on-the-ground or virtual support, every member is a crucial part of your organization and can act as a powerful ambassador when equipped for the job.
An effective way to gain traction with potential volunteers is through digital communication. This can take many forms on a variety of platforms. Encourage your volunteers to actively share their experiences on their social media platforms and by digital word of mouth; texting.
You want to ensure that your volunteers provide valid links to connect potential supporters with your online pages. Volunteer opportunity networks (like Mobilize) also help with this task too. It provides your volunteers with easy social share buttons and copy-and-paste codes to share via text or email. 
Be sure to include your organization's social media handles as a point of contact, as well. Here, you might offer a range of engaging content:
Testimonials and stories from past volunteers
Impact reports and photos or videos of previous volunteer events
Volunteer shout-outs
The general buzz and conversation around your mission and work
Through social media, potential volunteers can get an accurate and immersive look into what it would be like to volunteer for your organization. Be sure to work these into your broader social media strategies to see the best results over time.
Finally, thank your volunteers for spreading the word. People respond well to appreciation and will be compelled to keep recruiting on your behalf. This directory of thank-you templates from Good United is a handy resource to get started. 
Take a targeted approach to marketing.
In the last year, marketing communication has shifted largely online, especially with people working from home. This sudden change forces nonprofits to rethink communication strategies, especially their approaches to marketing their events and efforts to their volunteers. 
Just as your organization has altered its strategy for communicating with employees internally, make sure your external communication to volunteers is also following today's best practices. To stand out in a crowded online space, targeting your message specifically to them will be your best bet.
Start by refining your email strategies. With email being a cornerstone of digital communication, messages that seem irrelevant or spammy are much more likely to get ignored by your volunteers. Combat this by keeping your end-user in mind. Write your subject lines and openers to acknowledge that they're people behind the screens, too. Rather than blasting general announcements about new opportunities to all of your supporters, take a more targeted approach when possible. 
There are helpful resources to refer to for tactful audience-centric messaging. This will help make your messages more effective and prevent them from feeling like generic or irrelevant appeals for support. 
These emails can be personalized by direct your users to the most relevant opportunities based on what you already know about them. An example of this could be tracking which types of opportunities a volunteer has engaged with in the past to promote specific future opportunities to them. This will further enhance their relationship with that supporter and encourage them to continue to support your cause.
This messaging practice can further be used to encourage non-volunteers to get involved. When someone donates to a particular campaign, consider how that campaign's specific messaging and goals motivated them to give. What action words and attention grabbers did they use to reach the end goal of the user donating? Use those insights to determine which types of volunteer opportunities and messaging tactics will be most appealing to them.
Promote new ways for volunteers to grow their impact.
Giving current volunteers ways to grow their impact on your mission is another vital part of effective long-term volunteer management. When you've built strategies to retain volunteers over the long haul, also use them to attract new supporters. Beyond expanding your volunteer base, find creative ways to expand their opportunities with your organization. An investment in their engagement is a powerful motivator.
When you expand opportunities for your volunteers, it can look like a variety of methods. For example, you can provide current and potential volunteers with opportunities like:
Volunteer grants that can help them boost their impact on your mission through matched donations from their employers.
Training programs and additional development opportunities to learn new skills related to your work.
Special membership perks for stand-out members, such as long-term volunteers, and those who are proactive in recruiting new volunteers.
By offering ways for volunteers to grow their impact over time, you essentially give them a reason to stick around. In addition to simply offering a range of different volunteering opportunities, Tactics like these are key to engage and retain supporters over the long run, which is itself one of the best ways to market your programming to potential volunteers.
With new and effective methods to promote your organization's virtual volunteer opportunities, you can grow your reach and impact. Digital platforms have taken precedent with volunteers and organizations alike to recruit, retain, and motivate volunteers. 
---
It's crucial to remain at the forefront of effective volunteer management strategies. If strategic volunteer management is a new undertaking for your organization, brush up with Mobilize's complete guide, which walks through even more marketing and recruiting tips.
Regardless of the exact tactics you roll out, the main idea is to come up with the best ways to effectively inform others of your opportunities, as you want to expand your reach as much as possible. Your organization's online presence has the potential to reach a broad audience regardless of location. Your impact can grow in exponential ways as you deepen relationships with your supporters. 
Creating your strategy is as simple as using the right volunteer management software to expand your organization's mission's reach and impact. Be sure to supplement it with peer-to-peer recruiting and targeted messages. 
With the new year, there is ample opportunity for creative and practical ideas to bolster your digital presence. With this, your organization's volunteer base will expand and further the impact you have in your community.
https://gettingattention.org/wp-content/uploads/2021/08/Mobilize-GettingAttention-Promoting-Your-Virtual-Volunteer-Opportunities-4-Pro-Tips.png
365
580
Getting Attention
https://gettingattention.org/wp-content/uploads/2021/08/getting-attention-logo.svg
Getting Attention
2021-08-23 16:05:44
2022-04-05 19:10:38
Promoting Your Virtual Volunteer Opportunities: 4 Pro Tips