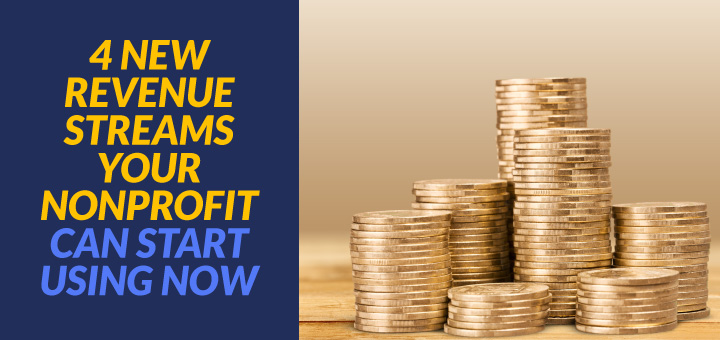 Fundraising can be a little unpredictable. While your nonprofit likely has a good idea of how much funding you can expect from month to month, chances are that a significant percentage of your support comes from individuals who can occasionally change their minds or act in ways you might not have predicted. 
Fortunately, there are a variety of resources your nonprofit can use to increase your funding's reliability. Specifically, you can add new revenue streams to your fundraising strategy. Adding new sources of revenue may sound like a lot of work on the surface, but in reality, there are many your nonprofit can tap into almost immediately without disrupting any of your other fundraising efforts. 
From passive fundraisers to untapped philanthropy programs, your nonprofit can get started right away with these four revenue streams:
Online Shopping Programs 

Grocery Store Fundraisers 

Matching Gifts

Google Ad Grant
Keep in mind that these revenue streams are meant to supplement your main fundraising activities. After all, you'll still need to perform your usual donor outreach and campaigning to alert donors to new ways they can support your nonprofit. With that in mind, let's get started. 
1. Online Shopping Programs 
Do your supporters shop online? Chances are that many of them do, as research has shown there were 256 million online shoppers in 2020, and that number is only expected to grow over the next few years. Your nonprofit can make the most of this trend by encouraging your supporters to participate in an online shopping program. 
Online shopping programs have supporters essentially shop for your cause when they shop at participating retailers. A percentage of the sales total for each of your supporters' purchases will be sent to your nonprofit. Plus, these contributions come from the retailers, which means your supporters won't need to spend any more than they normally would while shopping. 
To launch an online shopping fundraiser, you'll need to get in touch with your supporters and guide them through the following steps: 
Supporters download the app or browser extension.

Send your supporters a link to download either your nonprofit's online shopping program app or browser extension. If supporters prefer not to download anything, see if your shopping program has an online portal they can make their purchases through. 

Supporters shop at participating retailers.

Ideally, your online shopping program should already be partnered with businesses your supporters already shop at, meaning very few of your supporters will need to change their shopping habits to participate. You may even be surprised at just how many different types of retailers participate in online shopping programs, from department stores and restaurants to online course vendors. 

Your nonprofit earns.

As supporters start making purchases, your nonprofit will earn a steady stream of income through your shopping program. Shopping programs are designed to help nonprofits earn reliable revenue over time, so be patient and continue encouraging your supporters to participate in order to earn. 
Maintaining strong communication with your supporters is essential for a successful online shopping program. Unlike set-it-and-forget-it fundraisers, online shopping programs greatly benefit from regular promotion to attract new supporters to your program and remind current supporters to continue participating. 
2. Grocery Store Fundraisers
While it may be true that not all of your supporters regularly shop online, all of your supporters do need to make routine trips to the grocery store, giving them another chance to help out your nonprofit. Like online shopping fundraisers, grocery store fundraisers help nonprofits earn revenue by contributing a percentage of your supporters' sales total to your organization. 
Many popular grocery store chains have fundraising programs that your nonprofit can apply to, allowing supporters to help your organization while they shop. Of course, many grocery stores have unique rules for their fundraising program, so be sure to research your local chains before applying. 
Once you join a grocery store fundraising program, be sure to promote it to your supporters. Let them know where and how they can participate, as well as any additional details they need to know to have their contributions count. For example, some grocery stores may need participants to join their rewards or membership program first, which often requires filling out a form in-store or signing up online. 
But don't stop marketing your program after an initial email letting supporters know it's gone live. Regularly promote it along with your other fundraisers to let new supporters know how they can make more ethical shopping decisions with your program, while also reminding your current supporters to continue shopping at your partner grocery store. 
3. Employer Gifts
Each time your supporters donate or volunteer, they can earn your nonprofit additional revenue through matching gift programs. Matching gift programs are contributions made by your supporters' employers, meaning they won't need to give any extra themselves to make their support go further. 
There are two main types of employer matching programs, and your supporters can make use of both of them to help drive additional income: 
Donation matching.

When your supporters donate, employers with a donation matching program can match their gift, effectively helping your nonprofit earn double for each eligible donation. Help your donors discover if they qualify for a matching gift and fill out any necessary forms to apply for one. 

Volunteer grants.

Volunteer grants can be an entirely new revenue stream for many nonprofits, as you'll be able to collect contributions from your volunteers' employers whenever they donate a few hours of their time.

Companies that offer volunteer grants

have a wide range of requirements and potential payouts. For example, Apple has no minimum for hours worked and will donate $25 per hour volunteered, whereas Pfizer requires employees to work at least 40 hours, but will then donate $500. 
While your nonprofit can encourage supporters to research if they are eligible for donation matching or volunteer grants, there are a variety of online fundraising tools that can make the process much easier. For example, matching gift databases allow supporters to enter the name of their employer and then be paired with the necessary matching gift forms automatically. 
4. Google Ad Grant
You can't start using revenue from a Google Ad Grant right off the bat, but you can set your nonprofit up to qualify for one almost immediately. Google Ad Grants are specifically for online advertising, giving nonprofits $10,000 in ad credits a month. This can significantly change a nonprofit's online outreach strategy and free up funds that might have previously been allocated to marketing. 
To get started applying for a Google Ad Grant for your nonprofit, ensure that you meet these three requirements: 
Have 501(c)(3) status.

Google only allows nonprofits with a valid 501(c)(3) status to apply for their program. This means government organizations, hospitals, and schools are not

eligible for the Google Ad Grant

.

Agree to Google's terms of services.

Google has terms of service for how nonprofits will use the grant and Google Ads. Ensure you understand what is expected of your nonprofit to help maintain the grant if your nonprofit qualifies.
Have a valuable website with an SSL certificate.

Google has a few clear and a few not-so-clear requirements for nonprofit websites. Your website must have an SSL (Secure Sockets Layer) certificate, only ads that relate to your mission, and limited commercial activity. More vaguely, your nonprofit's website must also be high-quality. In most cases, this will mean having a clear layout, easy to find descriptions of your nonprofit's mission, content that is unique to your nonprofit, and enough content to demonstrate that your nonprofit is a reliable, long-lasting organization. 
Nonprofits who already have accomplished these three tasks can jump straight into making their Google for Nonprofits Account and applying for a Google Ad Grant. Google will then assess a nonprofit's website to determine if they are eligible, and, if so, they can begin designing and launching their ad campaigns with their new revenue.
---
Adding new fundraisers to your calendar can be easy. Explore options that are easy for you and your supporters to get started with, while also considering programs that might take a little while to apply for but can then start earning reliable revenue for the foreseeable future. Good luck!
https://gettingattention.org/wp-content/uploads/2022/03/Shopraise_Getting-Attention_4-New-Revenue-Streams-Your-Nonprofit-Can-Start-Using-Now.jpg
340
720
Getting Attention
https://gettingattention.org/wp-content/uploads/2021/08/getting-attention-logo.svg
Getting Attention
2022-03-14 20:53:29
2022-04-05 18:47:56
4 New Revenue Streams Your Nonprofit Can Start Using Now