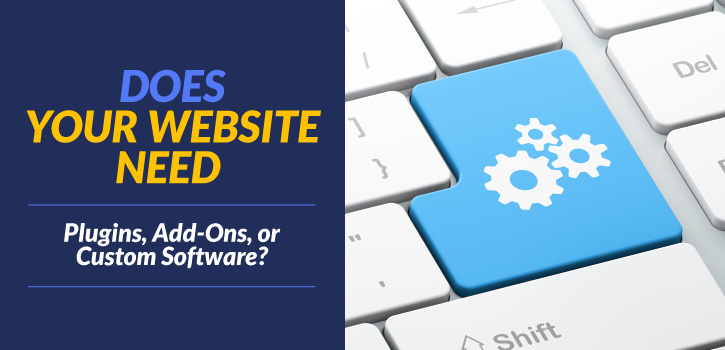 Picture this: you're getting ready to launch a digital fundraising campaign, which means you need your website to be in tip-top shape. On top of that, you're trying to get your donor database organized so that you know who exactly you should reach out to.
As you're planning your virtual fundraising events for the campaign, you find that your technology can't quite keep up. You know there's a whole bunch of features out there that can help, but you don't know which ones you need. What do you do?
The world of nonprofit technology and website building can feel overwhelming for anyone, but especially if you don't consider yourself a tech wizard. Even when you've picked your theme, visual builder, and domain name, there still seems to be a ton of additional features you can download to enhance your website. From plugins to add-ons to custom software, it can be difficult to know what you actually need.
But don't worry — we're here to help! We've put together this guide to explain everything you need to know about the features you can download or create to enhance your website, including:
Whether you have a consultant on your side or you're navigating this on your own, this guide will help you determine which features you should invest in and which ones you might be able to skip. Let's dive in!

All About Plugins
First on our list is plugins. Plugins are downloadable features that you can add to your content management software (known as a CMS or website builder) that can enhance your platform. Plugins are most commonly used to add features or functionality to a web builder.
There are tons of plugins to choose from, so how do you know which ones are right for your nonprofit? Here are some tips for selecting plugins:
Be sure that you actually need the plugin: Before you start downloading all types of plugins, you should first ask yourself if you actually need the plugin. For example, you may need a plugin that makes your website menu easier to navigate, but you might not need one that also adds section navigation. Having a ton of plugins on your website can sometimes slow it down, so try to avoid installing every plugin that strikes your fancy!
Look at the reviews: Once you've determined if you actually need the plugin, be sure to read the reviews about the plugin. These can help you determine how well the plugin is supported and if the plugin will actually be helpful and perform how it's supposed to!
Ensure that the plugin is regularly updated: The last thing you want is to download an outdated plugin that slows down your site. Check to make sure that the plugin is regularly updated and that a team of developers is available to resolve any issues.
Only you can decide which plugins are right for your site, but make sure you look at each option with scrutiny. If you're already feeling the choice paralysis, check out this Cornershop Creative guide to WordPress plugins for nonprofits. They did the hard work of finding the best plugins so you don't have to!

All About Add-Ons
Now you might think that plugins and add-ons are the same thing, but here we're referring to  Add-Ons as features built-in as options or tools within the platform you are already trying to use.
It's important to note that some plugins and add-ons may fulfill a similar purpose. As you're looking for plugins, check first to see if the platform or program you're using already offers the same feature in the form of an add-on. For instance, you likely won't need a plugin to create a blog for your site. Your web builder will already have plenty of tools and add-ons to help you add a blog directly to your site.
Here are some examples of add-ons that your nonprofit might find valuable for your website:
Social media sharing tools: Adding a social media integration is a great way to help your supporters connect with you online. Pre-built social media integrations will also make it easier for your visitors to share photos, flyers, or videos with their personal networks, helping to spread the word about your nonprofit.
Online forms: Your nonprofit likely requires visitors to fill out a form if they want to make a donation, enroll in your volunteer program, or sign up for your email newsletter. Your web builder likely already has options available for you to easily build your own forms. However, this is also a good example of where plugins and add-ons can overlap — there are also a lot of plugin options you can download if your web builder's form options aren't quite enough for your nonprofit.
Visual editing tools: Your web builder likely has several add-ons that you can use to customize the appearance of your website so that you can make it your own! Some of these add-ons may also help to decrease the load speed of your graphics, which can improve user experience.
As you begin your noble quest for plugins, take a look at all of the add-ons that your web builder already offers. You may find that you already have everything you need and, if not, you'll at least be able to minimize the number of third-party applications that you'll need to download.

All About Custom Software
Custom software is a bit different from plugins or add-ons, in that it's specifically designed to meet your needs and can take the form of a donor database, personalized plugin, a data integration, or anything else that you might need. Compared to plugins and add-ons, custom software may require a bigger investment, but there are plenty of reasons why you might want (or need) custom tech.
Here are a few reasons why your nonprofit might decide to invest in custom software:
Have software that grows with you: As your nonprofit continues to grow, you might find that your technology cannot scale up with you. For this reason, custom software might be the best tech solution to ensure that you don't need to do a major overhaul every time that your nonprofit sees massive growth.
Cultivate stronger donor connections: Custom software can also help you build better relationships with your donors through more personalized data management. This NPOInfo guide to donor data management highly recommends keeping your donor data organized so that you can be more strategic with your outreach. Custom software might offer a better fit for your needs because you'll be able to design your donor management software in a way that will be most helpful to you.
Use tech that is designed to fit your needs: Every nonprofit has unique needs that the generic tech marketplace can't always meet. With custom software, you can engineer a solution that is designed exactly to meet your specific needs.
Custom software requires more time and energy to build, but the payoff can be higher when compared to other, generic applications. To get custom software, you'll have to define your needs and find a tech consultant who specializes in nonprofits and popular nonprofit platforms to help. Ultimately, you should decide to build custom software if you have an important need that can't be met by software that's already out there!
There you have it: your complete guide to everything plugins, add-ons, and custom software. Hopefully this guide has helped you get a better understanding of what type of technology will be most useful for your nonprofit. You'll have a fully optimized website or platform in no time!
https://gettingattention.org/wp-content/uploads/2022/03/Cornershop-Creative-Getting-Attention-Does-Your-Website-Need-Plugins-Add-Ons-or-Custom-Software_Feature.jpg
350
725
Emma
https://gettingattention.org/wp-content/uploads/2021/08/getting-attention-logo.svg
Emma
2022-03-10 17:40:03
2023-06-21 19:39:35
Does Your Website Need Plugins, Add-Ons, or Custom Software?