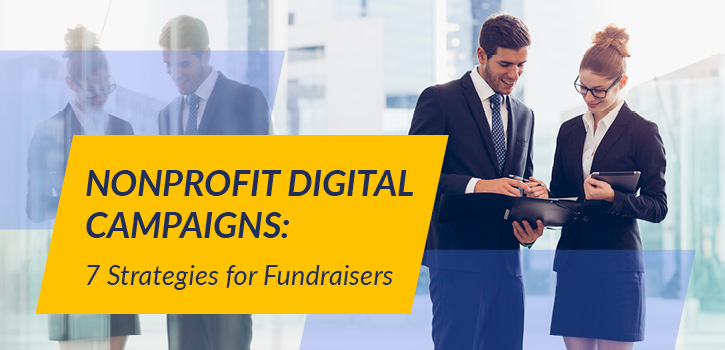 When it comes to modern fundraising, digital campaigns are the most sure-fire way to spread awareness of your messaging and meet supporters where they are. 
Why is that? Well, let's look at a few statistics:
As of January 2021 there were 4.66 billion active internet users in the world. (source)
27.5% of supporters say they find nonprofits through online research. (source)
Despite the pandemic, online giving grew 20.7% in 2020, with 13% of all funds coming from online donations. (source)
Your current supporters and prospective givers are already online and interacting with digital devices every day. If you want to reach your fundraising goals and engage your audience in meaningful ways, you need to meet them where they live, work, and play. Hosting a digital campaign is your best bet.
However, with new nonprofit software and donor engagement strategies popping up each year, there seems to be no end to digital campaign ideas that you can explore. Should you launch a text fundraising campaign? How about a peer-to-peer social media campaign? What channels should you market your digital campaign on? Do you have the right tools to make any of these ideas possible?
It's okay to be overwhelmed. Professional fundraisers often find themselves asking these same questions time and time again. But, you're in the right place! This guide to nonprofit digital campaigns will walk you through the basics of digital campaigns before offering up a few of our most effective strategies:
As a nonprofit leader, it's important for you to understand all of the moving parts that make up an effective digital campaign. Successfully hosting one of these campaigns is far more than just accepting online gifts. Let's dive in with a simple overview.


What Is A Nonprofit Digital Campaign?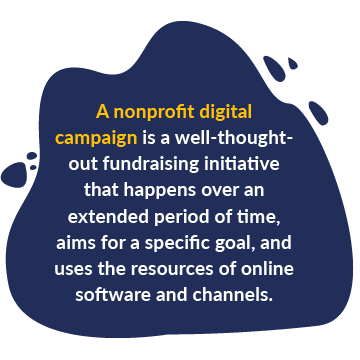 A nonprofit digital campaign is a well-thought-out fundraising initiative that happens over an extended period of time, aims for a specific goal, and uses the resources of online software and channels.
It's not enough to just create an online donation page and link to it in your email communications. Digital campaigns need careful consideration and deliberation in their planning and execution. In fact, some of the most effective digital campaigns can take an entire year to play out or even happen on an annual basis if they're really successful. 
With a well-planned and conducted nonprofit digital campaign, fundraisers can: 
Raise awareness of their mission

— The digital platform allows your content and stories to take over multiple digital channels and reach supporters from far corners of the world. As long as they have access to the internet, all of your donors will be able to see your content.

Collect support for program/initiative

— Often, nonprofits need to raise funds for a specific need that the organization has. Launching a digital campaign can be the perfect conduit for fundraising. 

Provide an engaging experience for donors

— Nonprofit campaigns often occur over a long period of time, involve many activities, and may even encourage participation from your supporters. This is a great way to engage your audience and get them further invested in your cause. 

Build your nonprofit's reputation

— Digital campaigns won't just do wonders for your mission, but your nonprofit's larger public image. Many digital fundraising campaigns even get news attention. This can build your nonprofit's reputation as a high impact and influential organization.

Encourage your audience to share on your behalf — The internet allows content to be shared much more easily than physical or in-person channels. This means that your supporters have the opportunity to play a huge role in the success and marketing potential of your digital campaigns. Ask followers to repost your messages and share your online donation page with their own friends and family to multiply your reach.
Ultimately, the core reason why nonprofit digital campaigns are so successful and valuable is that they are targeting your audience where they already are: the internet. The online world is woven into our everyday lives, whether that's checking your email, seeing what's in the news, or staying connected with friends or family.
Digital campaigns take advantage of this online activity by incorporating your nonprofit messaging seamlessly into your audience's regular tasks. But in order to successfully carry out these campaigns, you will need to do some careful planning and use the right tools.

What Are The Elements Of A Successful Nonprofit Digital Campaign?
When planning your nonprofit digital campaign, the exact steps you'll take and the components you'll need will depend on your unique mission and audience. However, there are some essential elements that you cannot forgo: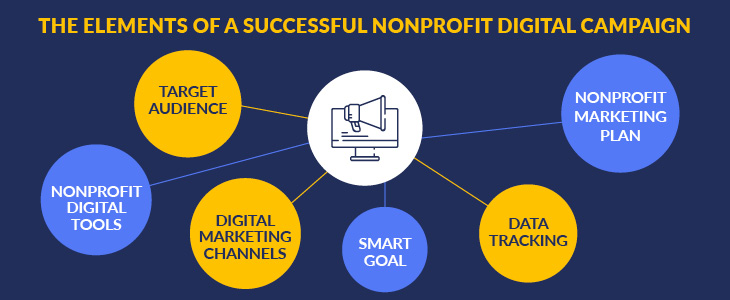 SMART Goal

— If you want your digital campaign to be successful, you need to have concrete goals that you are working towards. We recommend using the SMART (Specific, measurable, attainable, relevant, and time-based) method to create your digital campaign goals. You'll want to hit the careful balance of not too lofty but also achievable. If you have multiple goals, then list them by priority. 

Target audience

— You'll need to know exactly who your nonprofit digital campaign is reaching. Consider both your current audience and your target audience as you're crafting your marketing messaging and choosing the digital channels through which to relay it. You can even further narrow down your audience with donor segmentation and donor personas. 

KPIs and data tracking to measure success

— How will you know if your campaign is a success without effective data tracking? After you figure out what your campaign goals are, consider the key performance indicators (KPIs) you can set to determine if you reached that goal. For instance, one of your goals might be to increase your matching gifts program. You would then set KPIs like the number of donors

with corporate giving programs

versus the number of actual matches given. This way, if a KPI goes up or down, you have a sense of whether your campaign is working or not.

Dedicated nonprofit marketing plan

— Even a strong digital campaign will fail if it is not marketed effectively. When it comes to your nonprofit marketing plan, it's best to be as comprehensive and clear as possible so that your team members know exactly what to do. This includes outlining donor segments, coming up with the right messaging, and designing your marketing materials. For help on organizing your campaign outreach,

check out these nonprofit marketing templates we created

. 

Carefully chosen digital marketing channels

— Thanks to the internet and new online platforms popping up all the time, there seems to be no limit to the marketing channels your campaign can leverage. Each of them has its own strengths and challenges, so it's important that you do careful research before hopping onto a new medium. For instance, Instagram is great for posting images and video, while Twitter is best for real-time quick text updates!

Reliable nonprofit digital tools

— Your digital campaign will only be as successful as the tools you use. We recommend a reliable online donation tool, email marketing tool, social media planner, text messaging, peer-to-peer, online auction,

matching gift

, and more. We'll dive further into how these tools play an important role in your campaign as we discuss different campaign strategies.
Your nonprofit digital campaign can bring extreme value to your mission when you carefully outline all of the essential elements. However, your digital campaign will only be successful as the type of program that you decide to host. Let's take a look at some of the different campaign initiatives you might consider launching.

7 Nonprofit Digital Campaign Strategies To Explore
Depending on the resources and tools at your disposal, as well as the audience you're trying to reach, there are likely tons of digital campaign ideas you can choose from. For the ambitious fundraiser, you may even try to combine some of these strategies into one penultimate nonprofit campaign!
That's why we've compiled some of the most effective and versatile campaign strategies for you to explore. Among these top picks, there's definitely something that fits your unique needs.

Google Ad Grants
One key digital campaign strategy is to make use of online ads! For instance, Google Ads allows organizations to display advertisements, services offerings, products, and other marketing content strategically in search engine results as well as non-search websites, mobile apps, and videos. That's why whenever you Google a word like "burger", there will be a couple of results on top featuring ads from burger companies or restaurants.
In particular, nonprofit organizations have the unique opportunity to participate in the Google Ad Grant. This is a program that offers nonprofit professionals $10,000 in Google Ad credits to spend each month. Plus, any nonprofit that is eligible can make use of this grant! It's not just allocated for a few lucky winners like other grants are.
A Google Ad Grants digital campaign is one of the best ways to get your online content to the forefront and reach your target audience quickly without pushing your marketing budget.
Interested in learning more about how to apply and manage the Google Ad Grant? Explore our dedicated article about applying for the grant here. 

Matching Gift Campaign
Corporate matching gifts is a type of philanthropy in which employers will financially match donations that their employees make to eligible nonprofit organizations. The only catch? Not enough eligible donors even know about this opportunity! In fact, according to Double the Donation, around $4 to $8 billion in matching gift funds go unclaimed each year.
This is how matching gifts work: First, an employee makes a donation. Then they submit a matching gift request from their employer, and finally the company makes a donation based on a fixed match rate. Companies will usually match gifts at a 1:1 ratio, with some even going for a 2:1 or 3:1 ratio. 
To conduct a matching gift campaign, your main goal will be to raise awareness of this program. This campaign type doesn't require you to ask donors for a second gift. Instead, supporters get to increase their support without having to actually reach into their own pockets. Here's what you'll need to consider when conducting your matching gift campaign:
Market on all possible channels. You want as many people as possible to be aware of this opportunity.

Create a dedicated matching gift page with all of the information to answer questions donors may have.

Bring together a matching gifts team solely dedicated to ensuring that matched gifts are followed through. You might even invest in

an automated matching gift tool

to track eligible donors and follow up with them.

Incorporate matching gifts right into the giving process. You can do this by embedding a searchable matching gift database into your donation page so that donors can quickly look up if their employer will match their gift.
Don't forget to track all of this data, too! This way, you can also notice any trends of where your matched donors are working and even make way for additional corporate partnership opportunities.

Email Marketing Campaign
Email marketing is probably one of the most common ways that fundraisers will leverage digital tools. An email marketing digital campaign will likely span weeks or even months, slowly introducing its readers to an upcoming event or new announcement. At the end of the email series will be a direct call to action to show support, like a link to your donation page. However, email's popularity can also be a detriment. In fact, the average worker can sometimes get up to 121 emails every workday. How can you ensure that your own email marketing efforts stand out from the crowd and are actually read?
Here are some tips we recommend when it comes to email marketing:
Personalize your messages —

Did you know that emails that include the first name of the recipient in the subject line have a

higher clickthrough rate

than those that don't? Use your fundraising system to automate your audience's names into your email messages. Saying "Hello David" is much more appealing and genuine than using "Dear Donor," and shows readers that this message is meant specifically for them. You might even auto populate other data, like past gifts. 

Segment your audience —

Your donors are made up of individuals, so it's a mistake to address your entire audience as one group. Consider segmenting your email recipients by common traits you notice. This can include demographic traits like gender or age, as well as markers like new vs existing donors. These donor segments will have different needs and will respond to messaging in different ways, so creating targeted strategies for each is your best bet. 

Include important calls to action —

The success of your campaign depends on the actions that you inspire your supporters to take. Remember to always include a call to action in your email messaging. Otherwise, readers will simply absorb information and not know what to do with it after! A direct link to your donation page or social media accounts should always be included. 
No one likes getting unwanted emails, so if someone makes a note that they'd like to opt-out of an email campaign series, make sure that you let them. Otherwise, they might regard your organization as a nuisance and ignore all future communications. You might even use this as an opportunity to ask donors what they liked or didn't like about your emails, and adjust your strategies accordingly.
To pull off a successful email marketing digital campaign, you'll need a comprehensive email marketing tool as well as an integrated CRM system to automate the personalization process. Want help drafting the best email messages? Check out the templates at Fundraising Letters.

Virtual Fundraising Event
Virtual fundraising events have been rising in popularity, especially in the past year. This technology-driven event might seem not as genuine or successful as an in-person one, but they actually hold many benefits, including:
They're more economically feasible.

They're more accessible to a wider audience.

They build human connection in unique ways. 

They offer access to content and community-bonding beyond the dates of the event.
To pull off a successful virtual fundraising event, you'll need some key tools at your disposal. After all, this entire experience will live online. The first tool that comes to mind is a livestreaming solution as this is an easy way to pivot your regular nonprofit events to virtual. For more information and solutions on virtual fundraising, we recommend heading to re:Charity's article on virtual fundraising software.

Social Media Campaign
Did you know that social media posts were the number one driver of giving in 2020? Social media has become one of the most engaging and valuable ways that organizations engage with their supporters and release exciting news. 
However, there are so many social media platforms out there. It can be difficult to decide where to funnel your content. Rather than trying to use every channel, we would recommend that you instead focus on the platforms that you already have the most engagement and content on. 
On top of that, it's a good idea to carefully consider the way that each social media platform gets your message across, whether that's with text, image, or video.
Here's a peek into the major social media platforms today:
Facebook not only allows you to gather all your supporters in one place, but also empowers users to create their own DIY fundraising event right on the platform!
LinkedIn is an online professional network and is a perfect place to post updates about your organization and operations, as well as connect with viable volunteers or workers. It's also a key place to find corporate sponsors! 
Twitter is the perfect channel to share short and real-time updates on your nonprofit because it consists of text updates with a maximum of 280 characters.
Instagram

allows nonprofits to share images and videos, which both offer great opportunities to connect emotionally with your audience. Plus, your followers can easily comment on your posts and interact with your stories, creating an engaging and transparent environment for supporters.

TikTok is a newer platform but is blowing up like crazy. This app allows users to create and share short videos with music and audio. There are tons of "viral trends" to try out, so consider relating your nonprofit messaging in these fun formats. 
Don't forget social media in your nonprofit digital campaign. These days, it's one of the most popular places to discover new nonprofits and engage quickly. You can even connect all of your online accounts into one, united online presence by including direct links to your website within your bios or contact sections.

Peer-to-Peer Fundraising
Peer-to-peer fundraising is a fan favorite fundraising idea because it leverages the passion and energy of your supporters. Plus, it's one of the most valuable ways to promote your mission and reach new prospects you might have never had before.
Here's how a peer-to-peer fundraising campaign works:
Recruit passionate volunteers from your supporters to fundraise on your nonprofit's behalf.
Set each volunteer up with their own fundraising page so that they can personalize what your organization means to them.
Encourage volunteers to share this page and reach out to friends, family, and other peers on social media.
Individuals will donate to your nonprofit campaign by clicking on their loved one's peer-to-peer page and giving there.
Track how much each fundraiser raises to make a fun and healthy competition out of it!
Thank your volunteers afterward.
Peer-to-peer fundraising is one of the best ways to reach new audiences without having to do most of the legwork yourself. It's important that you properly train your volunteers and provide them with all of the necessary resources to succeed. After all, they aren't professional fundraisers like you are!
To conduct a peer-to-peer fundraising campaign, we recommend you invest in a dedicated peer-to-peer platform. This is the best way to track the overall fundraising progress, set volunteers up with their own pages, and report on individual fundraising, as well.

Text Fundraising Campaign
With an almost 99% open rate, text fundraising is a digital campaign idea that you do not want to miss out on.
Text fundraising is a form of mobile fundraising that connects with your supporters through their most frequently used devices — their cellphones. With a text fundraising tool, you can:
Send marketing messages directly to mobile phones through text.
Accept gifts through text messages.
Thank donors who have given.
This is a valuable way to increase engagement with your supporters and establish consistent communication with them. Just make sure you have their permission to accept outbound texts and also offer an easy opt-out option with a simple text, like STOP. You can get each donor's preferred cell number and their confirmation to opt into texts within something as simple as your donation form!
Additional Resources
If you want to increase your fundraising efforts, engage supporters in meaningful ways, and meet new prospects, embarking on a nonprofit digital campaign is your best plan of attack. Go past simply sharing your online donation page and use our tips above to take your campaign to the next level. To continue your research and become an even better fundraiser than before, explore our additional resources:

https://gettingattention.org/wp-content/uploads/2021/09/Nonprofit-Digital-Campaigns_Feature.jpg
350
725
Getting Attention
https://gettingattention.org/wp-content/uploads/2021/08/getting-attention-logo.svg
Getting Attention
2021-09-24 17:14:02
2022-04-04 17:05:09
Nonprofit Digital Campaigns: 7 Strategies for Fundraisers