This last post in my six types of stories your organization has to tell series illuminates how to find, shape and share your future story—the tale of where your organization's work will take your issue or cause, beneficiaries and supporters.
Future stories (a.k.a. vision statements) can be very powerful but are rarely told. Future story power comes in bringing to life—in a tangible, visible, visual and personal way—what is most frequently left as a vague, abstract and overly-wordy concept (if your organization even has a vision statement at all).
When done right, future stories have perhaps the greatest potential of all story types to hook your people at a gut level and motivate them to take the actions you need because you're putting your dreams out there making it easy for them to link their dreams to yours! 
The great thing is that every one of your organizations has a future story ready to be shaped into a powerful movement-building tool, whether you have articulated a vision statement or not. So do it!

Here's one of the best future stories I know: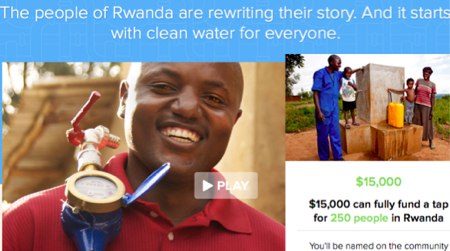 Most of you already have a vision statement on hand.
If you do, review it carefully before creating a story from it. You want to make sure it's accurate and relevant. Then find a story or two that illustrates it.
If you don't, go to it. Your vision statement will lead your team and your supporters to tackle your cause or issue with greater focus, energy and heart than ever before. We all need dreams.
When done right, your future story will be a magnet for like-minded supporters. Work on it!

How are you shaping and sharing your future story? Please share yours if you think it's working, or share your questions or challenges if you want some guidance.

More Storytelling Guidance for You
Part 1: This is Getting in Your Way, Stories Will Help
Part 2: Six Story Types to Tell
Part 3: How to Tell Your Founding Story
Part 4: How to Tell Your Focus Story
Part 5: How to Tell Your Success Stories
Part 5 1/2: How to Tell Your Strength Story
Part 6: How to Tell Your People Stories
Part 7: How To Tell Your Future Story: Nonprofit Storytelling
Part 8: Shape Stories to Motivate Action
Part 9: How Story Trumps Description