This is the last in my six types of stories your organization has to tell series on how to find, shape and share your strength story. Strength stories showcase how your organization's particular focus or approach adds value to the community you serve and/or and moves your issue or cause forward in a way unmatched by other orgs (a.k.a. differentiation).  

Guru-of-most-things Seth Godin recently summed up the value of differentiation: If there's not at least one thing that's distinctive about your organization—OR if you have that unique strength but don't highlight it—you're toast. Prospects will think you're just like every other nonprofit, and that's death to us marketers and fundraisers.
Instead, dig deep to articulate your organization's greatest strengths. Stay real—false claims will simply undermine your brand. Focus on the one that's most valuable and unique—it'll be more of a magnet—then find a story that shows that strength, just like The Arms Forces does here: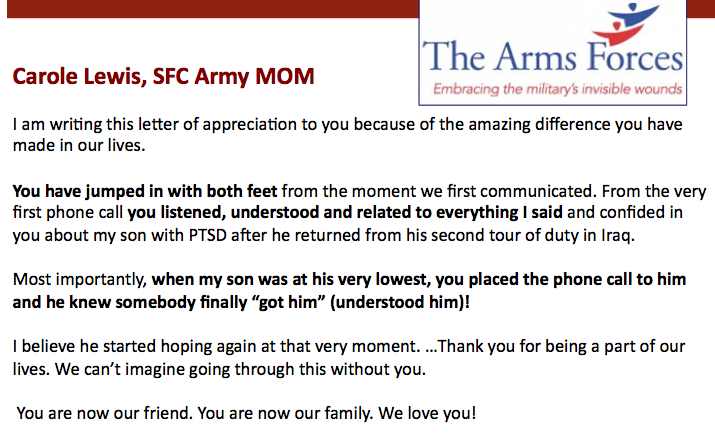 Kudos to the folks at Arms Forces for sharing such a simple and succinct story that's genuine, touching and memorable. They took their strength (staff and volunteers value and practice respect, listening, empathy and compassion) and illustrate it in a way that's concrete and genuine—"you listened, you reached out, you got me and you got my son."
I get what's special about The Arms Forces, and I bet you do too. I came across this story months ago, while preparing for a storytelling training, and it's been on my mind ever since. Because although I've never been a soldier, I have been in a tough situation and felt huge relief when someone finally understood.
When done right, your strength story is a powerful influencer in your prospects' decision join forces with your organization. Shape it, share it and see what happens next.
How are you shaping and sharing your strength story? Please share yours if you think it's working, or share your questions or challenges if you want some guidance.

P.S.
 If you're interested in becoming a 5-star storyteller, 
please email me here
.
I'm introducing a storytelling e-clinic in the fall, and want you to be the first to know. Thanks!
More Storytelling Guidance for You
Part 1: This is Getting in Your Way, Stories Will Help
Part 2: Six Story Types to Tell
Part 3: How to Tell Your Founding Story
Part 4: How to Tell Your Focus Story
Part 5: How to Tell Your Success Stories
Part 5 1/2: How to Tell Your Strength Story
Part 6: How to Tell Your People Stories
Part 7: How to Tell Your Future Story
Part 8: Shape Stories to Motivate Action
Part 9: How Story Trumps Description