Today you'll learn to shape and share another of the six types of stories your organization has to tell—the stories of the people who support your cause and make your goals come true.

People stories are hugely valuable in moving people to take the actions you want. Craft these stories to make it easy for your prospective donors, partners and more to stand in the shoes of your current supporters, and they're golden.
Remember, you have many of these people stories to tell, and the potential for using them to move your people to the actions you want is huge. Here's how to develop them most powerfully:
Two Aha! People Stories—
They make it easy for your prospects to see themselves in these peoples' shoes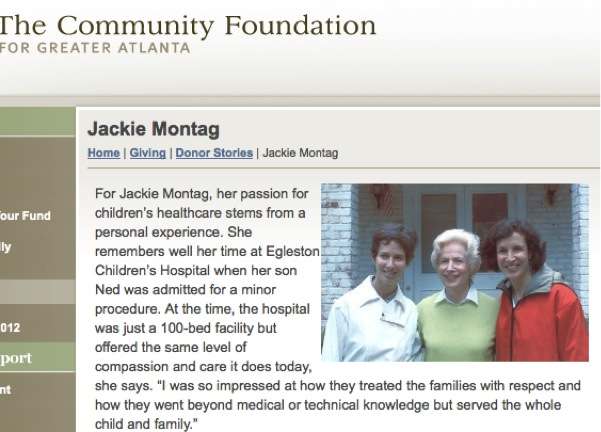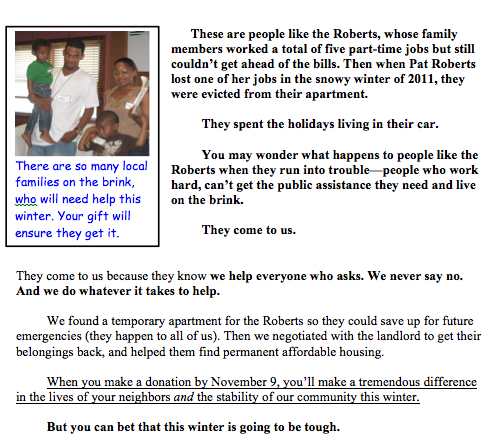 5 Steps to Strengthen Your People Stories
Your org's people stories will be as compelling, moving and motivating as these two when you follow these steps:

Feature people that mirror people taking each type of action your org wants to motivate—donors, partners, board members, volunteers and more.
Build out each profile to show why act, digging deep into personal reasons that are relatable to others. Just take a look at the stories above:

All of us have had loved ones become ill, and felt the love, concern and fear that Jackie Montag did when her son fell ill.
Most of us have never been homeless, but every single one of us knows what it's like to feel all alone and not know where to turn.

Don't feature stories that are too unusual—there has to be a point of connection or others won't be able to see themselves in that story (your goal).
Fill your people stories with specifics—they spent the holidays living in their car. Details allow the reader or listener to feel your story, not just process it. What's felt is much more likely to be remembered and acted on.
Testimonials, with a face and name if possible, are the ideal format here.
Close with a call to action, like the top example here!
You already have these stories on hand. And if you don't have the details and permissions that will make them even stronger, go back and get those elements for recent stories, and start collecting proactively going forward.
When done right, your people stories have unequaled potential to motivate prospects to act, simply by letting them easily seeing themselves in the shoes of current supporters who give, volunteer, sign petitions and participate in programs.

More Storytelling Guidance for You
Part 1: This is Getting in Your Way, Stories Will Help
Part 2: Six Story Types to Tell
Part 3: How to Tell Your Founding Story
Part 4: How to Tell Your Focus Story
Part 5: How to Tell Your Success Stories
Part 5 1/2: How to Tell Your Strength Story
Part 6: How to Tell Your People Stories
Part 7: How To Tell Your Future Story: Nonprofit Storytelling
Part 8: Shape Stories to Motivate Action
Part 9: How Story Trumps Description