I'm a sucker for stark contrast. It's one of the best learning tools ever, and today I'm drawing on examples from  Mass Mentoring Partnership (MMP).
The Challenge
MMP supports and strengthens mentoring programs in Massachusetts and faces this marketing challenge common to every organization that doesn't provide direct services:
How to show the org's unique value to current and prospective:

Mentoring program partners—call to action (CTA) "strengthen your programor"
Funders—CTA "get involved"
Mentors—CTA "be a mentor"

But differentiate MMP from what mentoring programs do
And demonstrate how MMP helps strengthen programs and, in turn, how that growth benefits the children served by MMP partner programs.
This is a classic connect-the-dots challenge, and you'll see in a moment how story trumps description in achieving all three goals.
MMP's Original Approach—Purely Descriptive
Here's how MMP was conveying its impact (and the need for its work) to prospective and current funders, mentoring programs and mentors (full-size image for easy reading here):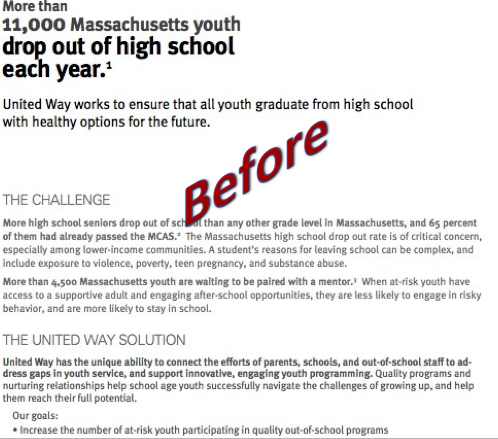 It's no surprise that this approach wasn't motivating target audiences to care or act.
The Solution: 5-Star Storytelling That Is Meaningful, Memorable & Motivational
How does this approach—focusing on Christina, the mentee, and backing up to connect the dots to United Way and then MMP—strike you?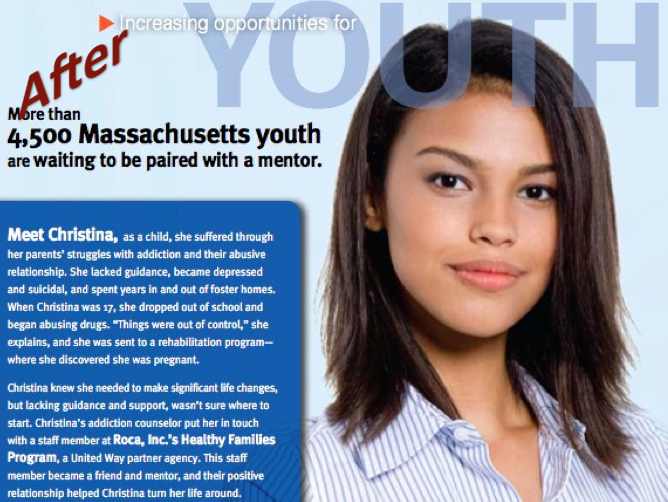 Talk about compelling. This story strikes me hard and makes me want to 1) know more and 2) do what I can to generate more success stories like this. Same for you? Thumbs up for this 5-star people story MMP. You've done a great job of connecting the dots.
Your Takeaway—A Good Story Trumps Description Every Time
If you take away just one thing from this post, make it this—You want your listener to take action because they want to—not because they've been told to.
When you craft your stories to ensure listeners to connect your info with what they already know (test it), you're far more likely to build trust and rapport with them. In turn, this group relationship is most likely to be transformative, motivating their desire to take action, now and in the future, and to spread your stories/messages to friends and family.