Judging by the list of corporate sponsors on its website, it's hard not to conclude that Susan G. Komen for the Cure® (Komen) has aggressively sought out partners to further its cause of breast cancer awareness and prevention.
There's nothing wrong with that. But it's always dicey when you rent out the warm glow of your organization's hard-earned identity in exchange for additional exposure and financial support. You, your colleagues and your supporters build your nonprofit's brand every day with every action you take. And Komen — which runs the famed Race for the Cure® — is the largest grassroots breast cancer organization there is, so careful screening of corporate suitors (and other partners) is absolutely critical.
You'd think with the kind of corporate sponsorship success enjoyed by Komen, they'd have a sophisticated vetting process that ensures they work only with partners whose corporate identities complement and enhance Komen's mission—not undermine, erode or call it into question. That has to be the baseline for judging such things.
But it seems something went wrong at Komen.
Let's take a look at the events over the last few weeks and see what lessons can be learned for you and your future partners.
Here's the full story of Komen's misstep. Use it to learn how to keep your organization out of this kind of mess:
The Colonel Wears Pink: The Deal and Launch
At a quick glance, KFC's Buckets for the Cure campaign (launched in early April 2010) seems harmless. For each pink bucket purchased by franchise operators, 50 cents goes to the Komen for the Cure campaign.  KFC's goal is to make the single largest donation ever to Komen. What's bad about supporting breast cancer research, education and advocacy?
But wait a second. KFC is a leading purveyor of fried food. And the KFC-Komen partnership was announced shortly after the fast-food giant introduced its heart-stopping Double Down sandwich.
The absurdity of the partnership is really there for all to see. There's no way around it. How can funding breast cancer research with the proceeds of fried chicken sales (yes, 22% of KFC chicken sales are for grilled chicken) make good sense? Especially when fried foods are known to contribute to obesity and other health problems, and obesity increases the risk of breast cancer.
The deal appears to be a significant strategic blunder on Komen's part.
Background: KFC launched its partnership with Komen in early April 2010, via a huge Komen-KFC TV ad campaign. This followed KFC's introduction just a week earlier of its much criticized Double Down, one of its biggest, most fat- and sodium-loaded sandwiches.
As is typical in Komen partnerships, the organization stepped back and let KFC take the lead in marketing the program, according to Komen spokesperson Andrea Rader.  KFC distributed its press release on April 14th as Komen uploaded its largely uninformative page on the partnership.
In a phone interview with me for this GettingAttention.org article, Rader said Komen saw this campaign "primarily as an education/awareness and outreach program…We have the opportunity to reach people who aren't served by our 900 local affiliates."
She described the lids of the pink buckets as building awareness and likely to motivate readers to get a mammogram or take other preventive action. When asked if the lids featured breast cancer prevention how-tos, Rader clarified that they simply drive people to the Pink Buckets campaign page. That page is focused mainly on fundraising, not healthcare.
Public Response: Disbelief, Disappointment and Anger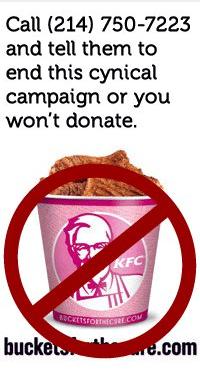 Within two days of the campaign launch, Komen was under fire.
Blogger Scotty Henderson started it off with his post condemning Komen for throwing its mission under the bus for a quick buck. "Cause dissonance," is the phrase he used (very apt).
Soon bloggers and broadcast media alike were writing critically about this very odd pairing, with only a few posts and articles positioning the partnership positively.  And, as happens with social media, readers shared the content and their outrage with friends quickly and easily, building a broad base of push-back to Komen's deal, including this
After I blogged and tweeted the story on April 21,  nearly 20 peers (nonprofit communicators, fundraisers and others) commented on the post, universally condemning Komen for moving so far from its mission. But one of them brought up a very good question: Is it just over-sensitive nonprofit folks who have such a strong negative reaction to the KFC-Komen partnership?
To test the waters more broadly, I reached out to friends and family via my personal Facebook page and to my women's triathlon group. Here are excerpts of what I heard in response:
Let's see: "Join the fight against breast cancer! Buy supersized servings of hormone-infused, breaded and deep-fried animal protein!" Nope. It doesn't work for me.
—Elizabeth Castelli, NY
I'm always happy to see corporations donating to Komen, but it's absurd to see KFC giving with one hand and taking with the other by selling food that's so utterly damaging to the overall health of Americans, especially low-income Americans, who are still disproportionately people of color. I'm not entirely sure what Komen was thinking in making this particular pact.
—Aliyah Baruchin (health and medical reporter, breast cancer survivor), West Orange, NJ
Next comes Marlboro's.  Many organizations have to make hard choices about accepting donations from certain sources, but this one seems over the top.
—Deborah Strauss, Chicago, IL
Having just returned from radiation treatment for breast cancer and having walked in the rain on Sunday for the Komen Race for the Cure, I have to say that my initial reaction to the Komen/KFC partnership is surprise and disappointment.
While I appreciate the very sound business reasons articulated below in Lesley's thoughtful comments, I would hope that an organization that advocates on behalf of women's health and wellness would partner with a corporation whose values and mission are in sync with the vision of the organization. Fast food, particularly fried fast food is the antithesis of health and wellness for women and their children and communities.
While I understand that KFC is trying to "healthy" up its image by providing salads and grilled food along with the more unhealthy options, I find it distasteful for a women's health organization to sanction fried food as good for women and their families. It is important to reach out more to underserved communities but there are more effective and meaningful ways to do so.
Rather than a "win-win" for both sides, my reaction to the partnership is that it is expedient and cynical. I would hope that in its effort to educate women about the risks of breast cancer, Komen would also make an effort to educate women about the risks of poor eating habits and unhealthy choices such as fried foods. If this partnership with KFC keeps Komen from speaking out against corporations that make foods that increase our risk of heart disease and the risk of obesity in our children, then this partnership is a losing proposition.
—Carol Schlitt (Komen walker, currently undergoing treatment for breast cancer),
West Orange, NJ
Ouch! Hell hath no fury like a volunteer and donor spurned. As you can see, committed volunteers and supporters of Komen have a deep and visceral reaction to this choice of partners.
Let's look at what's going on.
The Reason Why: It's a Betrayal of Trust
"It takes a lifetime to build a reputation and only 15 minutes to destroy it." —Warren Buffett
As I see it, Komen's decision to partner with KFC has damaged the trust that exists between it and its supporters. Specifically, their actions thus far have:
Undermined its credibility.

(It's hard to believe they are focused on women's health.)

Eroded its authenticity.

(What does the organization stand for if they can't see what's wrong with this partnership?)

Alienated its supporters.

(See the comments above from walkers and donors.)
I think my disappointment in Komen's partnership decision is not unlike the betrayal a family feels when a spouse is discovered to have been having a long-term affair. The person you thought you knew is really someone different, which kills your trust.
It works the same way — on a smaller scale — with organizations we believe in. Your nonprofit brand is the essence of your organization, your promise to your base. It represents the intersection of your organization's wants and interests, and those of your target audience.
Once that "brand promise" is defined, branding is the art of creating a consistent, recognizable and distinct unified voice or personality that conveys your org's focus, credibility and unique contributions via positioning, message platform, graphic identity and partnerships.
Authenticity is a prerequisite for successful branding. Komen has been trusted as a force for improving women's health and, on its website, touts its #1 spot in the Harris poll for most-valued brand.
It'll be a long time before a lot of us will believe in Komen again. Brand gone bust!
Mess Upon Mess: Komen Flunks Crisis Communications 101
Getting into a mess happens for all of us from time to time, as individuals and as organizations. But once you're there, it's critical to salvage your organization's brand by strategically navigating the situation, a.k.a. crisis communications.
Within three hours of my blog post on the deal, KFC spokesperson Rick Maynard added his comment. Maynard summarized KFC's perspective in a clear and respectful way, opening up the dialogue. That's good crisis communications.
What about Komen's response? Dead silence. No comments on any blogs or stories online as of two weeks after Henderson's post. Silence on its Twitter feed, Facebook page and website; and those of its affilitates.
When I contacted spokesperson Andrea Rader, she was extremely helpful. She did emphasize that she had responded to incoming calls from health bloggers at ABCNews, The Wall Street Journal and The Washington Post, but had not proactively participated in any social media conversations on the partnership (such as blog comments).
In remaining largely silent (although responsive to incoming calls), Komen has opened up a huge vacuum for critics (journalists, citizens, supporters and other organizations alike) to define its actions. You never want this to happen.
By failing to speak out quickly, consistently and frankly, Komen also opened the door to Breast Cancer Action (BCA), its direct competitor for attention, dollars and volunteers.
In a fine example of nimble, quick-thinking outreach (and a great model of jumping on a hot news item), BCA launched its own "What the Cluck?" campaign protesting the KFC/Komen partnership.
In just two weeks — through active conversations via its website, Twitter feed and Facebook page — BCA motivated over 3,000 people from all over the country to write letters to Komen and KFC, criticizing the deal.
The first rule of crisis communications is to listen and KFC's Maynard did a great job of that. The second is to act quickly but calmly to respond to any negative perceptions, joining the conversation and showing that your organization is on top of the situation.  The third rule is use the reaction to enter into a meaningful community dialogue.
Komen flunks on all three fronts and is now in middle of a real mess. It will be fascinating to track its next steps.
What's Your Take?
What's your take on the Komen-KFC deal? What should be the standards for partnerships of all kinds? And what should Komen do now to pull itself out of this hole?
Please post your thoughts in the comments below and I'll share them with the Getting Attention community.
Thank you.
https://gettingattention.org/wp-content/uploads/2021/08/getting-attention-logo.svg
0
0
Getting Attention
https://gettingattention.org/wp-content/uploads/2021/08/getting-attention-logo.svg
Getting Attention
2021-08-23 16:03:43
2021-09-01 18:50:57
Busted Nonprofit Brand: Anatomy of a Corporate Sponsorship Meltdown (Case Study)