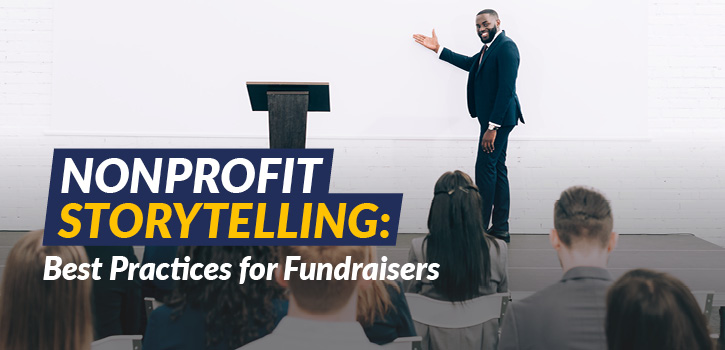 When it comes to marketing your nonprofit's mission and connecting with donors on a deeper level, nothing is better than an engaging and compelling story. 
Stories are one of the most influential ways to influence people and strike their emotions. Just look at Martin Luther King's "I Have A Dream" speech and JFK's inaugural speech— these weren't just speeches, but stories that pulled at heartstrings and made a lasting impression on hundreds of thousands of individuals— and counting.
But it's not enough to have a mission statement and a general idea of your nonprofit goals. Your nonprofit storytelling needs to capture your audience's attention, clearly explain the problem, and empower supporters to be a part of the solution. Ultimately, it should inspire gifts and other forms of support.
So how can you make a story compelling? What's the best way to ensure your story is supporting your nonprofit's mission? In this guide, we'll walk through:
Nonprofit storytelling is a critical component of your marketing strategy, so getting the foundation down and ensuring you're not glossing over key points is essential. Let's get started. 


Why Is Nonprofit Storytelling Important?
It's hard to forget a good story. While we might not remember the specific facts or details, storytelling is still one of the best ways to connect with other humans and share an experience. According to research from Stamford University, people are much more likely to remember a story (63%) than a statistic (5%). 
You already have impact stories built into your everyday work. The communities your nonprofit serves and the meaningful work you've done are all bountiful resources for powerful storytelling. These stories provide context for why your mission is important and how your nonprofit plays a role.
This is why nonprofit storytelling is such an incredible tool — by placing your supporters at the forefront of your story, you empower them to become invested in your mission and inspire them to act as the hero of your tale.

Storytelling Benefits To Your Nonprofit
You know that nonprofit stories are some of the best ways to connect with supporters and inspire them to take action. Here are the specific benefits that a dedicated nonprofit storytelling strategy can bring you:
Raise more money

— Your nonprofit's storytelling efforts can be the exact conduit you need to inspire donors to give. And, when you get your story in front of the right audience, you never know the kind of support you'll get. From first-time donors to major donors, storytelling can inspire them.

Improved click-through rate and online conversions — The more compelling your nonprofit stories are, the better the chance that people will click onto your website, social media posts, email, Google Ads, or other digital marketing content that you create. 
Grow membership

— Does your nonprofit organization have a membership program? This type of program is dedicated to your most passionate supporters, those who want an active role in making an impact on your mission. And nonprofit storytelling is one of the best ways to attract passionate supporters and connect individuals deeper to your cause.

Help donors understand a new problem

— Sometimes, the issue your organization faces is multifaceted. And, as time goes by, technology evolves, and society changes, the issues your nonprofit tackles will be different as well. Stories are a reliable way to educate an audience and teach them something new.

Thank donors for impact

— Donor appreciation is a critical component of building lasting relationships and increasing the chance that they'll give again. Instead of just sending a bland thank you email, share a thought-provoking and real story about how the donors' support made a difference will go much farther.



Inspire loyalty and trust

— When it comes to acquiring new donors, it's much more beneficial to focus on retaining new ones. Plus, long-term support goes much farther than just one-off gifts. This type of consistent and passionate support is what truly drives organizations to make a difference.
Nonprofit storytelling is a valuable tool when it comes to increasing revenue, raising awareness, mobilizing volunteers, and building trust. If you want to leverage this tool smartly and reap the full benefits above, you'll need a comprehensive understanding of the elements that make up storytelling and best practices to take it to the next level.

What Are The Elements Of Nonprofit Storytelling?
When you envision a story, you likely think of a beginning, a middle, and an end. There's a hero, a villain, and some sort of resolution at the end. 
Nonprofit storytelling is no different, except that the supporters listening aren't just the audience. Instead, your supporters play a critical role and act as the hero in the story.  
Here are the elements of nonprofit storytelling you'll need to consider:
Compelling Character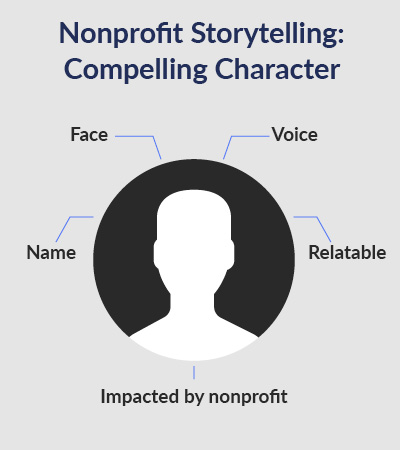 Every good story needs a hero. For your nonprofit story, you'll need a compelling character to act as the main lead and inspire support. However, it's not enough to just come up with a random name and move on. 
Here's what we recommend when creating your nonprofit story hero:
Face, name, and voice

— People care about other people, so putting a face and name to this individual is critical if you want to connect with supporters. 

Relatable to the general audience

— If your supporters are mostly working-class people, having your main character be a college student might not be the right course.

Impacted by your organization — The main resolution for this story should be impacted by your nonprofit and the help it's gotten from donors and supporters.
Remember, your supporters have to root for the main character, feel for them, and get inspired to take action. 
Dramatic Arc
Once you have your character down, you need to plan the dramatic arc. This is what hooks your audience, gets them invested in your narrative, and empowers them to play their own role in the story.
Here are the elements of a dramatic arc: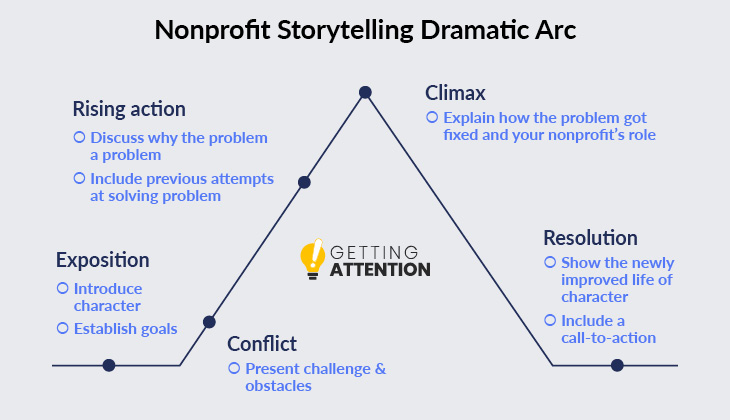 Exposition

— This is where you'll introduce your character and establish goals. The goals should relate to your mission. Let's say that your mission is to provide clean water. One of your character's goals could be ensuring that his kids remain healthy after getting sick from dirty water.

Conflict

— This is where you'll present the challenge that your character is facing. The conflict should be related to the problem your nonprofit is trying to solve. Consider all the obstacles your character might face, like a lack of policy knowledge, a deadly disease going around town, and more. 

Rising action

— This is where you'll explain why the problem is a problem. You might also highlight previous attempts to solve the issue. For instance, you might say that the local town has needed clean water for a while, but recent natural disasters and weather have made it difficult to keep the infrastructure in place. 

Climax

— This is where you'll explain how the problem got fixed and the exact role that your nonprofit plays. What did your nonprofit do? What was the specific action that made the difference? You could say that with the help from your annual fundraising campaign, your nonprofit was able to build a clean water infrastructure system that is easy to fix and regulated yearly.

Resolution — This is where you'll show the newly improved life of the character in your story. Now, you can urge the audience to play a part as well through a call to action, whether that's to donate, share a message, volunteer, or some other form of support.
As you're crafting your story, keep in mind all of these steps and the best way to carry out the narrative. You want to be as clear as possible about the goals of the character, the challenges they face, and how exactly your nonprofit and audience can help.
Solution 
As you're telling your story, a critical component will be the solution. After all, this is proof that your organization actually makes a difference and isn't just collecting money from supporters for the sake of it.
When explaining your solution, you should: 
Empower the donors to be a part of the story — This is critical if you want your audience to actually take action. Make it clear how the donor is a core component of this story and critical for the solution. 
Use language that creates a sense of urgency

— No one will feel the need to donate right there and then if there's no sense of urgency. Mention a specific deadline and then what would happen if your nonprofit is unable to act. 

Outline clear steps for the audience to take action — This can include a donation button or social sharing buttons.
Every good story has some sort of resolution. When it comes to your nonprofit story, it's essential that the solution is positive but still shows the audience that your organization is essential. After all, you're still vying for additional support. There's always work to be done and your supporters need to know that they play a critical role.
Supporting Data
If you want your nonprofit story to have validity, you need data to support it. Today's donors value transparency and proof, so make sure you have concrete evidence of impact.
During your fundraising campaigns, it's important to collect data and compile reports on how donations are being used. Perhaps without your nonprofit's fundraiser, tens of hundreds of families wouldn't have access to clean water for a year.
However, don't overdo your nonprofit story with concrete numbers and facts. These aren't the pieces of information that your audience will remember once the story is over. In fact, it could even take away from the core message you're trying to tell. Provide the data at the end of the story, or simply offer it as supporting evidence once the nonprofit storytelling is complete.

Best Practices To Take Your Nonprofit's Storytelling To The Next Level
Your nonprofit storytelling is a valuable tool to increase fundraising, improve donor outreach, and make lasting connections with supporters. To ensure that you're making the most of your storytelling strategy and leveraging all opportunities to further your mission, we recommend a couple of best practices. 

Make Sure Your Storytelling Is Supporting A Specific Goal
While entertaining and captivating your audience is important in your nonprofit storytelling, it won't amount to much if there isn't a specific goal or action at the center of your narrative. The specific goal you pick will depend on your unique needs and audience, but here are some common examples that fundraisers will often use to guide your nonprofit storytelling: 
Raise a certain amount of money

Grow membership program

Help donors understand a new problem

Thank donors for their impact

Improve conversion on a landing page
Your nonprofit stories can do more than simply inspire loyalty and trust in your supporters. It should drive them to take a specific action and support a nonprofit goal. Look at your current nonprofit database and make note of engagements or key performance indicators that are falling short. Then, craft a story to support that and include a clear and direct call-to-action.

Activate Empathy In Supporters
Ultimately, your nonprofit story needs to inspire some sort of empathy in supporters and make them feel something. This is the main conduit to whether or not supporters will feel passionate about your mission and decide to give.
Here are some storytelling tips that you can use to evoke emotion:
Use an emotional narrative is the best way to convey the full impact of your story. Step into the shoes of your main hero and envision exactly how they are feeling in the moment. Better yet, talk to the community your nonprofit serves and ask them to offer their own words, both of how they felt and the facts of the situation.

Describe sensory details like sight, smell, sound, taste, and touch to paint an immersive picture for your audience. 

Focus on your main hero of the story instead of a collection of multiple people. This gives your audience someone to root for and actually want to help.
Don't let your supporters fall asleep or aimlessly click away during your nonprofit story. Capture their attention and engage them with emotional vocabulary, descriptive storytelling, and a hero that people want to support.

Know Your Audience
To ensure that your nonprofit storytelling forms a connection with supporters and drives meaningful value for your mission, you'll need to know the audience you're telling it to. Taking the time to ask who you're talking to and figuring out the story elements that resonate with them is critical.
Depending on the audience you might even consider different protagonists or perspectives you can tell your story from, as well as different formats like visual or text.

Use Visuals
Have you ever heard the phrase "a picture is worth a thousand words?" Pairing visuals along with your nonprofit story is a key way to evoke emotion from your audience, leave a lasting impression in your supporters' minds, help people learn, and build your organization's brand.
The best part is that visuals can take so many forms nowadays and can supplement your storytelling in different ways:
Photos can bring a real face to the story you're telling, helping supporters understand that their help is impacting real people.

Videos are an engaging tool that can be used to tell a story in stunning detail. It can introduce your audience to your cause firsthand and give an exclusive look into the work that you do. As much as

57% of people who watch a nonprofit video

will actually donate.

Infographics are one of the best ways to convey a wide breadth of information in an easily digestible format. Ideas include using charts, maps, reports, fun graphics, and more to help your audience visualize data and understand your impact. Plus, infographics are pretty easy to create on a budget!
Look through your own arsenal of marketing materials and determine if any of your visuals are viable for use in your nonprofit story. Remember to get permission before using anyone's photo, however!

Leverage Online Content 
If you want your nonprofit story to reach as many people as possible, it's important that you're able to leverage online content smartly. In this modern age, the internet is one of the best places to tell your story, connect with supporters, and share that story with others online.
Let's take your nonprofit website, for example. Each page you have is an opportunity to tell a story and inspire your supporters. In particular, many nonprofits use their blog or news pages to dive deep into compelling stories and provide supporters with additional details. Impact stories and campaign summaries are some of the best ways to not only keep supporters updated with your efforts but show them how meaningful their support was to your mission.
Along with your website content, you can also share your nonprofit stories on social media. Social media is an ever-growing online resource that thrives off a good story. Who knows, you may even go viral! Use social media to share stories, engage with supporters directly, gain immediate feedback, and lead supporters to your giving page.

Apply for the Google Grant with Getting Attention
Another way to get your nonprofit's story out there is with online ads. Google ads is a platform where organizations can display advertisements and other marketing content to web users within search engine results pages. The ads should come up strategically and are based on the keywords used to search.
This is where the Google Ad Grant comes in. The Google Grant is a program hosted by Google that gives $10,000 in Google ad credits to nonprofit organizations each month for as long as needed. The purpose of this grant is to help nonprofits promote valuable digital content (like your stories!) to their supporters.
To gain access to the Google Grant, nonprofits need to prove their eligibility and apply. This application process isn't complicated, but there are specific steps that need to be taken. Plus, all eligible nonprofits can use the Google Ad Grant!
Maintaining your Google Grant account is probably the hardest part of this program. You have to make sure your ads remain compliant and that your account is aligned with the Google Guidelines. Partner with a certified Google Ad Grant agency to learn more about whether this grant is right for you or if you need help managing your current account.
A good story is nothing without an engaged audience. Google Ads allows you to get your content in front of the right eyes.
Additional Resources
Nonprofit storytelling is an invaluable tool. People are inspired by stories, people learn from stories, and people remember stories. And, by its nature, your nonprofit is a compelling story just in itself, with a built-in goal (mission) and antagonist (issue) to drive the narrative forward and captivate your audience members. If you want to learn more about how you can expand your nonprofit marketing and further your reach, we recommend exploring our additional resources:

https://gettingattention.org/wp-content/uploads/2021/09/Nonprofit-storytelling_Feature.jpg
350
725
Getting Attention
https://gettingattention.org/wp-content/uploads/2021/08/getting-attention-logo.svg
Getting Attention
2021-09-13 14:02:25
2021-09-13 14:02:25
Nonprofit Storytelling: Best Practices for Fundraisers