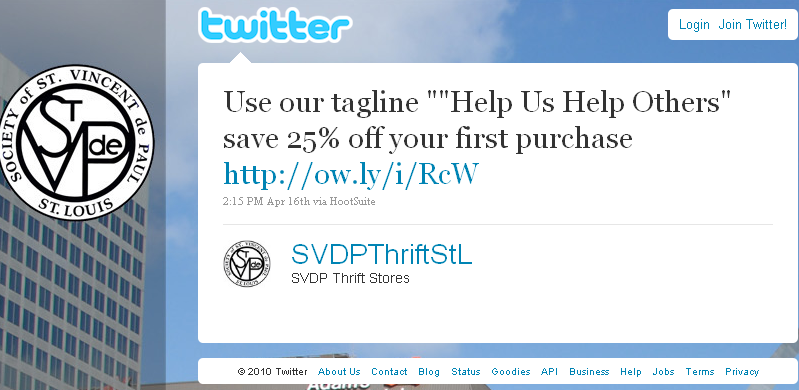 This simple marketing strategy on the part of the SVDP thrift shop — building business and awareness (and a corps of messengers) by motivating customers to learn its tagline in exchange for a discount — is brilliant.
SVDP (the Society of St. Vincent de Paul of St. Louis) reached out via Facebook and Twitter to make this no-risk special offer. At the very least, the shop would gain customers and increase sales volume (albeit at a lower price point). Anything more than that would be a bonus –building relationships with its network that weren't buying and increasing customers' understanding that shop profits support the human services provided by SVDP. And this was a perfect time for the promotion, as SVDP just opened its third store.
The campaign is still very new so results aren't in yet, but I'll let you know what they are in a month or so.
Take SVDP's coup as a challenge to come up with a low-cost, low-effort but highly creative marketing campaign, then share it with me and the Getting Attention community.
P.S. Messages that connect are a priority for all organizations and the prerequisite for motivating your base to act. Learn how to craft the most essential message — your tagline. Download the Nonprofit Tagline Report, filled with must-dos, don't dos, case studies and 2,500+ nonprofit tagline examples!