Nonprofits focus a majority of their resources on fulfilling their missions, but to gain those resources in the first place, charitable organizations need to improve their marketing. Through charity marketing, nonprofits can raise awareness of their cause, bring in new supporters, and earn the donations that fuel their initiatives. 
Of course, running a marketing campaign for any organization can quickly become a full-time job. Fortunately, nonprofit professionals don't need a degree in marketing to understand the basics of how to reach their audience and inspire them to give. Instead, they just need creativity, a deep understanding of their supporters, and a few tools to help manage their campaigns. 
To break down the potential complications of running a marketing campaign, this guide will explore the ins and outs of charity marketing, including:

Let's first look at the basics of charity marketing before exploring how to launch your own campaign.

Charity Marketing FAQ
A marketing campaign is ultimately as complex as your organization makes it. Of course, those new to marketing are likely to have a few questions about what's normal for promotional campaigns in the nonprofit sector.
What is charity marketing?
Charity marketing is essentially advertising for your nonprofit. It consists of all of the external promotional content your nonprofit develops for the purpose of attracting new donors and persuading them to support you.
Is charity marketing worth the return on investment?
All nonprofits engaging in charity marketing should aim to make a positive return on investment (ROI). However, different nonprofits will approach their marketing strategy with different goals. For example, a new nonprofit may be wholly focused on spreading awareness and attracting new supporters, whereas a more established organization might be more interested in encouraging new donors to make their second gift, increasing their retention rate.
Throughout your marketing campaign, track your expenses and the conversions you can presumably attribute to your marketing. Some third-party marketing agencies that cater specifically to nonprofits offer discounted services, which can also help improve your ROI.
How much should nonprofits spend on charity marketing?
Charity marketing is part of a nonprofit's overhead expenses, which common nonprofit management advice states should total around 35% of a nonprofit's budget at maximum. Of course, how much of that 35% is dedicated to marketing will depend on your organization's size, marketing needs, and other ongoing costs. 
To provide a general estimate of what is normal, studies on nonprofit advertisement report that approximately 60% of nonprofits that earn between $1-$10 million in annual revenue have dedicated marketing budgets with a median budget of $12,000. Of course, in this study were both organizations that had no dedicated marketing budget and organizations that spent over $500,000 annually on marketing.
For your organization, assess your budget to consider what revenue you have to dedicate to marketing and what ROI you hope to make with the funds you allocate.

How to Build Your Charity Marketing Plan
A charity marketing plan is a living document nonprofit teams use as a guide to determine what marketing materials to create, when and how these materials should be shared with their audience, and what they hope to achieve by sharing those materials. 
The bedrock of this document is your nonprofit's audience and your team's knowledge of what that audience is looking for from your nonprofit. Here's a breakdown of the first steps you should take in creating your charity marketing plan:
Determine your value proposition. 
In the business world, marketers assess their product and determine why a potential customer would want to buy it. They consider the product's features and benefits, how it differs from competitors' products, and what needs a customer would have fulfilled by the product. Through this assessment, they establish their product's value proposition.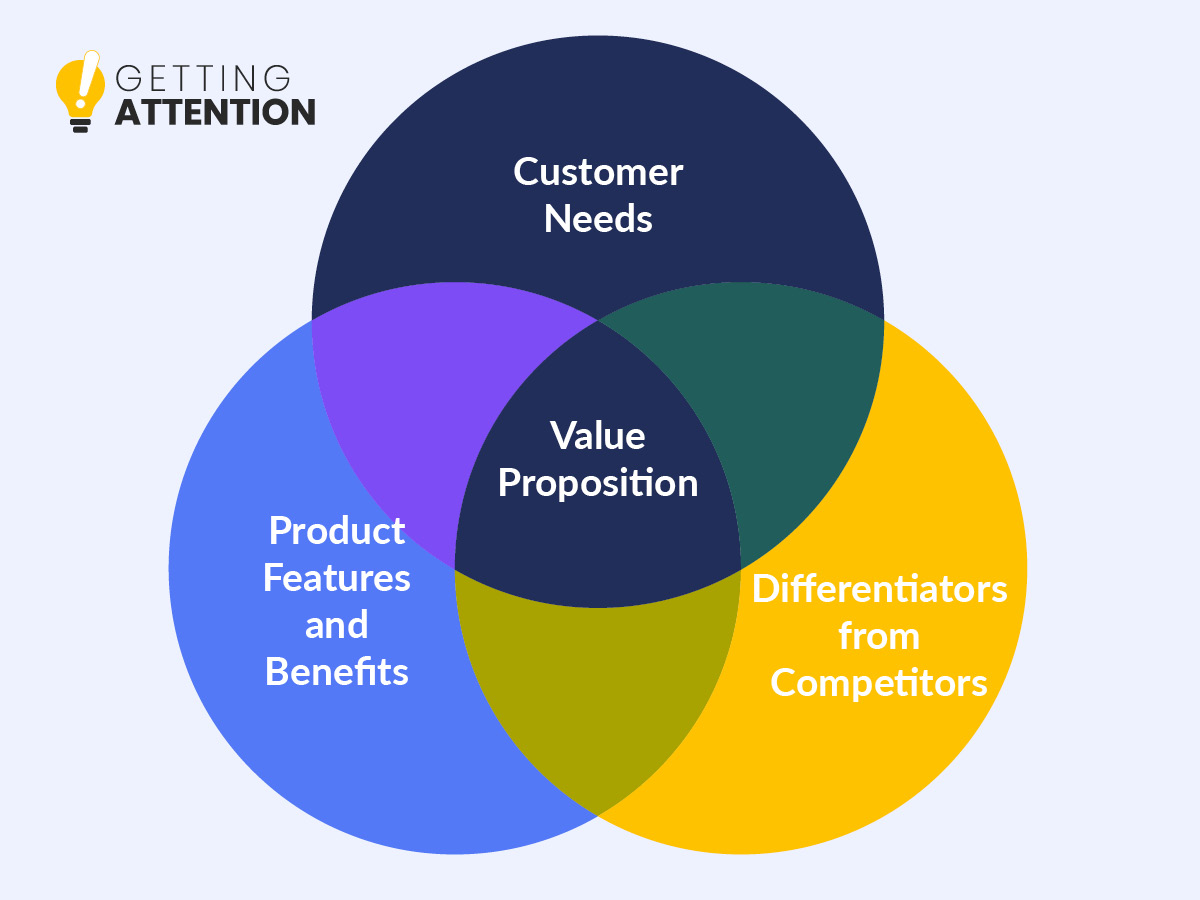 Nonprofit marketing professionals usually lack a tangible product and have to get a bit more creative when considering the value proposition for making a donation. While supporters do not directly benefit from making a donation, nonprofits can still differentiate themselves from other similar charitable organizations and emphasize why it's important a supporter invests in their cause. 
When establishing your value proposition, consider your branding. What does your nonprofit do differently from others? For example, you might: 
Serve a different community

Focus on an underfunded aspect of your cause

Be the only organization of your kind in your area. 
Then, consider how giving to your cause benefits your supporters. Some organizations may be able to articulate an indirect benefit. For example, environmental organizations might explain how donating to their cause helps protect future generations. In contrast, an animal shelter might instead appeal to a supporter's emotional side. Their emotional appeals instead seek to make donors feel better about themselves by giving.
If you're unsure what your value proposition is, consider the greater value your nonprofit aims to bring your community. Then, consider your audience so you can communicate that value in a way that will appeal to them.
Define your audience. 
Nonprofit marketers who are passionate about their organization's cause might feel that their audience should be anyone who is capable of making a donation. While broad appeals can help you cast a wide net, marketing messages that are meant to inspire everyone often end up vague and inspire few. 
Determining who your audience is and what types of messages will appeal to that audience is arguably the most important step in your marketing plan. 
Define the audience you hope to market to by first considering the audience you already have. Use your donor data to identify common characteristics your supporters share, such as their demographic data, connection to your cause, and giving level. 
During this process, you will likely discover several smaller audiences within your supporter base. For example, your audiences might include local retirees who regularly give by mail, donors who work at a business that held a corporate volunteer day with your nonprofit, and young activists who give in small amounts but help promote your programs on social media and show up for advocacy events. 
When you identify these groups, you can simplify your marketing efforts by creating personas.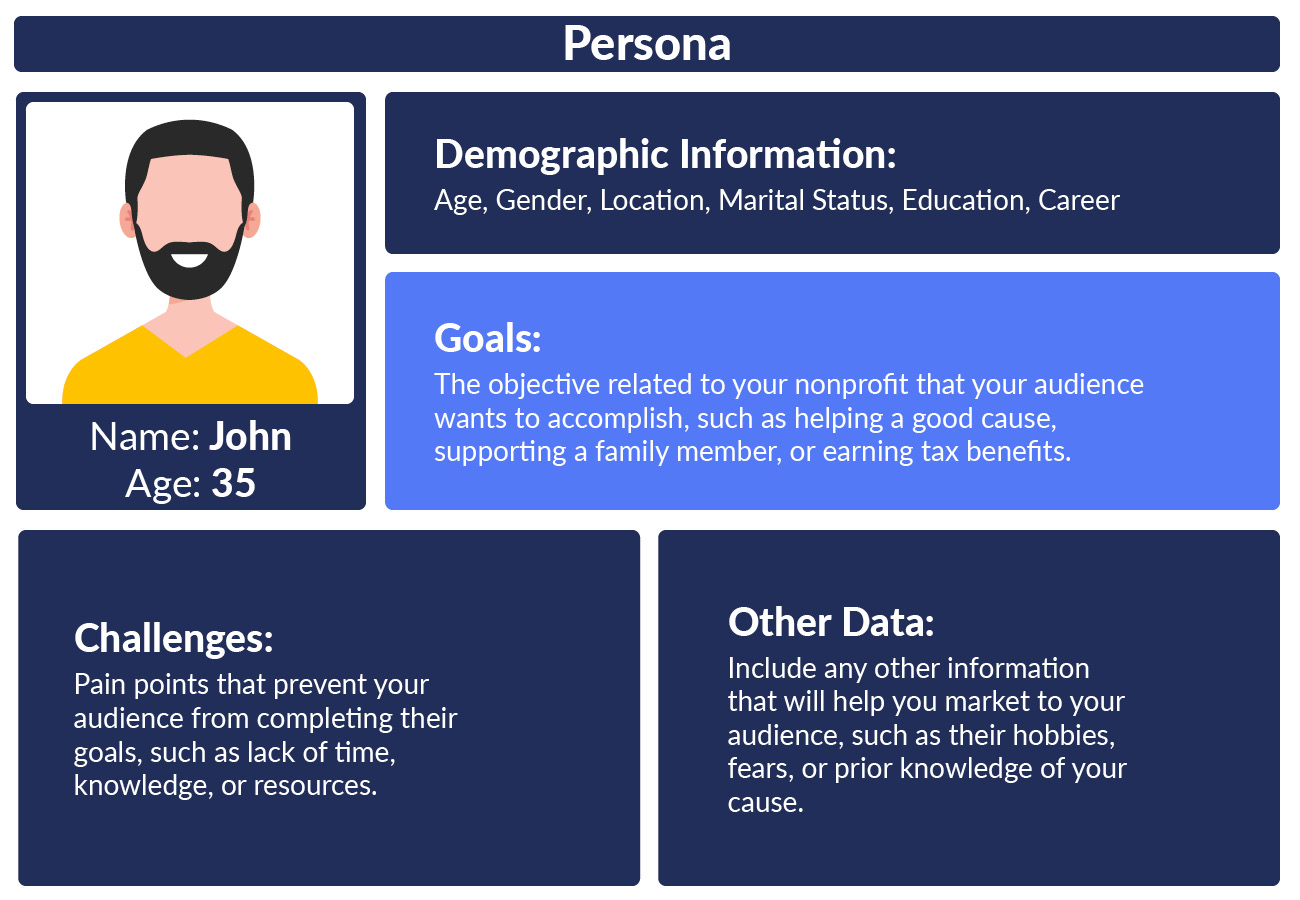 Personas are hypothetical individuals who stand in for the audience they represent. Because it's much easier to market to one person than an entire group, personas are a useful tool for envisioning what types of messages will appeal to your audience as a whole. To better imagine these personas, create profiles that include the following information:
Demographic data.

Give each persona a name and choose an age, gender, and career for them. For example, you might envision Carol, a 70-year-old female retiree who lives with her husband and has two married adult children. Or maybe Nate, a single 22-year-old male recent college graduate who lives at home and is looking for his first job. 

Goals.

What does the persona hope to gain by interacting with your nonprofit? This could be due to a personal connection, an interest in the tax breaks, or just a desire to do good. In our examples, Carol may wish to give to a medical organization that researches Alzheimer's due to her husband's family having a history of the disease. By contrast, Nate donates to a nonprofit that helps refugees out of a feeling of civic duty. 

Challenges.

What prevents your personas from completing their goal? Most often, this is a lack of resources, knowledge, or time. Carol may have low-tech literacy and is nervous about making online donations, while Nate has limited savings and can't commit to giving regularly at this time. 
These are the basics, but the more information you can include about your personas, the better. For example, you might expand on their hobbies, fears, and prior knowledge about your cause. This information will help you craft marketing materials that interest them and continue to engage them once they become regular donors.
Set a marketing goal. 
Decide what you want your marketing campaign to accomplish. For most nonprofits, their marketing goal will include a specific revenue goal and target ROI. You can calculate your target ROI with this equation:

For example, let's say your nonprofit aims to make $10,000 in donations through a recent digital fundraising campaign. The total expenses for buying online ad space, paying monthly subscription costs for marketing tools, and paying graphic designers to develop marketing materials are $2,000 for simplicity. This would be a 500% ROI, which most nonprofits would agree is highly desirable. 
However, keep in mind that there may be additional hidden costs associated with your marketing campaign. For example, consider the salaries of your marketing team members and the time they dedicated to this marketing campaign that theoretically could have been used elsewhere. Additionally, the nonprofit only achieves this ROI if it hit its revenue target. 
Determine your marketing goals by setting a budget and considering what is realistic for your nonprofit to achieve based on past fundraisers and your current resources.
Create marketing materials.
Marketing campaigns need marketing materials. For most nonprofits, this will mean working with a creative team (or even multiple teams) who can develop the needed graphics and written copy that will appeal to your audience through flyers, social media posts, or any other materials you create. 
However, before reaching out to potential graphic designers, consider what materials you should produce in the first place. If you aren't sure what platforms to use or what types of appeals are right for your campaign, refer back to your audience personas. 
Considering the personas we created earlier, Carol and Nate, our hypothetical nonprofit knows it needs to create direct mail appeals that will reassure its older supporters and attention-grabbing social media posts that let donors with a lower giving capacity potentially spread your message to someone who can make a sizable donation. 
Additionally, prepare your brand assets so your internal creative team or the external contractors you hire can provide materials that fit your nonprofit's identity. The more details and assets you can provide at the early iterative design stages, the more likely your creative team is to get it right on the first few tries.
Analyze your results in real-time.
Modern nonprofit technology allows your marketing team to monitor responses to your campaign as they happen. For instance, you can see social media engagement as soon as it happens and use tracking links to determine where traffic to your donation page is coming from. 
Throughout your campaign, stay on top of these results to identify both opportunities and challenges. For example, you might find that engagement isn't as high on one social media platform as you would have hoped. However, you notice links in your emails are having a higher clickthrough rate than your last campaign.
In this situation, you might spend less time designing content for the underperforming social media site and instead focus on boosting engagement through email by adding interactive polls or sharing information about one-click donation upgrades. 

7 Charity Marketing Ideas
Once you have a clear audience and goal, it's time to get creative and start brainstorming marketing ideas. To help inspire your team, here are seven tested charity marketing ideas:
1. Explore Google Ad Grants.
Google Ad Grants are funds Google awards to 501(c)(3) organizations that can be put toward launching ad campaigns on Google. Advertisements on Google appear at the top of the search results page for relevant keywords, and the Google Ad Grant provides nonprofits with $10,000 of monthly spending for these campaigns. 

To make the most of Google Ad Grants for your charity marketing campaign, you'll need to consider what you want to promote and what keywords your supporters are likely to search for. 
The Google Ad Grant can be used to promote almost any page on your nonprofit's website. As such, you can focus your ad campaigns on spreading awareness, attracting new donors, recruiting volunteers, informing constituents about your services, or promoting your ongoing campaign. 
After choosing your goal, consider what related keywords your target audiences are most likely to search for. Try to choose long-tail, less competitive keywords to put your ads in front of the most relevant audience possible. 

2. Launch a multi-channel campaign. 
It's estimated that a business needs approximately eight touchpoints with a customer before they make a sale. This principle also applies to charity marketing, and also like for-profit businesses, you can create these touchpoints through multi-channel marketing. 
Multi-channel marketing is an outreach method where an organization promotes itself through multiple communication channels. For your nonprofit, these channels might include: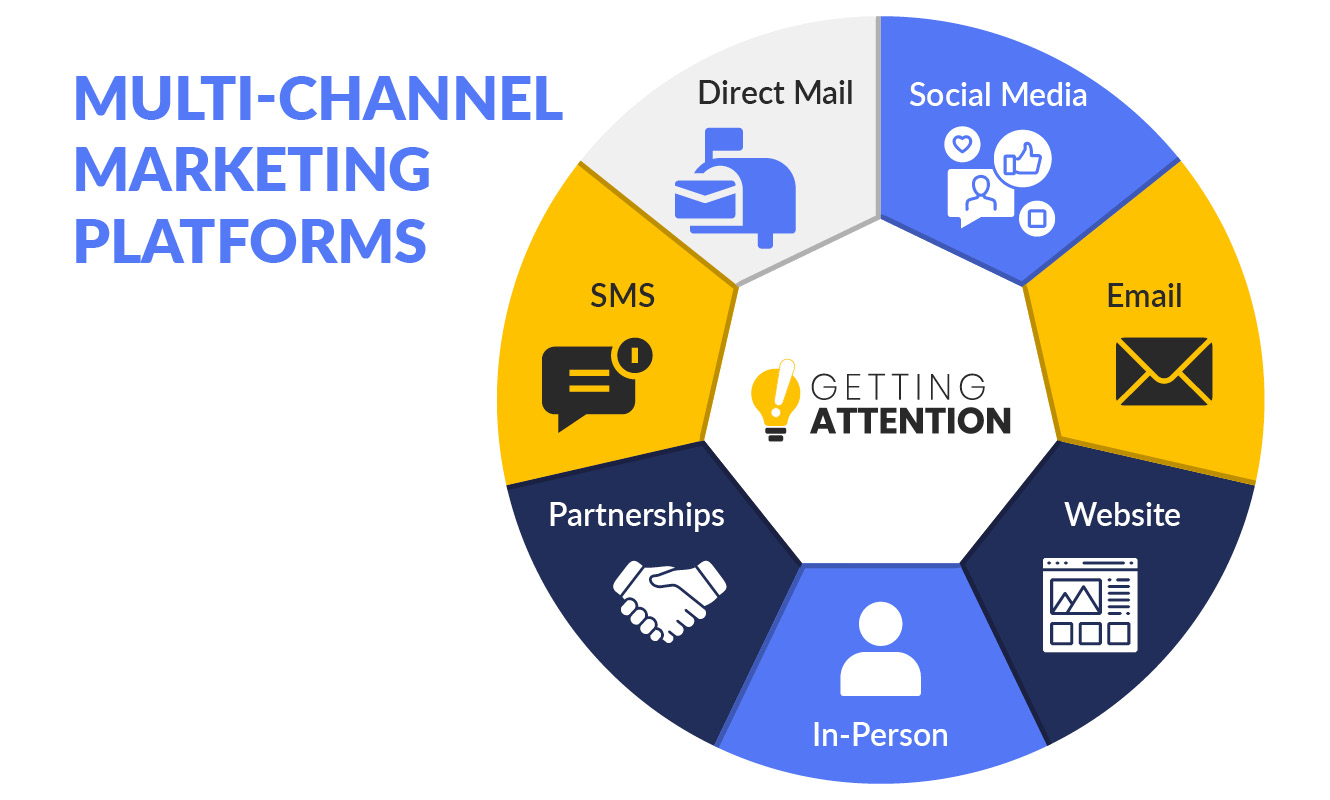 Social media.

Refer to your audience personas to determine which social media platforms your audience uses. Additionally, explore if social media platforms offer discounted rates for nonprofit advertising and what their conversion rates are. For example, the major social media platforms of Facebook, Instagram, and Twitter have

average conversion rates

of 4.7%, 3.1%, and 0.9% respectively. However, if the majority of your audience is on one of these platforms, your personal conversion rates may differ. 

Email.

Email is one of the most popular forms of

nonprofit marketing

due to its flexibility. Share videos, pictures, polls, and links to other content with your supporters. Be sure to segment your email lists based on your personas so the right messages go to the right inboxes. For example, emails about planned giving for Carol shouldn't end up in Nate's inbox. 

Your website.

Consider the sales funnel, which has four main stages for nonprofits: awareness, consideration, conversion, and advocacy. A strong website is essential for supporters in the consideration phase who have become aware of your nonprofit and are looking for more information before donating. 

In-person activities.

While you can earn support from donors all over the world, most nonprofits will find their most loyal supporters in their own communities. For new nonprofits especially, hosting in-person events can be an essential first step for spreading awareness and making face-to-face connections. 

Partnerships.

Both corporations and other charitable organizations may be interested in working with your nonprofit. Consider the connections you have that may lead to partnerships, such as a board member being friends with a local business owner. Working together can help you and your partner organization gain access to each other's audiences. Plus, having them vouch for you can improve your credibility. 

SMS.

With the rise of smartphones, texting is one of the fastest ways to get in touch with your supporters. If you don't collect phone numbers from your donors, consider

purchasing a phone append

to text them the latest updates about your campaign.  

Direct mail.

Traditional mail still has its purposes in nonprofit marketing. Along with donation appeals, consider sending physical thank-you letters in exchange for online donations or even small gifts, like keychains or fridge magnets. 
Keep in mind that while marketing on multiple platforms is effective, it is also time-consuming and resource-intensive. Generally, marketing is more effective when you prioritize quality over quantity, so if your organization needs to cut back, consider focusing deeply on a few channels rather than shallowly on all of them. 
3. Experiment with peer-to-peer fundraising. 
One of the strongest marketing channels is word-of-mouth. Supporters who believe in your organization are happy to talk about it with their friends and family. Leverage this passion by hosting a peer-to-peer campaign. 
Peer-to-peer campaigns are fundraisers where a group of volunteers promote your nonprofit and collect donations on your behalf. These campaigns can have a deadline or operate on a rolling basis based on your volunteers' availability. 
Peer-to-peer fundraising is especially effective when paired with other fundraising drives. For example, you might add a peer-to-peer component to your charity marketing during Giving Tuesday when many people are already thinking about donating. With so many causes competing for their attention, they're far more likely to act on a call to action issued by a trusted friend or family member than from an organization they're unfamiliar with.
4. Host events. 
Charity marketing often struggles with finding a reason why supporters should donate now. With events, you can give your supporters something to get excited about while also creating the perfect opportunity to make a donation. 
With modern technology, events are also flexible, and each format has its own benefits:
In-person events

bring your local community together and allow them to connect with your team face-to-face. These types of events are especially useful for courting relationships with major donors who usually need to develop a personal connection with one of your major gift officers before deciding to give. 

Online events

are accessible and can be hosted with video conferencing software or via a live streaming platform. Keep your online events engaging by encouraging attendees to type in your meeting's chat and assigning a team member to moderate comments and interact with your guests. 

Hybrid events

give guests the flexibility to attend in person if it's convenient or from home if they simply prefer the comfort of remote attendance. Before your event, plan how you will engage both remote and in-person attendees to create an equivalent experience for both groups. 
Events should be packed with fun activities, entertainment, and opportunities for guests to socialize. However, make sure your nonprofit's purpose is front and center, so attendees both have a good time and understand the importance of giving to your cause.
5. Use marketing software.
To manage all of your campaign's moving parts, invest in marketing software. Marketing tools vary widely in purpose, from automating routine tasks and organizing data to allowing you to connect with supporters in entirely new ways.
Consider how you want to reach out to supporters and list what types of technology would help you enact your strategies. Then, begin researching top marketing solutions, like:
Email platform.

Email platforms allow you to create email templates, segment email lists, and send emails to all of your supporters at once. Some systems also allow you to set up trigger emails that are sent automatically when supporters take actions like donating or signing up to volunteer. 

CRM.

Your CRM stores all of your donor data, making it one of your marketing team's most important tools for understanding your audience. Whenever you engage with a supporter, record the interaction in your CRM. Your marketing team can then look at this data to analyze trends in donor behavior, shifting demographics, and anything else related to your donors. 

Editorial calendar.

Marketing requires active communication, and it can be challenging to know which messages to send when, especially if you're launching a multi-channel campaign. An editorial calendar is a project management tool that helps keep your team on track by outlining which projects are due when and who is responsible for each task in that project. 
You can also choose a unified marketing solution like Salesforce's Marketing Cloud, which comes with basic features and can be further expanded and customized as the nonprofit needs. Solutions like Salesforce work best for large and growing organizations that need tools developed for their specific workflows. By contrast, smaller organizations can save on subscription fees and developer costs by choosing a solution with more out-of-the-box features.
6. Create videos and other engaging content.
Stand out from the crowd by changing up your marketing strategy with compelling infographics, bold photos, and attention-grabbing videos. Video especially has become increasingly important for charity marketing, with research showing that viewers are 52% more likely to share video with friends and family than other types of content. 
To create videos, your nonprofit can work with a third-party video production company or attempt to develop them in-house. 
When working with an external agency, you can be assured that they will have high-quality cameras, microphones, and editing software to develop professional videos. Video production agencies also have access to assets that can elevate your videos, such as music, experience directing, and knowledge of film production fundamentals, like shot framing, color grading, and sound editing. 
Of course, video production can also be expensive. Making videos yourself is likely to be less expensive, though you will potentially need to invest in the necessary filmmaking tools as an upfront investment. While your videos do not need to be movie-quality, at least go the extra mile to ensure your videos have clear audio to make your message easy to hear and understand. 
7. Offer additional services. 
Many nonprofits can overcome the challenge of not having a product to give in return for donations with an obvious solution: offer a product or service. 
Consider what assets—such as surplus funds, extra available space, staff with diverse skill sets, or any other resources—your nonprofit has and if they can be turned into a product or service. Here are just a few examples of what your nonprofit could potentially sell to donors:
Branded merchandise

Educational courses

Rented space

Experiences, such as guided nature walks, petting zoos, and theater performances

Membership program
While the idea of making a profit similar to for-profit businesses may sound strange at first, earning revenue through marketing a service is very normal in the nonprofit sector when taking nonprofit organizations like hospitals, universities, and museums into account.

Launch Your Charity Marketing Campaign 
Charity marketing brings in the revenue your nonprofit needs to fuel your mission. Launching a marketing campaign is often a major undertaking, and your first step is to conduct research on your audience, competitors' strategies, and standard marketing practices to give your team the knowledge they need to find success. 
To help kickstart your research, continue exploring Getting Attention's library of resources on the ins and outs of charity marketing:

https://gettingattention.org/wp-content/uploads/2023/06/charity-marketing_Feature.jpg
700
1450
Getting Attention
https://gettingattention.org/wp-content/uploads/2021/08/getting-attention-logo.svg
Getting Attention
2023-06-29 14:37:25
2023-07-28 13:13:14
Charity Marketing: How to Spread Your Nonprofit's Message