Today I'm going to show you how to shape and share one of the six types of stories your organization has to tell, the founding story.
The Typical Nonprofit Founding Story—
Is yours as deadly as this one? Because you have all the ingredients to make it far more effective.


This is the kind of founding story I see most often from nonprofits like yours. So there's a good possibility that yours is just as passionless, removed and absolutely unmemorable as this one. The great news is that it's you have the content and the talent to do so much better, and it's totally doable!
Kaboom's Meaningful, Memorable Founding Story—
Your org's founding story can be as moving and motivating as this one!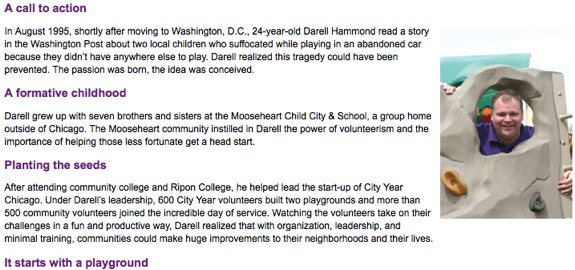 Your founding story can be just as wow, easy-to-relate-to, moving, get-off-your-butt-and-do-something founding story from Kaboom!
4 steps to power up your organization's founding story:
Focus on the founder(s) and what motivated them to start the organization. Get personal, as if she was telling you the why at a party or on a car ride. If that info isn't at hand, ask relatives, long-time employees and colleagues, research your heart out.
Drill down into the personal side of that act—did she have a friend with cancer, come from a country that was long in civil war or…? Make the motivation genuine and relatable to your prospects' experience and point of view.
Show how that driver clarified her understanding of a problem and possible solution, and the start-up of an organization to help solve it.
Emphasize each step in the process as in Darell's story: He moves from a family-bred sense of civic responsibility, to digesting a tragic news story, to acting on those two things by forming City Year Chicago which led to done-in-a-day playground-focused Kaboom!
When done right, your founding story has the potential to motivate people like you and me to give, volunteer, sign petitions and participate in programs. Do it today!
What's your founding story like? Pls share it if you think it's great, or share your questions or challenges if it needs work. Let's change that!

More Storytelling Guidance for You
Part 1: This is Getting in Your Way, Stories Will Help
Part 2: Six Story Types to Tell
Part 3: How to Tell Your Founding Story
Part 4: How to Tell Your Focus Story
Part 5: How to Tell Your Success Stories
Part 5 1/2: How to Tell Your Strength Story
Part 6: How to Tell Your People Stories
Part 7: How To Tell Your Future Story: Nonprofit Storytelling
Part 8: Shape Stories to Motivate Action
Part 9: How Story Trumps Description