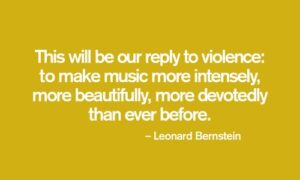 Update: How to Re-Assess and Re-Engage
Review these useful insights from nonprofit marketers and fundraisers like you. Please add your thoughts, experience, and questions.

Like you, my heart and head are heavy in the wake of the Boston Marathon bombing [or relate this guidance to the latest mass tragedy—there are so distressingly many of them]. Especially since I feel so helpless.
I had a completely different post planned for the morning after but wanted to respond a.s.a.p. to the questions, worries and just totally-wrong communications I've seen going out since the bombings and all the fear-inducing activities that have followed it already.
Most of this outreach was harmless, but simply a mismatch with what's on our minds right now. Because most of us are feeling horror, sadness, fear, uncertainty, and a sense of helplessness and vulnerability.
Here are my right-now recommendations for your organization's response to this crisis and to others that, unfortunately, we will face together. Already follow-ups are undermining our collective sense of safety and well-being.
Please share your strategies, and add your questions and feedback here. We are so much smarter together.
 1. Immediately—Get Off Auto-Pilot
Given our collective state of mind, some of the nonprofit outreach I saw post-Boston-Marathon bombing was off the mark—like the e-invite I received at 7:19 PM that day from Save the Children via Harris Interactive, asking me to respond to its survey.
This email came in as the details of deaths and serious injuries continued to flow, including the death of an 8-year-old boy and the critical status of his mom and sister. It was obviously auto-scheduled and on auto-pilot.
As a result, this ask missed the mark by 1,000 miles, coming across as a huge "who cares." If I was in charge of this survey, I'd put it on ice for now.
Be aware that we could have all so easily made similar mistakes. I have. In fact, this was just one of many pre-scheduled tweets, Facebook posts and emails I saw in the hours following the bombings when we were in the spell of first shock.
These "business as usual" communications, at a time when nothing was usual, which caused a huge disconnect. And yes we're all just trying out best at times like this, but slow down.
Our state of mind doesn't get more ungrounded than it is right now. Be ultra-sensitive.
 2. Immediately—But Don't Go Dark Either
Your cause and work is vital to making this a better world.  And although it may seem easiest to go dark right now, please don't. Your network counts on your work to carry our world to a better place.
Proceed slowly and strategically, based on accurate and timely insights and thoughtful assessment, but do proceed. The last thing we need is staying stuck right here.
 3. Immediately—Activate Your Relevancy Lens
Relevance rules more than ever in the shadow of a crisis or tragedy like this one. What's top of mind for your network is the only lens that matters, now more than ever.
Put yourself in the shoes of your prospects and supporters. What are they focused on now? It's likely to be fear, horror, sadness, empathy, helplessness and/or anger. That's your cue.
Your own agenda must fall behind for the first few days post-crisis—at the very least—unless there's a real, organic link to bombing-related issues.
It's never productive to communicate into that environment at the moment of. You're not missing an opportunity if you pause to assess and re-tune, and you risk alienating your network if you blindly push on with plans.
4. Immediately—Show You Care & Offer Right-Now Help

Show your support for the affected community and empathize with the shock and sadness your supporters are likely to feel via Twitter or a brief Facebook post.
This is a same day or next two days approach in most cases; after that it's not additive, and will seem like you're jumping on the bandwagon. If you've missed that, fine. Just note for the next time.
Social media is an ideal way to let your supporters know you're with them right now, and to share words of comfort. Plus any tangible help you can provide. That's the kind of response that puts a human face on your organization.
Here's a good model tweeted by the Community Foundation of Sarasota County.

5. Immediately—Pause Scheduled Outreach Till You Review
Immediately un-schedule what you have lined up to release the day of the crisis and for the balance of the week at the very least. You'll reschedule what's in line with your base's state of mind after a brief review.
Stay real, and stay respectful. That will ensure your relevance in good times and bad.
6. A.S.A.P—Review Your Marketing & Fundraising Plans for the Next 10-14 Days
> Link your message to the bombing only if there is an organic link (e.g. children's health and well-being, violence prevention, gun control, public safety, anti-terrorism.) Otherwise, avoid trying to capitalize on a tragedy. You'll fail, miserably.
If your organization isn't working to help the Boston/Marathon community or related issues, consider taking a couple of days off from your asks. Those in support of your issue are already making contributions and circulating petitions. But it's too raw  today to start persuading others, or even showing them how they can help avert future disasters like this one.
> Depending on the mood and focus over the course of the week, pick the right time to dive back in with a moving forward focus. That may be in a few days, but may be more.
Instead, craft your outreach for down the line (that may be a few days, a week or even later—you'll need to assess for your community and your organization) so you'll organize most powerfully,  galvanizing disheartened supporters to join you in action for a better future. The exception, of course, is if you're helping the affected community directly.
> Change any metaphors or analogies you use that feature bombs, explosion and the like in not-yet-published content for the next two weeks, at least.
These are some of the most-used references, usually used in a positive way (but there is no positive now). Think exploding with daffodils (from a Facebook post morning after the bombing from one of my favorite botanical gardens) or the fact that the star's first Broadway show absolutely bombed (in the e-newsletter scheduled to drop the day after the bombings from one of my performing arts clients).
Comb your content carefully. Over-caution is the way to go here.
> Get speedy input on your revised approach today with colleagues on the ground and members of your marketing advisory group
These are the folks who are in touch with your base (and are your network members), and you need their insights.
If you don't have a marketing advisory group already in place, reach out to a few current supporters in each of your segments, asking for five minutes of their time for a quick call.
7. A.S.A.P.—Share Your Revised Approach With  Colleagues & Ask Them to Share What They Hear
Even though your colleagues' may not have been aware of your plan for your marketing and fundraising outreach going forward, update them on what's changed and why.
Here's why:
It's just basic respect, and you should do this on an ongoing basis.
Many of these folks are in close contact with your target audiences in their daily work, and have the opportunity to focus those conversations appropriately—but only if you share your approach!
They're also most likely to get the feedback that shows you you're taking the right path, or have to recalculate. Ask, train and support them in doing so. It helps all of you!
8. Next 10 to 14 Days—Move Forward With Your Ear Close to the Ground
It's still early in this tragedy, and events are yet to unfold. So stay close to what's top of mind for your network (and the rest of us) through this week and next.
Go ahead and schedule coming campaigns across channels, but review what's scheduled on a daily basis. Engage at social listening at every point along the way.
9. By End of April—Craft a Crisis Communications Plan That Includes Shared Tragedies Like This One
I recommend placing review of queued-up communications at the top of your crisis communications checklist, whether it's a crisis within your org or outside of it.
Crises like the Boston Marathon Bombings and the ensuing scares are shared crises. In many cases, crises outside of your organization impact your network of supporters and partners equally, if not more than, crises that effect your nonprofit.
What are you considering changing, or unsure about? Do you have guidance to share?  
https://gettingattention.org/wp-content/uploads/2021/08/getting-attention-logo.svg
0
0
Getting Attention
https://gettingattention.org/wp-content/uploads/2021/08/getting-attention-logo.svg
Getting Attention
2021-08-23 16:04:26
2021-09-01 03:04:15
How to Communicate in the Midst of Tragedy: 9-Step Checklist