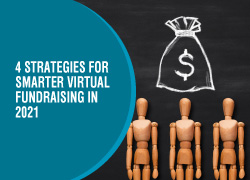 This year, the term "virtual fundraising" became a hot topic for nonprofit professionals everywhere. While online giving was on the rise even before 2020, it wasn't until this year that virtual fundraising became the rule rather than the exception.
Since stay-at-home orders were first put in place, your team has likely learned a lot about how to pursue your mission in a remote landscape. Your team has launched virtual events, engaged with donors online, and continued to raise needed funds.
But in some cases, it's possible that you're relying on band aid fixes or a disconnected network of tools that you're already starting to outgrow. As we approach a new year, it's a good opportunity to revisit your virtual fundraising strategy and make improvements.  
To reach your online fundraising goals in 2021, your nonprofit must leverage powerful tools and engagement data throughout every aspect of your strategy. 
At SalsaLabs, we empower nonprofit professionals with software solutions for smarter fundraising, data management, and donor engagement. Based on some of the strategies we've seen work well throughout the challenges of COVID-19, we've compiled a list of recommendations to elevate your upcoming fundraising efforts:
Use data to better inform your campaigns.
Send targeted communications to supporters.
Utilize marketing automation tools.
Choose unified CRM and fundraising software.
Just because 2020 is almost over doesn't mean the need for virtual fundraising is going anywhere. Even once in-person interactions are safe again, nonprofits will likely continue to employ virtual engagement tactics because they are so cost-effective, efficient, and widely accessible to supporters. 
With all of these potential benefits, it's clear why your virtual fundraising strategy needs to be in tip-top shape. Now, let's dive into how you can make those improvements.
1. Use data to better inform your campaigns.
At the heart of any successful fundraising campaign should be a strong understanding of two main things: your supporters and your past campaigns. 
When you capture, record, and use this relevant and highly informative data, you'll be better able to plan and execute any fundraiser.
This way, you can make plans based on real knowledge of what will resonate with your supporters rather than on assumptions. It's all too easy to fall into the trap of stereotypes like "older supporters don't understand social media" and "Millennials can't stand phone calls," but these cliches don't reflect the uniqueness of your supporter base. 
Analyze your existing supporter data and past campaign information to consider questions such as:
What types of marketing tend to lead to more first-time engagements? For instance, are you more likely to get more new donors via Google ads or social media?
What leads to the highest engagement among your existing supporters?
In which ways do your donors prefer to give?
When is the best time to send emails or post on social media?
To know the answers to these questions, you need to be recording various metrics-based goals like click-through rate, dollars donated, number of new supporters, and more. When possible, try to track these metrics for different groups of supporters, such as by age group. This will help you determine how, when, and where to tell your story in a way that will resonate most effectively with your target audience.
According to AccuData's guide to data marketing, data-driven campaigns have up to 5 times the ROI, so this practice is sure to pay off with more revenue for your mission. 
2. Send targeted communications to supporters.
The ability to quickly send a generic email to a mass amount of subscribers is both the beauty and downfall of email.
We've likely all received the standard "Dear friend" end-of-year email from a nonprofit. With a line like, "Whether you volunteered with us, donated, or attended an event, we're grateful for your support," it's clear that the organization has no clue who is on the receiving end of the message! This kind of mass email is better than no thank-you at all, but it misses a valuable opportunity to connect more deeply with recipients.
Instead, with segmentation and personalization technology, you'll be able to send emails that are more relevant and impactful to groups and individuals.
First, creating segments of supporters allows you to address groups based on a particular characteristic. You might choose to create segments based on the following criteria:
Engagement type (donor, volunteer, event attendee, peer-to-peer fundraiser)
Donation type (major donor, recurring, first-time, year-end)
Demographic characteristics (age ranges, location-based, income levels)
Interests (loves animals, interest in politics)
These are just a few examples to get you started. You can also create a custom segment based on criteria relevant to your nonprofit. For example, if you work at an animal shelter, you may consider creating segments for whether your supporters are cat people or dog people. Then, when you send your appeal emails, you'll be able to tug at their heartstrings with the right kind of ask. 
In addition to sending emails that are tailored to different groups, you can also customize the content of the email to each individual. Some email marketing platforms allow you to use data fields to automatically pull data from your CRM and incorporate it into your outgoing emails. 
You could incorporate personalization into your email communications through the following strategies:
Tailoring the donation request. Use past data like a recent gift and wealth information to inform your next suggested gift amount. Artificial intelligence and machine learning are becoming more prevalent in donation software and can also automate the task of creating smart ask amounts for your appeals.

Using personalized data. Incorporating the supporter's name, previous gifts or actions, or other details for a personal touch.
Studies have shown that segmentation and personalization can lead to a 760% increase in revenue for email marketers. To take advantage of this, be sure to find an email marketing platform that integrates seamlessly with your donor database.
3. Utilize marketing automation tools.
Once you have an informed, segmented marketing strategy in place, you can rely on automation tools to efficiently drive your efforts forward.
While automation won't independently drive your marketing strategy to success, it can help to streamline your approach and save time for your team. Automation allows you to reach the right supporter, at the right time, with the right message—without anyone needing to hover over the send button.
Marketing automation is particularly helpful for moving a supporter through a dedicated email pipeline towards a target action (often called a drip email campaign). To give you a better understanding of how this might work at your nonprofit, let's consider the following two example scenarios.
Sarah signs up for your nonprofit's newsletter. Over the coming weeks, she receives a "Welcome" series of emails at a pre-specified cadence that include information about your work and mission. The emails stop when Sarah completes the target action of making a donation.
Jackson makes a first-time donation through your online giving page. Your matching gift software finds Jackson's employer on a list of companies. Jackson receives a series of emails explaining how and why to submit a matching gift request, which stop when the match is secured.
While these target actions are both revenue-based, you can use marketing automation to promote any kind of engagement. For instance, you may want to encourage volunteer sign-ups or advertise registration for your upcoming virtual event.
For nonprofits, automation helps decrease staff time spent on marketing tasks and increases your team's overall efficiency. Using your limited resources wisely can make a big difference in the success of your campaigns.
4. Choose unified CRM and fundraising software.
While all of the above strategies are helpful, they may be challenging or even impossible without the right technology on your side.
For the most successful virtual fundraising, you'll want to implement software solutions that integrate with your CRM. You can also opt for a fundraising and CRM suite like Salsa's donor management software and engagement platform that are built to function together. 
Without a connected system, you may have to rely on manual data entry or spreadsheet imports. Not only does this eat up a lot of valuable time, but it also opens the door for costly errors or omissions. 
Instead, a unified system allows you to trust that all of your supporter interactions and other data are in one place. The ability to see a big-picture overview will help your nonprofit learn more about its supporters, increase engagement, and raise more from your community.
A comprehensive tech stack will transform your virtual fundraising efforts across the board, but to demonstrate just one area of impact, we'll explore the potential benefits for a peer-to-peer fundraiser. A comprehensive suite of nonprofit tech can:
Identify highly-engaged supporters, long-time donors and ambassadors, and invite them to participate with personalized outreach.
Send automated coaching emails to targeted groups of participants based on real-time fundraising progress.
Sync participant data with existing supporter records in your CRM. 
Follow up with new donors to share your gratitude and introduce them to your cause.
As this guide to peer-to-peer fundraising explains, it's especially helpful to have easy access to performance data while the campaign is occurring. This way, you'll be able to discover insights on the fly and make changes as needed, rather than having to wait for your next fundraiser. 
While some of these benefits are unique to peer-to-peer fundraising, the advantages of a unified CRM system are applicable to any of your virtual fundraising efforts.
---
As we move into 2021, nonprofits will continue to rely on virtual fundraising to pursue their missions safely and efficiently. As you prepare next year's campaigns, make sure you're relying on data, sending effective and tailored communications, and using a comprehensive and well-integrated database. By following these recommendations, you'll be prepared to launch your best virtual campaign yet. Good luck!
---
This guest post was contributed by Hayley Roll, Marketing Analyst at Salsa Labs.
https://gettingattention.org/wp-content/uploads/2021/08/SalsaLabs_Getting-Attention_4-Strategies-for-Smarter-Virtual-Fundraising-In-2021_feature.jpg
180
250
Getting Attention
https://gettingattention.org/wp-content/uploads/2021/08/getting-attention-logo.svg
Getting Attention
2021-08-23 16:05:44
2022-04-19 16:36:21
4 Strategies for Smarter Virtual Fundraising in 2021