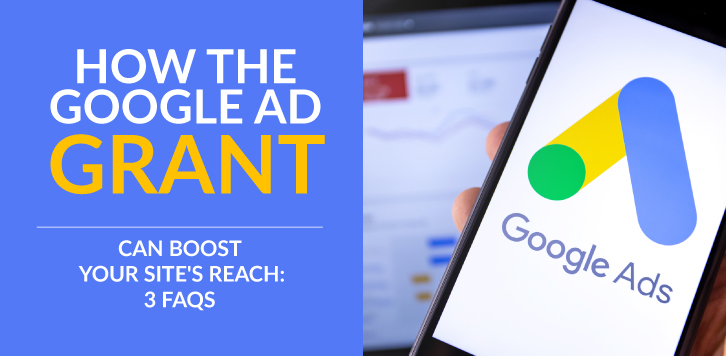 For your nonprofit to enact lasting change in the world, people need to know about your cause—whether it's creating accessible public spaces for people with disabilities or teaching at-risk youth the basics of personal finance. 
But even more than generally being familiar with your cause, people need to know that your organization is the one they should be supporting to further that cause. 
There are lots of ways to spread awareness for your organization's specific work, from making phone calls and sharing social media posts to mailing out flyers or investing in local radio ads. But one of the most useful marketing tools you can use to garner attention for your mission is your website! 
However, challenges arise when it comes to getting the most mileage possible out of your website. After all, it's one thing to have a functional website and another thing entirely for people to actually find it and use it to learn about your organization and how to get involved. 
Many nonprofits rely on optimizing their websites for SEO, but there are other free ways to get more attention for your organization. 
Enter: the Google Ad Grant. 
In this guide, we'll cover three frequently asked questions about the Google Ad Grant to help you better understand how this free source of advertising can work for your nonprofit. Let's go!
What is the Google Ad Grant? 
The Google Ad Grant is an in-kind donation from Google that gives qualifying nonprofit organizations $10,000 worth of free advertising credits every month. 
Nonprofits use these credits to bid on keywords that pertain to their causes so that they can promote specific web pages through text-based ads on the results pages for those keywords. 
Once created, these ads are placed strategically on search engine results pages—at the top or bottom—so that Google users see them in addition to the usual list of organic results. Typically, these ads showcase donation pages and "About Us" pages, highlighting your nonprofit as the organization to support. 
You can feature other action-oriented pages, too. For example, say your animal shelter wants to promote an upcoming virtual adoption event. You might bid on ad space for the keyword "pet rescue," creating a text ad that promotes your event and directs users to your registration and volunteer sign-up pages.
Leveraging the Google Ad Grant is a smart nonprofit marketing strategy for a few reasons: 
It's completely free!

The Google Ad Grant is a free source of ad funding, and, if your nonprofit continues to meet the eligibility criteria, it renews every month. 

You'll help more people find and engage with your organization.

Research on paid ads

(like Google Ads) shows that "41% of clicks go to the top three paid ads on the search results page." That means that by using Google Ads, you'll get your organization's name in front of more people who care about your cause—

and

get them clicking through to your site to

donate or engage

in other ways. 

You'll get a wealth of data you can use to improve your strategy.

You can track the results of your ad campaigns within your Google Ad Grant account to get actionable information to improve your ads' wording or even fine-tune your web content to attract more attention. 
Google Ad Grants pair nicely with other marketing strategies, like prepping your website for search engine optimization (SEO) and sharing your web content on social media. Securing a Google Ad Grant is a proven way to make sure you're not putting all your marketing eggs in one basket!
How do I apply for a Google Ad Grant? 
To apply for a Google Ad Grant, you'll first need to determine if your organization is eligible. According to Cornershop Creative's guide to Google Grants for nonprofits, you'll need to make sure your organization is meeting these criteria: 
Note that some organizations are not eligible for the Google Ad Grant, even if they meet the above requirements. These organizations include: 
Schools or other educational institutions

Government organizations and agencies 

Healthcare organizations 
Once you've determined that your organization is eligible for a Google Ad Grant, you'll apply to the Google for Nonprofits program and verify your Google account. After you're verified, you can apply for a Google Ad Grant and create a Google Ads account. 
Google will review your application and account to make sure you meet all of its requirements. Then, you can start creating campaigns, bidding on keywords, and writing ads! 
Of course, applying for the Google Ad Grant, creating ads, monitoring your progress, and maintaining eligibility can require a lot of time from your nonprofit's team. Re:Charity suggests working with a Google Grants agency that can handle all these moving parts for you. This will give your team the bandwidth to get back to running your programming and fundraising campaigns. 
What can I do to prepare my landing pages to get the most out of Google Ad Grants?
For your nonprofit to see positive results through the Google Ad Grants program, you'll need to optimize the landing pages you're featuring in your ads. After all, once you've got someone clicking on your ad, you don't want to lose their interest in your page—you want them to complete the desired action! 
You can get your landing pages ready for Google Ad Grant traffic by implementing nonprofit web design best practices, such as: 
Leveraging impactful visuals.

Visuals evoke emotion and help encode information in our brains.

Catch your visitors' eyes with pictures or videos of your team in action, or your beneficiaries receiving your services.

 
Optimizing for mobile devices

. Make sure that your pages resize to fit any type of screen. You don't want phone or tablet users to have to pinch and zoom to see your page or not be able to exit out of pop-ups. 

Including strong calls-to-action.

A call-to-action is simply a statement that implores someone to act. Choose your wording carefully when writing calls-to-action. For example, "Join the fight against cancer!" is a much stronger call-to-action than "Donate now." 

Keeping forms short and sweet.

Make it easy and convenient for your visitors to donate, register for events, or sign up to volunteer. Only ask for necessary information on forms, and mark additional fields or questions as optional. 

Including social sharing buttons.

It can be a great bonus when a landing page visitor feels inspired to share your page with their personal network. Make it easy for them by including social sharing buttons. 
Taking action on a landing page is the "finish line" for Google Ad Grant-generated website visitors. Prepare your website to keep them reeled in and make it easy for them to complete the desired action. This will plant seeds for further involvement down the road, as your visitor will leave your page with a positive impression of your organization and its website. 
---
For your nonprofit to succeed, people need to know you're out there, working hard to make a difference in your community. Applying for a Google Ad Grant is one fantastic way to open up the doors to more traffic on your nonprofit's website. 
Use what you've learned in this guide to get started with Google Ad Grants today!
About the Author: 
This is a guest post contributed by Ira Horowitz at Cornershop Creative. With 15 years of experience, Ira is an expert in nonprofit online communications and online fundraising. His work has resulted in increased funds and resounding supporter engagement for hundreds of organizations.
Ira oversees the Cornershop Creative project management team and works with clients to provide the best possible final product. He also manages all of Cornershop Creative's strategic engagements and helps guide nonprofits to determine their long-term strategic goals for online communications.
https://gettingattention.org/wp-content/uploads/2022/11/Cornershop-Creative-Getting-Attention-How-the-Google-Ad-Grant-Can-Boost-Your-Sites-Reach-3-FAQs_feature.jpg
356
726
karen.gao
https://gettingattention.org/wp-content/uploads/2021/08/getting-attention-logo.svg
karen.gao
2022-11-29 20:12:32
2022-11-29 20:12:32
How the Google Ad Grant Can Boost Your Site's Reach: 3 FAQs