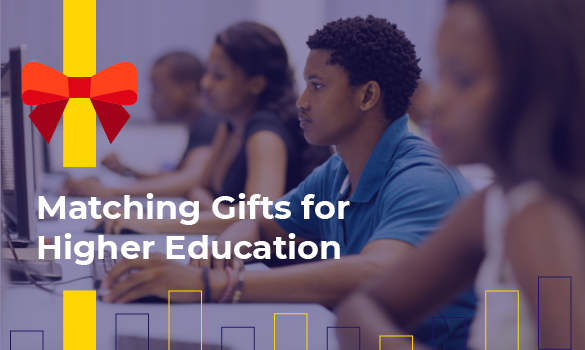 If you work for a higher education institution, you know that bringing in donations is essential. After all, those contributions fund school programs, supplies and materials, and other crucial components that drive your curriculum.
But rather than asking donors to dig back into their pockets time after time, what if you could maximize their existing donations?
Corporate matching gifts describe when employers match the donations their employees make to eligible organizations and educational institutions. Matching gifts for higher education can go a long way, but you need an actionable plan to secure this source of fundraising revenue. 
Here at Getting Attention, we've compiled our best tips for grabbing the attention of your supporters and boosting your matching gift revenue.
1. Set Your Goals
Of course, when putting any plan into action, you'll be working toward a specific goal. Craft a plan that details your matching gift revenue goals for the year, how you're going to meet those goals and stay on track, and any deadlines you'll want to meet in the process.
With tangible goals in place, your team is in a better position to actively work toward those goals. From there, you'll be ready to dig deeper into how you'll reach each milestone.
2. Promote Matching Gifts to Alumni Donors
Your alumni base is huge, and many of them have probably donated to your institution at some point. According to recent statistics, 84% of donors say they're more likely to donate if a match is offered.
That's why promoting matching gifts to your alumni donors is extremely important.
How can you promote matching gifts to alumni donors? We have a few ideas: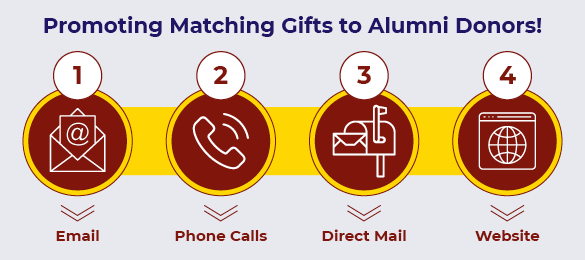 Email communications. Whether you're sending out an email to thank a donor for their specific gift or sending out an alumni newsletter, it's important to include information about matching gifts to raise awareness about this giving opportunity.
Phone calls. Are your current students phone banking for your school? Make sure they know to bring up matching gifts when speaking with prospective donors. Educate both the current students making the calls and your alumni donors so everyone has the information they need.
Direct mail. Another simple way to promote matching gifts for higher education is with direct mail outreach. Include a paper insert within your other mailings or send out a postcard that specifically highlights matching gift opportunities. 
Website. Prominently feature matching gifts on your institution's website. This can be a mention on your donation page, on a dedicated matching gifts page, or even confirmation pages after a donation is completed.
Promoting matching gifts to your alumni donors doesn't have to be a chore. With a set process in place that streamlines how you educate alumni about matching gifts, you'll be in a better position to secure more matching gift revenue.
3. Customize Your Outreach
Your institution probably uses a donor database to keep track of all of your supporters. And you probably segment your communications to ensure different groups of people receive relevant communications.
Matching gift outreach is no different.
Whether you're reaching out to new alumni, older alumni, small- or large-dollar amount donors, or donors who work for top matching gift companies, every message will be different.
For example, let's say you're performing prospect research to find major donors for your university. As you do this research, include a matching gift specification to target multiple alumni working for the same companies with matching gift programs. 
Once you've determined this information and established it within your donor database, send those individuals personalized outreach to encourage them to participate in their employer's matching gift program.
When you customize your communications to individual donors and create targeted campaigns, you're more likely to find higher engagement and response rates from your donor pool.
4. Keep the Donation Process Simple
This particular tip might seem obvious, but for a lot of organizations and institutions, it doesn't always happen. Your donation form itself should be succinct and easy to fill out.
This means asking the bare minimum to capture necessary donor information. Extra fields like employer addresses and less relevant details will become laborious and discourage many prospects from completing the form.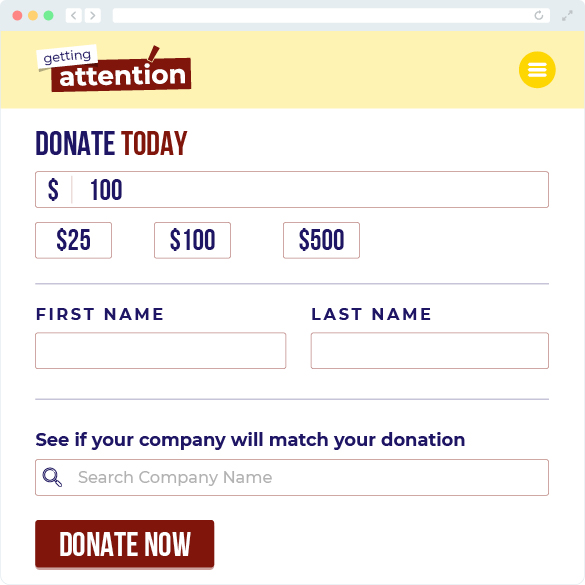 The simpler the giving process is, the more likely donors will complete their donations, many of which may be eligible for a corporate match.
5. Demonstrate Impact
One of the most actionable tips we can offer is demonstrating the impact donations and matching gifts will have on your school. This means specifically noting what certain dollar amounts will go toward.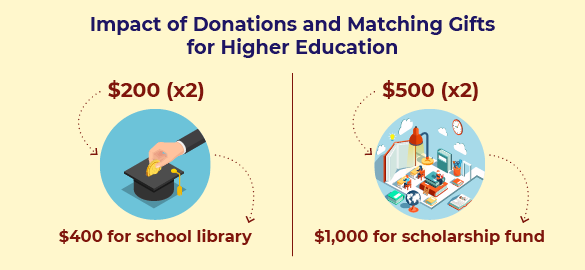 Will $200 go toward new books for the school library? Will $500 go toward establishing a new student scholarship fund? Associating dollar amounts with a tangible item will encourage more donations, which could then be amplified by a company match!
6. Thank Your Donors
Beyond demonstrating the impact a donor's contribution will have on your institution, another thing donors want is to be recognized. They want to know your institution appreciates their gift and that you value them as a supporter, alumni, or whatever their relationship may be.
In order to do this, it's important to maintain open communication with your donors. 
Here are a few keys ways you can do this:
Thank your donors for the initial donation. This might seem obvious, but it's worth mentioning. Thank your donors immediately for their donation. Email is the quickest and most efficient way to do this, but you can also send a printed letter in addition to the initial email confirmation, depending on their donation level and your institution's budget.
Thank your donors for submitting a match request. If you've been tracking which donors submit a match request to their employer (which you should be!), make sure you thank them for getting the matching process started. This is a huge step they've taken to make their donation go twice as far, so showing your appreciation is crucial.
Thank your donors after the company match has been received. Once the company's matching donation has come through, you owe it to your donors to update them and thank them once again. Let them know their donation has gone twice as far and how much of a difference this has made for your school. This also serves as a point of reference for them so they understand how long the process actually takes.
Here's an example of a message that thanks a donor and notifies them that the corporate match has been received: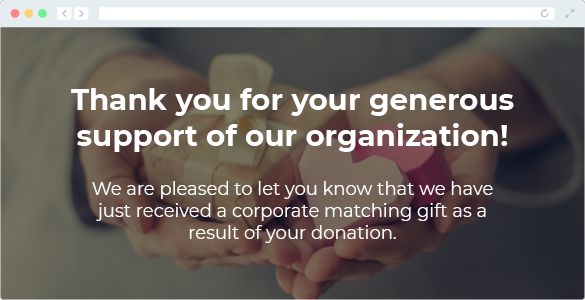 This outreach can take the form of an email or direct mail, depending on which point in the process your donors are and how much you want to spend on printed materials. But the end result is the most important: that your donors understand your appreciation for them, feel valued, and are inclined to donate again in the future.
7. Leverage an Accurate Matching Gift Database
While all of these tips will propel you forward in your matching gift fundraising, the process as a whole might still seem daunting. Our final tip applies to higher ed institutions that want to bring in more donations and matching gifts: invest in matching gift software.
Matching gift software streamlines the entire matching gift process from start to finish.
Setting goals, promoting matching gifts to alumni donors, customizing your outreach, and many of the other best practices we've mentioned can actually become easier if you take this step for your school.
The best part of using matching gift software? It gives you direct access to a matching gift database.
A matching gift database offers information on thousands of companies with matching gift programs. That's right—thousands.
Below, we've outlined the top ways matching gift software can help higher education institutions like yours:
Keep tabs on matching gifts companies.
Matching gift policies at different companies will change on occasion. Some companies will no longer offer matching gifts, while others will institute brand new programs. So how can you stay on top of these matching gift companies?
Matching gift databases are consistently updated to ensure their information on each company is up-to-date and accurate.
Our favorite matching gift database solution, Double the Donation, has information on more than 20,000 companies, and they're constantly keeping their entries updated so anyone who accesses the database gets accurate results.
Save your team a lot of work, research, and time by investing in a matching gift database that automatically pulls up the company information you and your donors need.
Offer a search tool widget that allows donors to find their employer's matching gift info.
At this point, you might be wondering how you and your donors can actually access the matching gift database.
Well, it's simple. Matching gift software like Double the Donation comes with a company name search tool that embeds anywhere on your website. This means donors can quickly look up their company's matching gift program without needing to ask their HR departments or look it up on their own (or even more importantly, without leaving your website).
Here's an example of a result you could get from the search tool: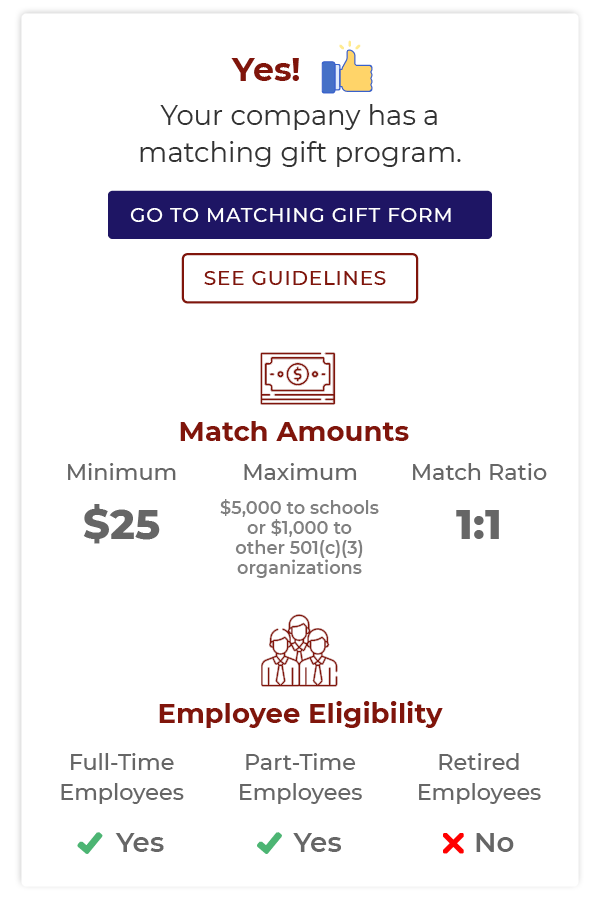 These matching gift search tools are easy to use and immediately populate with essential info about the donor's company's program, such as:
Employee eligibility
Nonprofit eligibility 
Minimum and maximum match amounts
Match ratios
The tool will also typically include a link to the company's matching gift forms so your donors can fill out the match request right then and there. Immediacy is important—donors are most engaged with your school as they're donating, so offering them a direct link to the necessary forms at that moment will result in more completed match requests.
Automatically follow up on incomplete matches.
If you don't have a set process in place for tracking and following up on incomplete matches, this can seem like an overwhelming task to take on.
But there's another way you can seamlessly reach out to donors and follow up: a matching gifts automation platform.
Just as Double the Donation's matching gift software makes it easy to find your donors' company information, they also offer a second solution that automates the entire matching gift process.
360MatchPro by Double the Donation's automated platform tracks matching gift submissions from start to finish. When donors give a gift on your donation form, the platform uses the information they provide, such as their email domain or employer details, to determine their eligibility for a matching gift. If it finds a link between a donor and a matching gift program, it will then trigger a follow-up email to the donor explaining how they can submit a match request. 
What if your team was able to spend more time on high-value matching gift opportunities, rather than chasing every last match-eligible donation that came through? That's exactly what 360MatchPro allows you to do.
You'll be able to choose how often follow-up emails go out, and with 360MatchPro's tracking capabilities, you'll easily track any incomplete matches and see more requests through to completion. 
Integrate your matching gift software with your fundraising software.
As a higher ed institution, you probably already use other fundraising software, like CRMs and online donation tools.
What if you could integrate these solutions with matching gift software? It would make tracking your data a lot easier, that's for sure!
Our favorite automation platform, 360MatchPro by Double the Donation, integrates with more than 50 of these solutions. That means if a donor changes jobs, for instance, once a donation comes in and is logged within your CRM, 360MatchPro will automatically capture their new employer info and follow up if the company offers a matching gift program.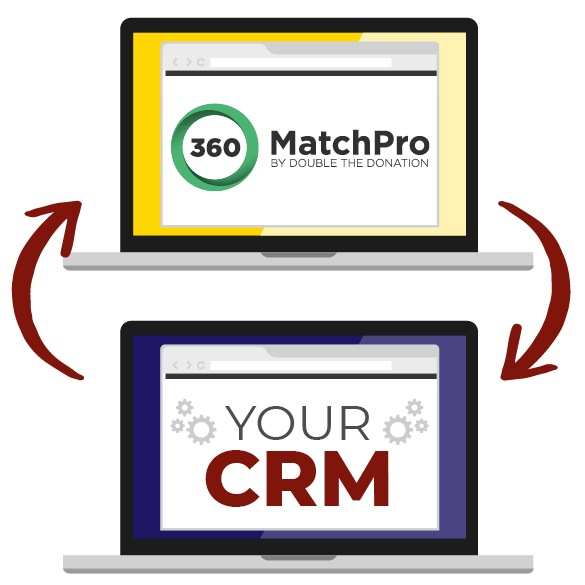 Top 360MatchPro Higher Ed Integrations
Among 360MatchPro's many integrations, the software works with several higher education fundraising and CRM platforms. Here are some of the top integrations they offer:
GiveCampus
GiveCampus is a fundraising and volunteer management platform that helps educational institutions raise more. Their services include:
Donation forms
Volunteer management
Educational peer-to-peer fundraising
360MatchPro and GiveCampus's integration allows donors to easily find their company's matching gift forms and guidelines. Automated and personalized matching gift emails can also be sent to eligible donors.
Anthology (formerly iModules)
Anthology is an educational fundraising solution offering a suite of modules that helps institutions boost their fundraising numbers—while also creating important relationships with their constituents. Anthology's services include:
Web content management
Marketing communications
Online giving
Event management
E-commerce
Social media integration
Schools can add 360MatchPro's company search field to their Anthology donation forms, which will help them track matching gift opportunities right from the donation process.
Wilson-Bennett Technology
Wilson-Bennett Technology is a phonathon service that helps universities strengthen their connections to their communities. Their services include:
Online reporting
Database management
Live credit card processing
Wilson-Bennett's solution DonorConnect integrates with 360MatchPro so call agents can instantly find matching gift program information after determining where their donors work.
Almabase
Almabase is an all-in-one alumni management solution that specializes in peer-to-peer crowdfunding, event management, and alumni management. Specific services include:
Email marketing
Event registration
Alumni directories
Alumni websites
Online donations
Once 360MatchPro is integrated with an Almabase account, donors will see a company search field on their confirmation screen following the donation. This will allow them to search for their employer's guidelines and receive automated follow-up matching gift emails.
Ellucian
Ellucian empowers higher ed institutions to build lifelong relationships with their students. Through their services, you can:
Build advancement relationships using their CRM
Keep up with fundraising best practices using their solutions sheets and white papers
Take advantage of corporate matching gifts
The integration with 360MatchPro allows universities to track match-eligible donors and provide them with the necessary links to submit a matching gift request. The company search tool can also be added to Ellucian's CRM Advance online donation form.
Salesforce
Salesforce is a cloud-based solution offering CRM services, as well as several other applications that focus on marketing solutions, customer service, and more. Using Salesforce, you can:
Improve the donor experience
Engage with constituents
Make insightful decisions
After linking your Salesforce account to 360MatchPro, 360MatchPro will pull donation data from your Salesforce CRM. Your school can then start identifying match-eligible donors and drive those matching gift requests to completion.
Blackbaud Raiser's Edge NXT
Blackbaud Raiser's Edge NXT offers cloud-based software that helps schools increase their efficiency by connecting fundraising solutions, educational management, award management, and more through their integrated tools. Use Blackbaud to:
Increase revenue
Boost engagement
Earn more in matching gifts
Once the integration with 360MatchPro is established, new donation records in Raiser's Edge NXT will flow into 360MatchPro. Within 360MatchPro, donations will then enter automated email streams to drive the matching gift process to completion.
Integrating matching gift software with solutions you already use is probably pretty important to your institution. That's why making the investment in a solution that already has built-in integrations with your CRM and online donation tools will make following up with donors a lot easier for your staff.
Track your goals using the software.
Beyond automatically following up with donors, your team would probably like a way to track their matching gift status throughout the entire process. Matching gift software offers detailed data and analytics reporting that let you see where each donor is in the process: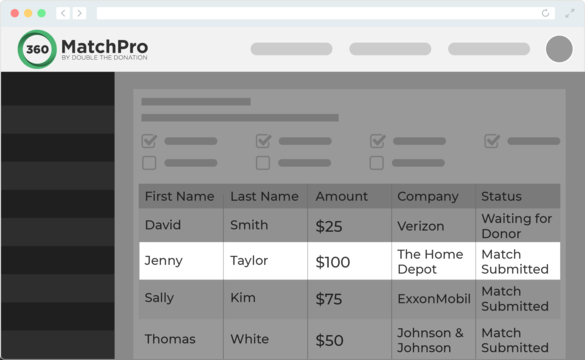 This will give your school actionable data you can use to figure out where your team can improve and how much matching gift revenue you've brought in. And those goals we first mentioned in this article? You'll be able to revisit those and make sure you're still on track.
---
Following these strategies for higher ed matching gifts can help your school bring in the revenue you need to fund the programs and activities that make your institution even more successful. When you have a set goal in mind and optimize the donation process using matching gift software and other key strategies, you're in a better position to raise the funds you need.
Additional Resources
Love the idea of matching gifts for higher education? We've got plenty more resources for you to read:

https://gettingattention.org/wp-content/uploads/2021/08/Matching-Gifts-for-Higher-Education-Feature.png
350
585
Getting Attention
https://gettingattention.org/wp-content/uploads/2021/08/getting-attention-logo.svg
Getting Attention
2021-08-23 16:06:22
2021-09-01 01:45:00
Matching Gifts for Higher Education: 7 Actionable Tips