For nonprofits, developing an effective marketing plan is key to spreading awareness, engaging new prospects, and deepening relationships with donors. However, there's a lot that goes into crafting the perfect strategy for your organization, from setting goals to analyzing your marketing data.
In this comprehensive nonprofit marketing guide, we'll walk through everything you need to know to refine your marketing efforts. Here's what we'll cover:
At Getting Attention, we empower nonprofits to expand their nonprofit marketing capabilities with the Google Ad Grant. While we'll explore that channel a bit more later, know that it's a powerful addition to any nonprofit's toolkit. Plus, it's completely free!
Regardless of your nonprofit's size, budget, or staff resources, taking the time to optimize your current marketing strategy can go a long way toward securing more support for your mission.

What is Nonprofit Marketing?
Nonprofit marketing refers to the various marketing strategies and channels that a nonprofit uses to amplify its cause, solicit donations, attract new supporters, and retain existing ones.
Organizations often create nonprofit marketing plans to allocate their budgets, time, and efforts effectively. This plan typically includes essential details such as your core mission, tone, target audience, preferred marketing channels, and branding.
Inbound vs. Outbound Marketing
There are two main approaches to nonprofit marketing:
Inbound marketing refers to methods of catching prospective supporters' attention through unpaid promotion or content production. Commonly, this includes search engine optimization (SEO), blogging, and organic social media posts.
Outbound marketing, often referred to as "advertising," relies on paid media to get in front of potential supporters. You might use Google Ads, social media advertising, radio ads, or any other paid outlet to promote your mission.
While inbound marketing attracts potential supporters in a natural way, outbound marketing can help your nonprofit extend its reach to people who might not otherwise come across your cause. Finding the perfect balance between inbound and outbound channels enables you to cast a wider net and reach more prospects.
Benefits of Nonprofit Marketing
Preparing a thoughtful and comprehensive nonprofit marketing plan allows your nonprofit to: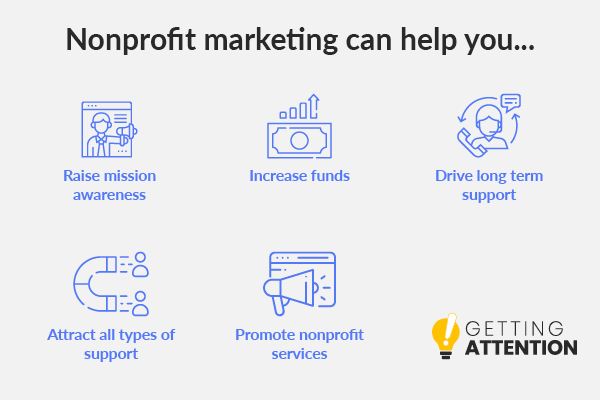 Boost awareness. With effective nonprofit marketing, your organization can increase awareness around your mission, ensuring that more people know about your nonprofit's goals and the work you're doing to achieve them.
Increasing funds. By spreading more awareness about your cause, you'll naturally receive more donations from people who resonate with your mission and want to get involved.
Cultivate long-term relationships. Successful marketing can build lasting relationships with donors, leading to more recurring donations and generating more revenue. Nonprofits Source estimates that, among online gifts, the average monthly donation is $52 (a total of $624 per year), compared to the average one-time gift of $128 per year.
Attract all types of support. In addition to securing more gifts for your nonprofit, marketing can help with increasing volunteer recruitment, event participation, membership signups, and other types of engagement with your organization.
Promote your services. The services that your nonprofit provides to those you serve are an integral part of your fundraising efforts and inspire your supporters to give. With a comprehensive nonprofit marketing strategy, you can more effectively promote these services to supporters and beneficiaries.
In other words, marketing impacts every area of your organization, making it essential to achieving your mission and inciting real change in your community.
Nonprofit Marketing Challenges
Effective outreach, however, does not come without its challenges. By understanding the common marketing obstacles that nonprofits face, you can plan ahead and minimize potential difficulties further down the road.
Four common marketing challenges to keep in mind include:
Establishing trustworthiness. Many people contribute to nonprofits because they're driven to make a difference in the world. To convince potential donors to give, you'll need to assure them that your organization is legitimate and worthy of their financial support.
Selling your mission. Unlike for-profit companies, nonprofits must sell their ideas and values to prospects rather than a product.
Working on a limited budget. Even with a well-defined mission and a compelling story, budget constraints may hinder your marketing efforts. This can limit your advertising options through paid outlets.
Appealing to different demographics. Many of your potential supporters will have varying preferences and interests. For example, older donors might prefer traditional, print outreach methods while younger audiences might lean toward text or social media outreach.
Fortunately, your organization can overcome all of these challenges by laying a solid foundation with your nonprofit marketing plan and following the best practices we'll explore later on in the guide.
How Much Do Nonprofits Spend on Marketing?
While there's no single answer to how much an organization should spend on marketing, there are a few methods you can use to calculate a smart budget:
The percent method. Allocate 5% to 15% of your total budget to marketing, communications, and fundraising. Many organizations group these three essential activities together as a single line item in their budget. This method makes it easy to scale your nonprofit marketing budget as your organization grows.
The dollar method. Apportion a set dollar amount to marketing, communications, and fundraising based on past expenditures. This method eliminates guesswork and makes spending expectations clear.
The incremental method. Take the current period's budget and revenue into account. Then, use that to adjust each line item by incremental amounts to create your next budget. This makes it easy to allocate money strategically without starting from scratch.
While nonprofits often consider cutting marketing from the budget when resources get tight, this is worth reconsidering. Promoting your mission is key to staying top of mind with donors and driving more gifts to keep your doors open. Instead, opt for low-cost communication channels or apply for a grant.
Whether you're facing budgetary constraints or simply want to reduce costs, explore our guide to applying for Google Ad Grants to tap into more marketing potential.
5 Steps to Create a Nonprofit Marketing Strategy
Crafting an organized nonprofit marketing strategy is crucial to connecting with your supporters and beneficiaries. Your strategy should outline all the information you need to meet your audience's needs and spread your mission.
1. Perform a Marketing Audit.
Start out by getting a sense of your current marketing capabilities and available resources. That way, you can start thinking about the changes and tweaks you'll need to make.
Gather past outreach materials and campaign metrics to conduct an audit on your most recent outreach efforts.
A nonprofit marketing audit often consists of conducting a SWOT analysis, which stands for: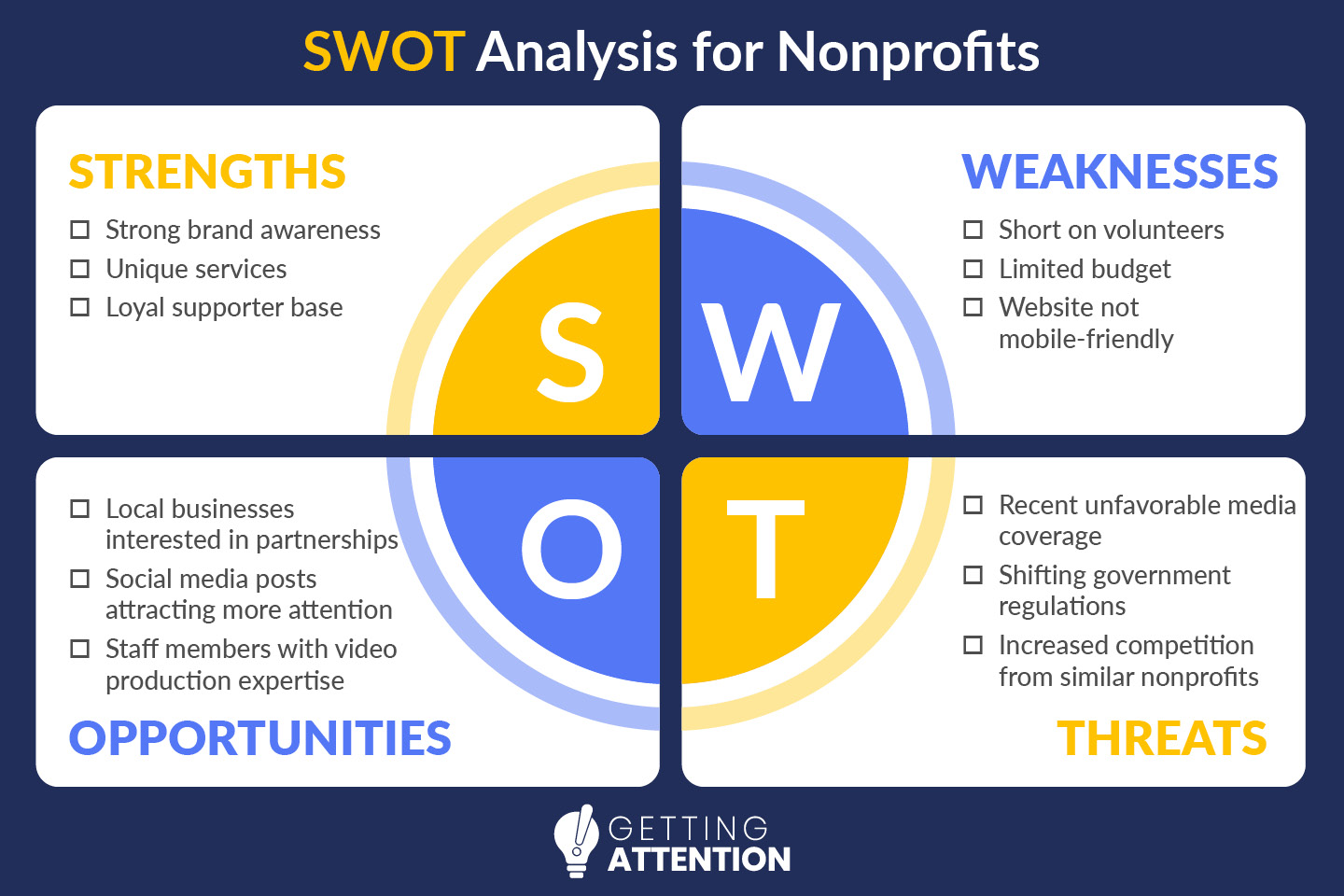 Strengths. List any areas where your nonprofit excels and stands out from competitors. For example, you may have unique services, strong brand awareness, or an incredibly loyal supporter base.
Weaknesses. List anything that hinders you from achieving your nonprofit marketing goals, such as a very limited budget or a poor digital presence.
Opportunities. Include any external factors that give you an advantage over competitors. For instance, your mission could be prevalent in the news or you might have a strong pipeline of corporate sponsors.
Threats. This includes any external factors, out of your control, that negatively impact your nonprofit. These factors could be anything from unfavorable media coverage to shifting government regulations.
Analyze your results and create an action plan for playing to your strengths, overcoming any weaknesses, increasing your opportunities, and mitigating any threats.
2. Define Your Marketing Goals.
Your nonprofit marketing strategy should aim to support your overall goals. Are you trying to raise funds? Encourage volunteering? Garner fundraising event registrations? Every marketing campaign needs a concrete goal and target action to be successful. When outlining your nonprofit marketing strategy goals, use the SMART method:
Specific. Define the exact goal your nonprofit is aiming to achieve and identify how achieving it will support your mission.
Measurable. Your goal should have clear key performance indicators (KPIs) attached to evaluate your progress.
Attainable. Given your organization's current standing (e.g., time, money, expertise), choose a goal that you can realistically achieve.
Relevant. Your chosen goal should contribute to your organization's overall success. For example, increasing volunteer registrations clearly impacts your organization more than reaching a certain number of likes on an Instagram post.
Time-based. Provide a realistic deadline for achieving your goal. Then, create milestones along the way.
From here, list your goals by priority. This allows you to have clear nonprofit marketing goals in place to power greater outcomes for your cause.
3. Understand Your Audiences.
It's essential to focus your nonprofit marketing strategy on who you're trying to reach. Outline both your current audience and your target audience. Then, segment your audience members according to characteristics such as: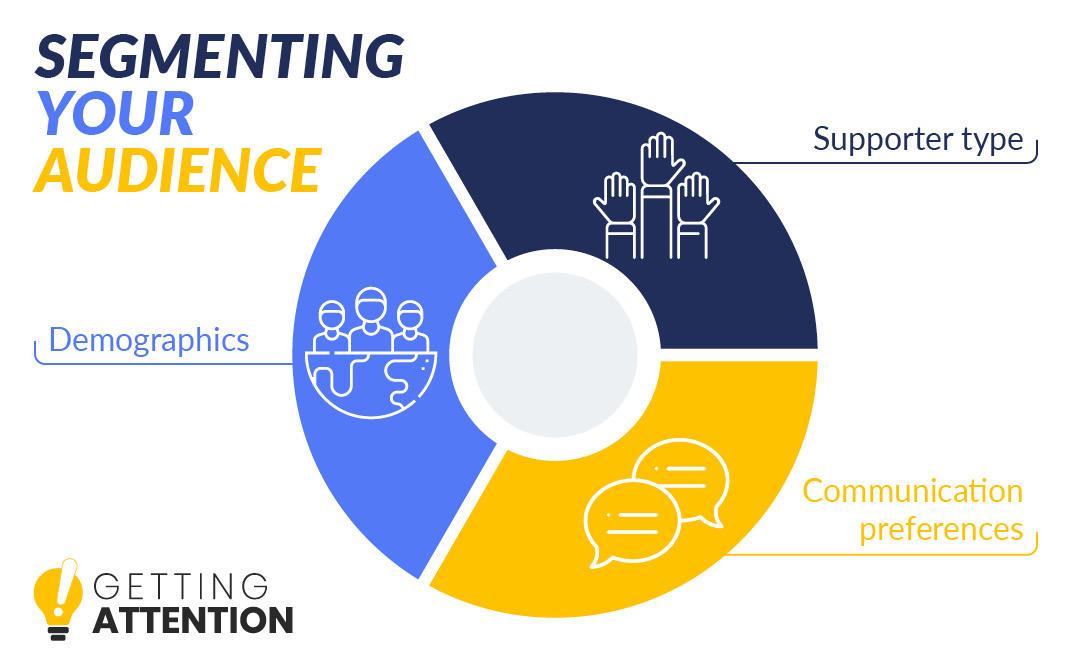 Supporter type, including first-time donor, recurring donor, major donor, volunteer, or corporate partner.
Preferred communication method, like email or direct mail.
Demographic data, including age group, geographical location, and education level.
Every nonprofit marketing campaign should have a target audience in mind to ensure that you send the right messages that resonate with the right people.
4. Create and Share A Compelling Message.
There are hundreds of ads and messages online, all competing for your supporters' attention. To make your messages stand out from the crowd, use the CRAM rule to bring your powerful marketing ideas to fruition and connect with supporters. Your communications should be: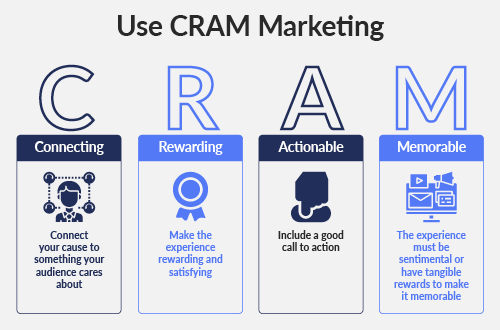 Connected to a cause. Link your nonprofit's mission with something your audience cares about.
Rewarding. Readers should feel fulfilled or inspired when they come across your message.
Actionable. Include a clear call to action to outline readers' next steps, whether that's donating, volunteering, registering for an event, or something else.
Memorable. Use storytelling and statistics to leave a lasting impression on your readers.
Plan out the language and tone of your message, the specific calls to action you'll use, and any visual branding elements. Then, choose your nonprofit marketing channels and start sharing your outreach.
5. Track Results and Make Adjustments.
Every nonprofit marketing strategy needs a dedicated way to measure performance, so you'll be able to identify your areas of strength and areas for improvement moving forward. Here are some examples of KPIs for different channels you might track:
Click-through rate (CTR) for Google Ads
Email opens for email marketing
Video views or likes for video marketing
Likes, shares, and comments on social media
Page views or time on site for your website
Number of downloads for content marketing
Data is the backbone of your nonprofit marketing efforts, ensuring that your campaign is performing well, allowing you to glean insights for improving future campaigns, and acting as a resource for supporters wanting to learn more about your impact.
Types of Nonprofit Marketing Channels
The specific nonprofit marketing channels you use are critical to reaching your donors and meeting new prospects. While you don't need to leverage every platform, a multichannel marketing approach allows you to connect with as many supporters as possible.
Let's walk through some of the most popular channels that can catapult your nonprofit marketing efforts forward!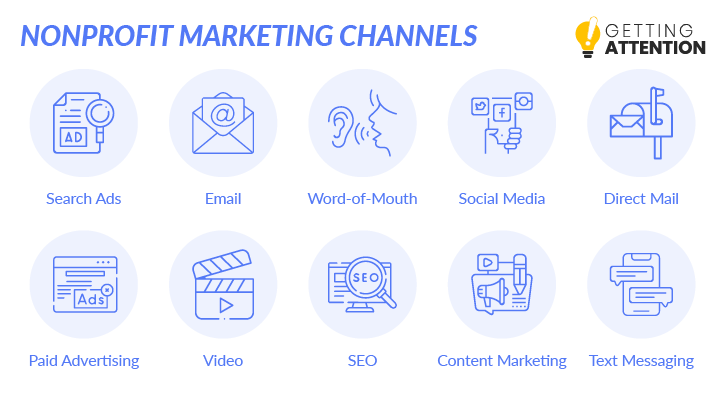 Search Ads
To enhance their marketing results, many nonprofits leverage Google Ads, a platform where organizations display advertisements, service offerings, products, and other marketing content. Google places these ads strategically at the top of search engine result pages to expand each organization's online presence.
Many nonprofits apply for the Google Ad Grant to take advantage of this platform. This technology grant offers nonprofit organizations $10,000 in ad credits to spend each month, which they can use to bid on valuable keywords that their prospects are searching online and promote their website content with Google Ads.
The best part? Any eligible nonprofit that complies with Google guidelines can leverage this grant. For example, if your church is eligible and compliant, you can apply for and receive the Google Ad Grant. It automatically reactivates every month, too. As long as you comply with the program's rules, you'll add up to a total of $120,000 to your nonprofit marketing budget each year.
It's up to you to choose the right keywords related to your mission. For example, Science Moms created a Google Ad campaign to target terms related to "fight climate change."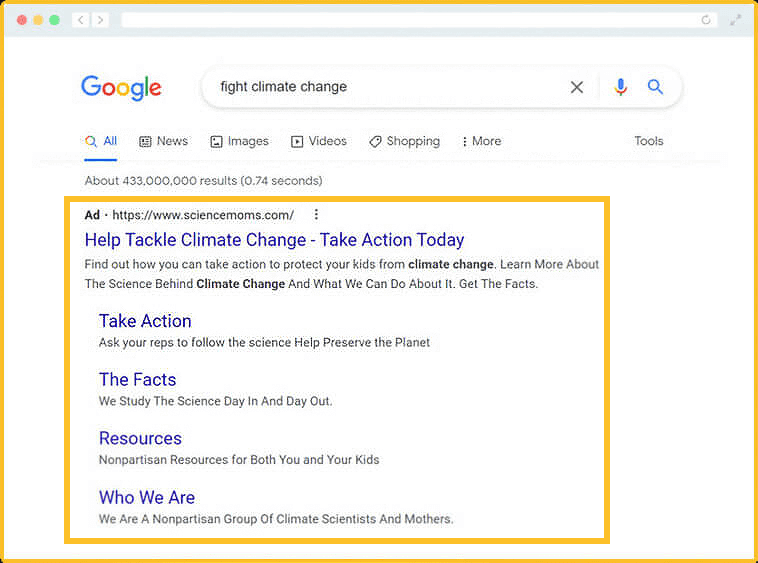 However, a lot goes into determining your nonprofit's eligibility, applying, and making the most of the program. That's where an expert Google Grants agency can step in.
The specialists at Getting Attention will champion your cause at every turn. We'll learn all about your specific nonprofit marketing goals and handle the entire Google Grant management process. That way, you can focus on other areas of your mission and relax knowing your Google ads are in good hands.

Nonprofit Advertising
While people commonly interchange "advertising" and "marketing," nonprofit advertising is actually a specific subset of nonprofit marketing that refers to using paid channels to promote your mission. Some of the most common nonprofit advertising channels include:
Search ads (like Google Ads)
Radio and TV ads
Social media ads
Influencer advertising
Advertising can expand your audience and amplify your content to people who aren't actively researching nonprofits. Even if you're working on a limited budget, outbound marketing isn't entirely out of reach! Similar to Google, there are many other advertising platforms with free or discounted options for nonprofits.
Sign up for Getting Attention's free email newsletter to access tips and best practices that will take your nonprofit's advertising to the next level.
Nonprofit Email Marketing
Email is a reliable and effective channel for nonprofit marketers, allowing them to connect with all types of supporters, from first-time donors to those who have been giving regularly for years. 
Some impactful ways to leverage email marketing for nonprofits include:
Creating a regular newsletter.

Provide supporters with updates about your organization, the latest industry news, success stories from your ongoing programs, supporter spotlights, volunteer opportunities, and anything else going on at your nonprofit that they might be interested in.

Sending monthly emails about donation needs and opportunities.

To increase your donors' value over time, send out regular donation requests. Fine-tune these requests to ask each donor for a reasonable upgrade from their last gift. For example, if a supporter gave $25 last month, you might make a request of $30, which they are more likely to respond to than a jump to $100. Additionally, make sure to take recurring donors off of your monthly donation request list since they are already giving regularly.

Segmenting your email audience.

Target your messages to specific donor groups by dividing them based on relevant characteristics.

78% of marketers

agree that subscriber segmentation is the most effective strategy for email campaigns. When you segment donors, you ensure you're sending them content that aligns with their interests, making them more likely to open your emails and engage with them. 

Following up with appreciation emails.

As soon as a supporter donates, signs up to volunteer, or shows some other form of support, you should automatically send out a thank you email. Personalize these emails to address each supporter by name and reference their specific contribution. 
On average, email generates $36 for every $1 spent. This high ROI makes it clear that this nonprofit marketing channel is worth investing in.
Word-of-Mouth Nonprofit Marketing
When your volunteers and donors feel strongly about your cause, they'll naturally want to share your important work with like-minded friends and family members who are likely to be interested in supporting your nonprofit.
Peer-to-peer outreach can be incredibly powerful. In fact, 88% of consumers trust recommendations from loved ones over any other type of marketing. Encourage your supporters to reach out to their personal networks, post online about your cause, and share your organization's social media posts to spread the word.
One powerful way to encourage peer-to-peer referrals is with nonprofit eCards. They're an easy and interactive way to broadcast your mission, activities, and successes.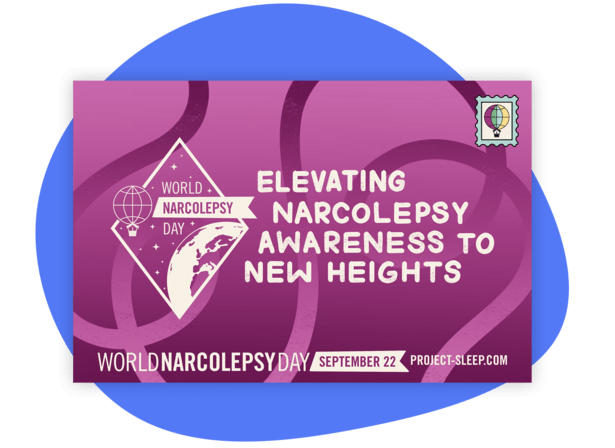 Create designs for every occasion to encourage referrals year-round. Here are just a few ideas to get started:
Birthday fundraising eCards that encourage supporters to give in a loved one's name as a way to wish them a happy birthday.
Holiday eCards to spread some holiday cheer during special times throughout the year.
Thank-you eCards to help supporters express their gratitude.
Tribute eCards for individuals to give in honor of their loved ones.
Mission awareness eCards to call attention to your work during a cause awareness campaign.
Event invitation eCards to help supporters invite their loved ones to one of your nonprofit events.
Once you design your nonprofit eCards, you can offer them for free, sell them for a set price, or give them in exchange for donations. No matter what, people will be excited to browse your collection and share a cause that's close to their hearts.
Social Media Marketing for Nonprofits
By 2027, the global number of social media users is expected to skyrocket to 6 billion. Social media's rising prevalence makes it one of the most viable channels for reaching supporters and marketing your mission.
Not only is social media affordable, but it's also a key way to connect with supporters on a deeper level. You can engage with followers, encourage them to comment or repost content, and build a brand personality that they enjoy interacting with. Here are some general ways you can leverage this social media in your nonprofit marketing strategy:
Share news about your organization and cause.
Boost brand awareness and recognition.
Post calls to action for online gifts, event registrations, volunteer signups, and more.
Recruit volunteers and employees.
Recognize your committed donors, employees, and volunteers.
Whether you use TikTok for connecting with younger generations or Facebook for its long-form posts and its fundraising features, social media is a channel worth optimizing for your nonprofit marketing.
Direct Mail Marketing
While email marketing response rates are typically 1%, direct mail response rates hover around 9%, making it a highly valuable and personalized marketing channel.
For nonprofits, direct mail marketing and fundraising involve writing, printing, and sending out hard copy requests for funds, event invitations, or thank-you letters to your passionate supporters. These letters arrive in your supporters' mailboxes and provide a tangible connection to your organization—especially when compared to opening up an email.
Use these tips to inspire action with your direct mail content:
Lean on storytelling. Perhaps the most unique aspect of direct mail is its personal touch. This is a key opportunity to connect with donors through storytelling. For example, you could describe the story of a family that your nonprofit has helped to get readers invested in your cause and eager to give.
Use compelling visuals. Weave your visual and written elements together to break up blocks of text and support your call to action. This applies to everything from your letters to your fundraising flyers. Whether you use photos of real people or graphics to illustrate different points, the visuals you choose should be strategic and reinforce your messaging.
Combine direct mail with digital marketing. Enhance your direct mail marketing by conducting it alongside your digital marketing efforts. Be sure to include easy ways for direct mail readers to connect online by including a QR code to your donation page or adding social media details to encourage engagement on various platforms.
As long as it aligns with your recipients' communication preferences, direct mail can both benefit your nonprofit and show donors that you really care. Consider partnering with a direct mail marketing company to facilitate the process of writing and sending your letters.
Nonprofit Video Marketing
From short videos on TikTok to longer content on YouTube, many nonprofits have found success in using this form of media to promote campaigns, events, and their mission in general.
Why is this? Well, here are some reasons why video marketing for nonprofits is so valuable:
Inspire action. Well-edited videos, supplemented with evocative music, do really well when it comes to appealing to viewers' emotions.
Shareable. Who hasn't gotten a cute video of a pet sent from a friend? In fact, 51% of people are more likely to share videos than any other marketing content, including social media and blog posts.
Entertaining. According to DataReportal, watching videos is considered one of the top online activities among working-age internet users around the world, with 92.8% watching online videos every week.
You can incorporate video marketing across your nonprofit website, in social media posts, and in email content. For instance, you can send out an event invitation with a video teaser or record a video featuring someone your nonprofit has helped to show donors just how much their donations make an impact.
Bonus Tip: Because of their file format, videos can potentially slow down a website. When publishing videos to your website, we recommend turning off auto-play to minimize any slowdowns!
SEO Marketing for Nonprofits
Your nonprofit's website is a huge resource when it comes to marketing your mission. It's where prospects go to learn about your mission and where long-term supporters go to give support. Because of this, 68% of nonprofits have redesigned their websites within the last three years to incorporate SEO best practices and boost their organic rankings. When optimizing your organization's website, keep these tips in mind:
Center each page around a core topic related to your cause and pick relevant keywords for each page.
Ensure full and regulatory accessibility compliance with the Web Content Accessibility Guidelines (WCAG).
Use call-to-action buttons and links to direct users to your popular landing pages.
Prioritize user experience when it comes to ease of use and navigating your website.
Make sure all tools and content management systems are updated and functioning properly.
Feature consistent branding throughout the site.
Not all of these tips are directly related to SEO, but they all contribute to your site's performance in some way. Plus, improving your website will set you up for success with multichannel outreach, like when you're promoting it via social media or search ads.
Content Marketing for Nonprofits
Content marketing is all about creating valuable and promotable nonprofit content that can build your nonprofit brand and reputation in the sector. While this content will likely live on your website, you can also create specific content for emails or host a downloadable gated resource.
Common types of content you might create include:
Educational content about your mission, cause, and industry trends.
SEO blog content to get your online content ranking higher in search engines.
Easily shareable content that encourages your audience to send it along to their friends.
Content that is easily repurposable, like attaching a downloadable resource to an email message.
Plus, your content marketing materials can be used for other nonprofit marketing efforts, whether you promote it via email, Google Ads, or social media. Consider creating a dedicated team focused on content copywriting.
Text Message Marketing
With a 99% open rate and 90% read rate within just three minutes of sending, text message marketing is one of the best ways to promote a campaign and reach your audience where they already are.
To use text marketing, consider investing in a comprehensive text-to-give tool. Tatango's nonprofit text messaging guide recommends looking for a text messaging provider with the following features:
A2P (Application to Person) messaging. A service that offers A2P messaging makes it easy to send off a single message to hundreds or thousands of supporters at once, saving your nonprofit time.
Ability to handle fast messaging speeds. A provider with a high message-per-second rate will ensure that your campaign reminders reach supporters just moments after you send them.
Security for your campaigns. Your text messaging provider should come with security measures like two-factor authentication, secure sending, and automated logout so that only your nonprofit's team can access your sensitive data and send off messages.
Subscriber segmentation. Divide your contact list into subgroups based on characteristics such as recency of opting into your text messaging campaign, donation frequency, and average giving amount.
With a secure and user-friendly text messaging platform, your nonprofit can confidently deliver a high ROI, engage supporters year-round, and leverage contextual giving.
Contextual giving is a donation given at the moment when the donor first feels inspired to give. For instance, let's say a prospect attends an in-person fundraising event and feels inspired by the turnout and the mission. They see the text-to-give number plastered on event signage and decide to give a gift. If you didn't offer text giving, they might have decided to wait until they got home to give, which decreases their chances of completing the giving process.
Nonprofit Marketing Best Practices to Follow
There are a lot of moving components in your nonprofit marketing strategy that you have to keep in mind, from crafting your messaging to picking the channels you use. To keep your team organized, let's explore some general best practices that can help you hone your marketing efforts: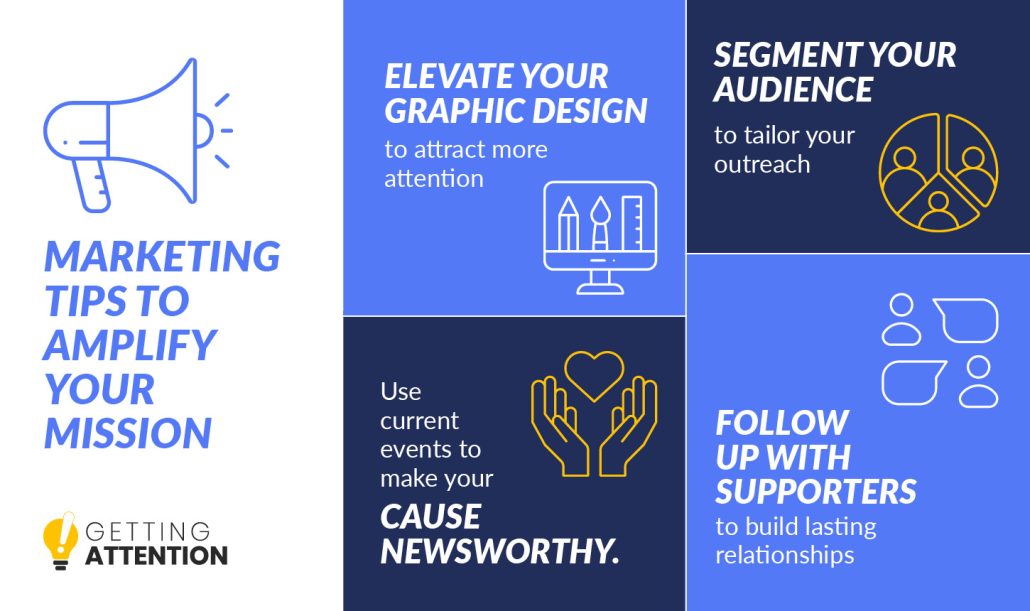 Elevate Your Graphic Design
Regardless of whether someone's scrolling through their social media feed or passing by a bulletin board with your fundraising flyer pinned to it, they're more likely to notice marketing collateral that features eye-catching graphics and vibrant colors.
Considering that people retain 55% more information when paired with an image, effective visuals make your content more memorable to prospects, too.
Here are a few crucial areas where graphic design comes into play:
Your logo. Your nonprofit's logo appears on everything from your fundraising letters to your business cards. Prospects should see it and immediately associate it with your organization.
Website design. The graphics you include on your website are just as important as your site's layout. You'll want to include everything from images of your beneficiaries and volunteers to artistic elements that emphasize the most important aspects of each page.
Merchandise. If you sell t-shirts, mugs, or any other fundraising products, make sure you feature effective designs on them. Visually-appealing graphics will make the buying experience much easier for prospects who come across your ads for them.
Printed materials. Effective graphic design is just as important for your printed collateral, such as your fundraising letters, flyers, and service brochures.
If you have limited time or graphic design expertise, reach out to an experienced graphic designer to support your efforts. Those that have experience in the mission-driven space, such as Kwala, understand exactly what it takes to make charitable causes stand out. Their team will work with yours to create anything you request, including flyers, logos, stickers, and even fundraising product designs.
Take a look at this postcard that they designed for the Wildlife Rescue Group: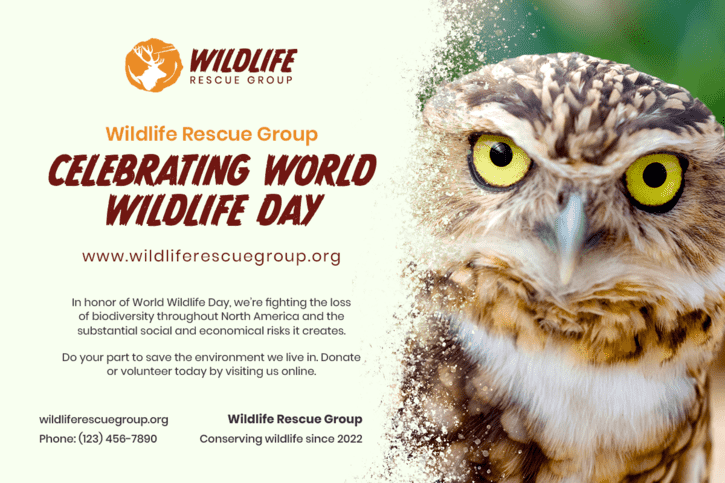 Well-designed materials like this will reel supporters in and drive more action, whether you want people to donate, volunteer, or get involved in some other way. Turning to a professional graphic designer allows you to focus on furthering your mission and trust that your marketing materials are resonating with supporters.
Segment Your Audience
People respond best to communications that are targeted to their needs, goals, and preferences. To effectively tailor your messaging to appeal to each supporter, ensure that you have accurate and updated contact information for all your supporters. People constantly change their phone numbers, get new email addresses, or move. In other words, their contact information can become quickly out of date.
Consider using appending services to fill in missing out outdated information. That way, you'll never have to risk losing contact with your donors and volunteers.
Use Current Events
Boost your nonprofit's marketing efforts by leveraging what is currently going on in the world to create urgency. Is there a story related to your cause in the news? For instance, if your organization is contributing to relief efforts in the wake of a natural disaster, take the time to connect your specific mission to this broader issue and boost public awareness around your work.
Remember to highlight all the work your organization aims to achieve so that potential donors feel inspired to get involved and contribute toward your impact.
Follow Up With Supporters
Successful marketing requires more than one-way communication. Start building relationships with your donors and volunteers by implementing strategies to start ongoing conversations. Of course, this doesn't mean you need to exchange text messages with each supporter to keep them engaged. Rather, your nonprofit just needs to respond to the actions supporters take to show that you see and value their contributions. 
Some basic occasions for reaching out to a supporter include:
After they've made a gift

After they've attended an event

On their birthday

On their anniversary with your nonprofit

On a holiday or at year-end

Asking for their feedback in a survey
Your follow-up process can also benefit from a multi-channel approach. For example, personalized donor thank-you emails make it possible to show your appreciation quickly. Then, you can send a card or give donors a phone call a few days later when your nonprofit has time set aside for donor outreach. 
By reaching out often, you'll be able to retain more donors and even convince lapsed donors to get involved once again.
Wrapping Up
Marketing your mission is key to your organization's ongoing success. From choosing the right channels to keeping up with the latest trends, crafting a strong nonprofit marketing strategy takes quite a bit of forethought.
Whether you choose paid outlets like search ads or organic outlets like email, there's a lot you can do to stand out. As you start crafting your strategies, check out these resources to keep learning:

https://gettingattention.org/wp-content/uploads/2023/06/Nonprofit-Marketing_Feature-Resized-and-Compressed.png
493
1165
Getting Attention
https://gettingattention.org/wp-content/uploads/2021/08/getting-attention-logo.svg
Getting Attention
2023-06-30 21:16:00
2023-11-02 14:37:04
Nonprofit Marketing: A Behind-the-Scenes Guide for Success